Here, we are coming up with multiple ideas for gift for Tesla owners! Tesla's electric cars proved it is possible to have fun while driving, be fast, and travel long distances without compromising. Aside from providing the latest technology, they also offer long-lasting batteries and provide comfort for the whole family. At the same time, taking care of the environment.
Tesla is one of the pioneers of electric vehicles and people who own a Tesla are pretty selective about what car they choose. The Tesla driver is a proud car enthusiast for all these reasons. A Tesla is one of the most fun and intricate vehicles to drive on the market, and they deserve gifts or accolades.
Gift for a Tesla Owner: What are the Best Gifts For Tesla Owners?
As the festive season is approaching this is the best time to give your close ones who own a Tesla

a proper gift to match their car. If you can not decide what gift you must give to Tesla users this list will help you decide on the ideal gift.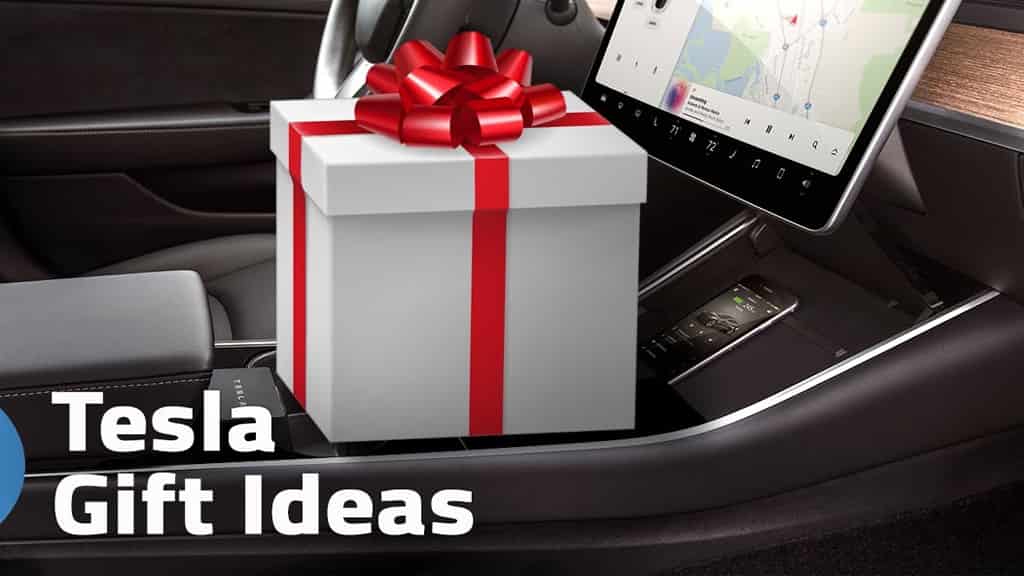 01. An all in one luggage set for Model 3 and Model Y
It would make a great gift for someone who owns either a Tesla Model 3 or Model Y with these trunk bags. It is extremely durable, so you can overstuff them so they will fit seamlessly in your trunk no matter what trip you are going on, whether it is a weekend road trip or a flight.
There are a variety of features on these bags, including a laptop pocket, two zippers, and a comfortable shoulder pad. In order to give you an idea of the size and volume of each bag, they are large enough to hold a MacBook Air or any other laptop, four shirts, shorts, a pair of jeans or trousers, headphones, and other tech items such as a DSLR, Powerbank, Watch, etc, a toiletry bag, a pair of men's shoes, and other small items.
The Pricing of the Frunk Luggage bag for the Model 3 is somewhat near 100 dollars and for the Model Y, it is almost 130 dollars. You might even get some discounts if you buy through online retail platforms.
02. Camping Tent Bag for the Tesla Model Y
If the person for whom you are deciding the gift loves to travel and stay outdoors or go on camping this is the most ideal gift for them. A great gift idea for outdoor enthusiasts, Tesloid's camping tent is super convenient yet versatile enough to fit in the tail space of Tesla Model Y and SUVs.
Depending on your preference, you can either set up a post around your Model Y, or you can dock your car right inside the tent after a long day of exploring. This outdoor tent is made of 100% waterproof material, and it has a 7-foot ceiling, nearly 50 square feet of interior space as well as 25 square feet of a shaded porch.
Those benefits are made even more impressive by the fact that the Model Y has a sleeping area inside it which is a real bonus for those who are not a big fan of sleeping on the ground. Inflatable mattresses are made by Tesloid, and they fit snugly into the trunk of the Model Y. The price of the Camping tent for the Tesla Model Y is usually available from around 250 dollars.
03. Tesla Cup Holder Shifter For The Tesla Model Y and Model 3
The Tesla cars do not have a manual shifter and many drivers miss the feature in the car. While it can not actually be implemented in the car it can still be used as a replica. You can add this replica fake shifter to a Tesla dash as a fun fidget toy.
More than 300 five star reviews are available for this product, which comes in five different finishes. The design of this shifter has been praised by owners for feeling so real. Several people commented on how nostalgic it made them feel about their old cars.
04. Tesloid Floor Mat for Tesla Model Y, Model 3, and Model S
If you want quality, durability, and a precise fit for your Tesla, Tesloid's floor mats are a sure bet if you want to buy a quality, durable, and precise fit floor mat for your Tesla. It is possible to choose between two types of floor mats for the Model 3 and Model Y which are either 3D extreme performance or 3D comfort performance. 
The extreme performance and the comfort performance are both made of quality materials, but here's how they differ, whereas the extreme performance is made of tough TPE, the comfort performance is made of durable material. Go with the extreme performance mats if you are hiking through mud or snow, or if you or the person you are gifting these have got toddlers.
When it comes to everyday wear and tear, comfort performance is the best choice. The Model S only has the extreme performance mode as the only option. The Model Y mats costs around 160 dollars, the Model 3 Mats will cost 150 dollars and the Model S extreme mart will cost 160 dollars as well.
05. Formal made Tesla Luxury Neck support and Headrests
Genuine leather is used to make these custom backrests. Tesla car seats are already fashionable, and they add a sophisticated touch. Custom neck supports and headrests can be added under the Tesla logo on white or black backrests. Embroidery colors can also be changed to give it a personal touch.
06. Cooler bag for Tesla Model Y and Model 3
This cooler bag makes it easy for Tesla drivers to ditch heavy, clunky coolers that take up valuable car space. A thermally insulated section is on the left side of the chest cooler bag, and a pantry section is on the right side.
A waterproof base and water-resistant zippers are included on the detachable icebag. Whether you are in a hurry, or if you want to enjoy a relaxing picnic, you can grab a snack and drink right from your trunk. With this tidy setup, you could even arrange a small party just in your car. The Model 3 Cooler bag is priced at 100 dollars and the Model Y cooler bag will cost around 110 dollars.
07. The Cyber lander
This product is a gift ideal for anyone who owns a Tesla Cybertruck. The cyber slander is a great attachment available for the Cybertruck. With the truck's battery, this multi-purpose truck bed extension will stand 11 feet tall. Cybertruck's makers anticipate the attachment will be ready by the time delivery of the Cybertruck begins, but no firm date has been set.
Camping or providing extra space when parked or on the road is possible with this attachment, which slots into the Cybertruck bed. The boxy space can be transformed into an office, bedroom, bathroom with a toilet and shoes, living room, or kitchen by using solar power.
08. The Tesla Car Emergency Roadside Assistant Kit
This gift could be a lifesaver if suddenly someone's Tesla stops working, has issues charging, or even has a punctured tire, etc. By having this kit in the trunk, you can remedy or at least improve a wide range of driving mishaps.
It contains 112 pieces. There are basic toolsets, jumper cables, tow ropes, bungee cords, and warning triangles inside the reflective carrying case. Besides the necessary tools for escape, you'll also find items that will help the driver survive, such as a raincoat, emergency blanket, first-aid kit, and an alert whistle.
09. Tesla Model 3 Key Fob
Many people do not like the Model 3 Key Card or Tesla app for gaining access to their cars. The Tesla Model 3 key fob is available for those who prefer a more traditional solution. It unlocks, drives, and locks your car. It's shaped like a miniature Model 3.
The Tesla Shop currently has a few left, but the first batch sold out quickly. There is no "passive mode" on this fob to automatically unlock your doors as you approach the vehicle. The Tesla app on your smartphone will still be required if you want to do that.
10. Wireless Charging Pads for Tesla Model 3
If someone has a phone that charges wirelessly then you can also gift them the Wireless charging pad for the Tesla Model 3. Amazon and elsewhere offer plenty of generic options, but the Model 3 also has a few options that are tailored to its needs.
Tesla has dedicated a space in the center console for wired charging for the Nomad, EVANNEX, and Jeda wireless charging pads. Hence, they complement the Model 3's modern, clean appearance. Keeping them hidden is as simple as closing the console lid.
Using a wireless charger allows you to quickly place and remove phones from the pad. Most recent Apple and Android phones support wireless charging.
11. Rear Panel Liftgate Sunshade and Other Roof Shades for Tesla Model S
The Rear Liftgate Sunshade will delight Tesla Model S owners. It covers about two-thirds of the rear hatch window but still provides plenty of rearward visibility.
A mesh fabric makes it lightweight, and a rigid frame makes it easy to remove. This sunshade includes a 16-inch zippered pouch that can be used to store it when not in use. Model S vehicles produced between 2012 and 2021 are compatible with the Rear Liftgate Sunshade, which costs $80.
12. Center Console Tray for Tesla Model Y and Model 3
For Tesla Model 3 and Model Y equipped with the refreshed console, the front tray is divided into sections for smaller items like keys, coins, and credit cards. Snacks, small tools, and other larger items can be stored on the rear tray. The price of the Console trays is started from around 16 dollars.
13. Color Matched Faceplate Wall Connector
Faceplates for Tesla charging setups are made from durable tempered glass. You can coordinate your friends' wall connectors with their cars' paint colors with the Tesla Wall Connector Color Matched Faceplate.
The Tesla charging setup's faceplate is made of durable tempered glass. In addition to Deep Blue Metallic, Midnight Silver Metallic, Red Multi-Coat, and Solid Black, it is compatible with all Gen 3 Wall Connectors. In addition to the glass faceplate, you will receive a fastener for the glass cover.
Replacing the faceplate of a Gen 3 wall connector is easy, and instructions can be found at the manual that is provided with the product. The price for the product is just 40-50 dollars.
14. The Diecast Roadster
For Tesla owners, friends who dream of becoming Tesla owners, or those who are simply Tesla and Elon Musk fans, the Diecast Roadster is a wonderful gift.  Tesla Design Studio piloted the diecast scale roadster, which was officially commissioned by Tesla.
Designed by the Tesla Design Studio, the diecast scale roadster was commissioned by Tesla. A replica of the real roadster is created using the same 3D CAD data that was used in its manufacture. More than 180 metal and plastic parts are included in this diecast metal model.
There is a lot of detail in the interior, and the doors and trunk work properly. Rubber tires, carpeted trunk and interior, and fabric seatbelts make this vehicle realistic. Despite its steep price, the workmanship is excellent.
15. The Tesla Decanter
Your friend's home bar will look elegant with the addition Tesla Decanter. With a lightning bolt silhouette, a Tesla wordmark, and a Tesla logo in gold, the hand-blown glass bottle is inspired by Tesla Tequila.
Tesla tequila or any spirit that can be stored in the decanter liquor is not included. Since these decanters are hand-blown, no two will be alike, so they make memorable gifts. There is a 500 dollar price tag.
16. Tesla Caliper Covers
For some people, brake caliper covers serve no practical purpose other than to enhance the aesthetics of their vehicles. But these calipers help in keeping brakes clean and reducing heat from brakes is one of the benefits of caliper covers.
Aluminum alloy is used in the manufacture of these caliper covers. Installing them is easy, and they protect your car from wear and tear.
17. A Tesla Wall hanging
One way that enables your friend to be appreciative of their Tesla owner status is by giving them this Tesla Wall art to hang in their living space. This model is composed of raw steel and cut using a cutting-edge CNC machine, so every detail is crisp and exact, resulting in a stunning end product.
This item is additional powder coated for maximum protection and a stunning appearance. The pricing for these wall hangings is nearly 50 dollars on Amazon or other marketplaces.