Let us explore semi trucks! Every semi truck is built for power and endurance, but some are more powerful than others. There's a big difference between a truck that's used to deliver Amazon packages, and a truck that's designed to haul construction materials.
Strongest Production Semi Trucks Available in 2023
The question is, which semi trucks are the strongest in 2023? Trucking industry news

regularly reports on the latest and greatest innovations in trucking engineering; this includes new safety features, improved fuel efficiency, and yes – which big rigs have found a new place among the strongest in the industry. If you want to find out which 18-wheelers are at the top of the list, just keep reading
Volvo FH16
This brand is known for having solid, safe semi trucks in general; they're the #2 manufacturer of semi trucks in the world, in fact. That being the case, it's no surprise that they have one of the strongest semi trucks in production.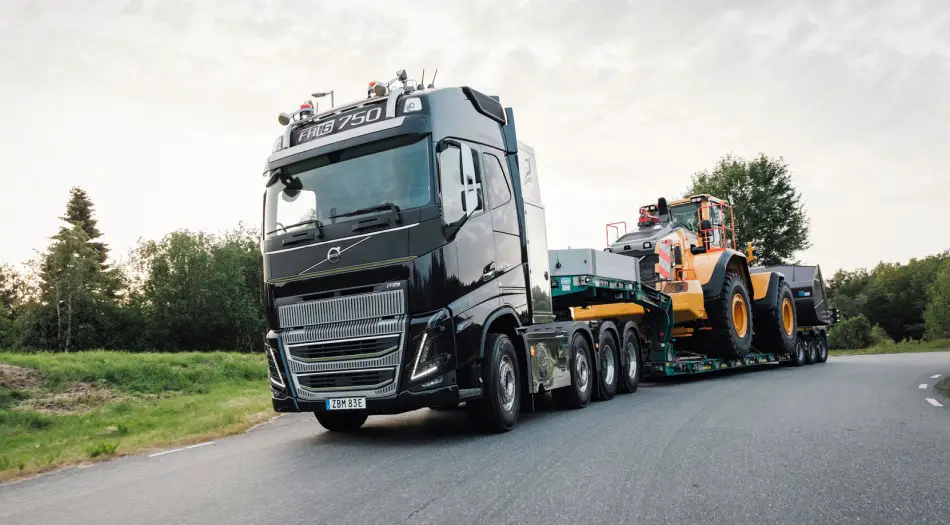 Their FH16 is versatile and strong, ideal for heavy-duty transport and long-haul trips. It can handle tough jobs like a pro, just like it's designed to. The D16 engine is available in two different versions, Euro 5 and Euro 6; you can expect to get between 550 and 700 horsepower, plus up to 3,150 Nm of torque.
Freightliner 122SD
This is one of 2023's ultimate work trucks, as it offers up to 2,050 lb-ft of torque at 1,100 RPM, and between 450 and 600 horsepower. The 122SD can be used for just about any load, from office supplies to construction equipment. Even if it's going over rough terrain in harsh weather conditions, it'll get the job done thanks to its rugged design and powerful engine.
Volvo VNL 860
The standard VNL 860 includes Volvo's D13 engine, which has between 1,450 and 1,850 lb-ft of torque, and between 375 and 500 horsepower. This particular engine is well known for balancing power with fuel economy, which is great for any trucking company that wants a solid long-haul rig with affordable operating costs. However, if more power is needed, the VNL 860 can also come with the Cummins X15 engine. It has the same level of torque, but more horsepower – between 400 and 565.
Mack Granite
Given that the saying "built like a Mack truck" is inspired by this very brand, their big rigs definitely belong on this list. The Mack Granite is a particular favorite of construction companies, since it's built to withstand the roughest conditions without any decrease in performance. It contains Mack's MP8 engine, with 1,860 lb-ft of torque and up to 505 horsepower. Drivers also benefit from the truck's safety features, which include adaptive cruise control and blind spot monitoring.
International LT Series
International is known for being a brand that delivers value for money, whether you're interested in heavy-duty big rigs, or fuel-efficient semis. Their LT series is meant to be lightweight and fuel-efficient, providing a comfortable ride for drivers while saving trucking companies money. The trucks in this series all come with the Cummins X15 engine; the efficiency series has up to 500 horsepower, and the performance series up to 565 horsepower.
Mercedes Actros 1863
Even though this brand is known for their luxury cars more than their semi trucks, their Actros 1863 is a powerful option for anyone who needs a dependable 18-wheeler. It contains the latest version of Mercedes' most robust engine, an in-line six-cylinder diesel beauty called the OM 473. It offers 625 horsepower and 3,000 Nm, with a 15.6-liter displacement.
Peterbilt 389
You'll see this truck featured in plenty of discussions about the top semi trucks available, and for good reason – it's simply a great all-around vehicle. With advanced systems integrations and industry-leading designs, the PACCAR Powertrain engine leaves nothing to be desired. It has a 14.9-liter displacement, and offers 590 horsepower.
Freightliner New Cascadia
This could be Freightliner's most advanced highway semi truck, mainly thanks to its Detroit Integrated Powertrain system and advanced aerodynamics. This includes the DT12 On-Highway Series transmissions, as well as the fuel-efficient DD13 and DD15 engines. When put together in the same vehicle, they work to enhance fuel efficiency and provide consistent results.
Kenworth W990
Here's another brand that's regarded as one of the best in the industry, so it's no surprise that their W990 is on this list. It combines unparalleled quality and luxury with dependability and power – both the interior and exterior offer exactly what you'd expect from a brand like Kenworth. It has 565 horsepower and a 12.9-liter PACCAR MX-13 engine, which makes it ideal for heavy loads.
Freightliner Coronado
Truckers who want performance and power consistently recommend this semi truck, which comes with a Detroit DD15 engine. This includes 1,850 lb-ft of torque and 505 horsepower, which is more than enough for most loads. There's also a variety of safety features, such as traction control and electronic stability control, which is another reason why drivers recommend this rig.
Mack Anthem
With a powerful Mack MP8 engine and impressive fuel efficiency, this truck is popular with both trucking companies and drivers. It delivers 1,860 lb-ft of torque and up to 505 horsepower, as well as advanced safety features and a very comfortable cab. It's built for long-haul trips, and is robust enough to carry just about any type of load.
Western Star 5700XE
Powered by a Detroit DD16 engine, the Western Star 5700XE has 2,050 lb-ft of torque and up to 600 horsepower. It also features an overall rugged design, which the brand is known for. The power of the engine may lower its fuel efficiency somewhat, but that's just the cost of having an engine this big. On the upside, this semi truck comes with a suite of safety features, such as adaptive cruise control and a lane departure warning system.
The takeaway
Not all semi trucks are created equal, so it pays to do your research before deciding which truck is the right choice for you. If you need a powerful big rig to haul heavy loads, you can't go wrong with the trucks on this list.