Let's talk about Automotive Scholarships! Have you always dreamed of linking your future career with cars? There are several ways to fulfil your dream; the most obvious are racing, engineering, and automotive. It would be wise to consider the last one because there is a significant shortage of specialists in this area in the current job market. Not everyone can become a famous racer because of several health restrictions and the requirement of natural talent.
Top 6 Automotive Scholarships in 2023
But try to imagine that if you can't drive for some reason, you still will be able to design or maintain cars! It is a promising career to choose, and it starts with obtaining an automotive scholarship. You may consider contacting the scholarship essay writing service essayshark.com

to order solid admission essays and secure your chances. We've prepared six reliable automotive scholarships in 2023, and each scholarship can become the first brick in building your successful future career.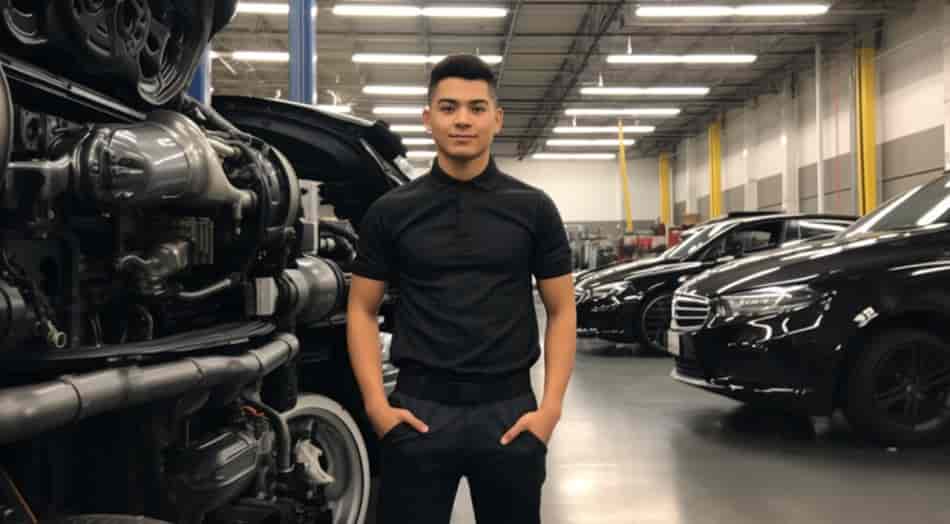 #1 SEMA Scholarships
The first obvious solution to your scholarship-finding problem is SEMA scholarships

. Each year the organization presents a new scholarship program for talented students and aims to support needy students worldwide.
To explain, SEMA is an acronym for "Special Equipment Market Association." The Specialty Equipment Market Association (SEMA) Show is a trade fair where aftermarket component manufacturers can exhibit alongside automakers. SEMA's mission includes helping students who are interested in the car industry.
The assistance is accomplished through a loan forgiveness program (open to SEMA alumni). Over 110 students were given scholarships in the past academic year through their scholarship program. Anyone interested in a career in the auto business can take advantage of this outstanding scholarship program.
Scholarship Amount: $1,000-$5,000
#2 Pep Boys Find Your Drive Scholarship
The Pep Boys Find Your Drive Scholarship

is the second solution and best friend of all talented international students. Have you always loved cars and dreamed of starting a successful car-related career? Choose this scholarship to fund your education, knowing that Pep Boys will most likely provide the most promising students with promising job offers.
Each year, Pep Boys gives out five $10,000 scholarships to deserving students in four major cities (Los Angeles, Dallas, Houston, Philadelphia) and one international country (Puerto Rico).
In addition, ten students from any state or territory in the United States or Puerto Rico would each receive a $5,000 grant. Students working for a certificate or degree as an automotive

technician are eligible for the awards. Scholarship winners will be given priority for internship and apprenticeship positions at Pep Boys. Upon graduation, they will be given first consideration for a permanent career in the automobile industry.
Scholarship Amount: $5,000-$10,000
#3 BMW/SAE Engineering Scholarship
The next option is the BMW/SAE Engineering Scholarship

, which is substantial. You certainly know the BMW concern and may even dream about their car in childhood. Try to imagine not only owning a BMW car but also constructing it. Pretty tempting, right?
BMW and the Society of Automotive Engineers have partnered to offer this fellowship in the field of engineering. It is open to first-year students with a minimum 3.75 GPA and SAT reading and math scores in the 90th percentile or higher. Engineers-in-training must be enrolled in a school with ABET approval. Each year, one scholarship is given out and can be renewed up to three times.
Scholarship Amount: $1,500/yr
#4 SAE/Ford Partnership for Advanced Studies Scholarship
Everyone has heard of Ford, but few understand that the SAE/Ford Partnership for Advanced Studies Scholarship

is a ticket to a successful career in the company. If you manage to get this scholarship, you have every chance to count on employment after graduation. Recruiters from Ford are always looking for and interested in young, highly qualified specialists!
This yearly award is given to students enrolled in an ABET-accredited engineering or related scientific degree program. This scholarship, spread over four years of higher education, is open to graduating high school seniors. In order to succeed, students must keep a 3.0 GPA, include at least two recommendation letters, attend a Ford NGL Network school and/or a Powered by Ford STEAM Academy, and be current or former student participants in either program.
Scholarship Amount: $1,500/yr
#5 DEWALT Trades Scholarship
You must prepare for insanely high competition if you expect to keep up with the DEWALT Trades Scholarship

. It would be better to use all available tools and techniques! Before you apply, you must:
Ensure you have an excellent GPA.
Have at least a few publications in automotive magazines and a couple of letters of recommendation.
Have evidence that you need funding.
Although the website did not provide a deadline or application period, it is recommended that you submit your application as soon as it becomes available. Only the first 1,000 applications will be reviewed. Full-time students in an accredited two-year college or vocational/technical institution are eligible for this award.
Scholarship Amount: $10,000
#6 Garage Gurus Scholarship
The last option on our list is the Garage Gurus Scholarship

. While this scholarship only provides partial funding and may underperform other options in comparison, this is where you have the highest chance of receiving. Partial financing is always better than no funding, and in a highly competitive world, you should take advantage of every chance!
The Garage Gurus scholarship was established to help fill the void created by the industry's severe lack of qualified automobile technicians. They have accomplished this by granting 12 scholarships a year on average since 2015. Scholarships are available to high school seniors and working people interested in pursuing a career in the automobile industry. This award is intended to support students pursuing careers as automobile technicians.
Scholarship Amount: $2,500