Have you ever asked yourself what the different types of cars are? There are so many on the market it's hard to know where to begin. There are many different types of cars, and these come in many different shapes and sizes. They also vary significantly in the features they offer and their performance. Today, there are hundreds of makes and models on the market.
A different manufacturer makes each, and each has its unique characteristics. If you are thinking about buying a car and want to work out which type will suit you, read on.
How Many Types of Cars are There?
Types of Cars Basics
There are many types of cars available in the market. There are different vehicles based on their size, fuel type, purpose, etc. The variation in cars helps the users to get the best vehicle for them.
Small cars help carry a small group of people, especially in the city environment. These vehicles are very economical, and today's models have better performance and great mileage. Minivans are mainly used as family vehicles that seat about seven passengers. These vehicles have extra cargo space for luggage and other kinds of stuff that you may need on your trip.
Large cars have lots of legroom and can accommodate up to five passengers. These vehicles are best suited for long-distance traveling because they have great mileage and good performance. SUVs or Sports Utility Vehicle is a car that has the higher ground clearance and is meant for off-road driving. Here we will describe a list of vehicles that are popular cars nowadays.
Different Basis of Types of Cars
There are many types of cars that different car manufacturers produce. There are five categories in which cars can be classified:
Based on Body Style
A car's body style refers to the shape or manner. A body style can be manufactured using different designs and engineering techniques to provide particular forms and styles to a car. Examples of body styles available are sedan, hatchback, and convertible. The body style is considered the functional part of a car because the look of a car depends on the body's shape, form, and design.
Based on the Car Segment
The car market is segmented into different classes and sub-classes, each having its unique characteristics. In this classification, cars are categorized based on the purpose they serve. The following is an example: small family car, sports utility vehicle (SUV), luxury cars, etc.
Also Read, What is Governor?
Based on Size
Cars can also be classified based on their size, i.e., small, medium, large, and extra-large. This classification helps people choose the right size of cars for their needs.
Based on Size
Cars are classified into three categories, i.e., large cars, medium cars, and small cars.
Based on Fuel
Gasoline-fuelled vehicles are called petrol cars or gas cars. Petrol cars include passenger cars, pickup trucks, etc. Diesel-fuelled vehicles are called diesel cars or oil cars. Diesel-car includes mostly heavy-duty commercial freight trucks, buses or trains, etc.
Based on Purpose
The most common purpose of cars is transportation. A passenger car is a car designed for carrying passengers and the driver. The sports car is designed for high speed and performance rather than comfort or economy.
Large coupé is a two-door car with an extended rear body; it has four seats but lacks the space and flexibility of an estate car or station wagon."
Types of Cars and Their Body Styles
When it comes to cars, most people think of trucks, passenger vans, SUVs, and other automobiles. But there are many more options than just those when you are looking to buy a car.
When you start searching for the right vehicle, it is essential to consider the type of body style you want. Here are some great suggestions:
Convertibles
Convertibles are one of the most popular types of cars in the world. They offer a unique experience because you can take the top down for an open-air experience or keep it up for a more traditional ride. Either way, convertibles offer you varying degrees of comfort so that you can get where you need to go in style.
Convertibles are the most expensive cars because a lot of engineering is needed to ensure that the vehicle is strong enough for highway driving and has a solid roof structure. They can be manual or automatic, but they will cost more than a manual.
Convertibles are not very spacious because of the complex folding hardtop. They are also quite noisy both inside and outside because of the wind passing through the soft top.
These types of cars are more prevalent in the summer months. People who buy convertibles mostly do so because they like to feel the wind in their face and experience the feeling of freedom associated with having the top down. Most convertibles have roll-up windows that can be opened when it becomes too hot and closed when it rains.
Micro Car
Microcars are one of the most miniature cars on the road today, and they come in many different models and sizes. The microcar is typically only two or three seats and a tiny engine which equates to excellent gas mileage but not much speed or power.
They are great for getting around town and in situations where space is limited. However, their size limits them on what they can do since there isn't room for many passengers or items due to their compact size.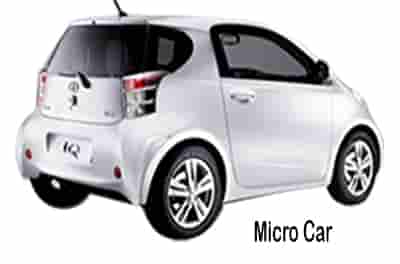 Micro Cars are tiny cars, usually with three wheels, but some have four wheels. The engine is generally tiny, but some can have 600 cc's. These cars used to be called cyclecars or trikes in America.
Microcars are used mainly for racing or off-roading by teenagers who don't have driver's licenses or by adults who live in developed countries but want something smaller than a car to drive on mountain roads or dirt roads where getting stuck would be a disaster.
Limousine
Limousine is also known as full-size luxury sedans. These are available in long-wheelbase and extra-long wheelbase versions. Chauffeurs mostly use these vehicles to transport their clients to events or parties. These vehicles have ample space for the passengers and a huge luggage area.
These Luxury cars usually have four doors and spacious interiors for easy access to the passengers inside. The main feature of these cars is that they have colossal trunk space that allows storing lots of luggage without any problems. Limousines can be considered one of the top choices among customers who want to travel in style and comfort without paying a hefty price tag.
Driven by professional chauffeurs, limousines are mainly liveried vehicles. In particularly affluent communities, social and business elites often hire limousines and their drivers for special occasions such as weddings, prom nights, airport transportation, and other luxury services such as sporting events and concerts. Some limousines have sleeping accommodations built into them to be used as mini-hotel rooms on long trips or while traveling between airports.
City Cars
If you're looking for a fuel-efficient car that can zip around town quickly and park nearly anywhere, a city car may be right up your alley. City cars have small bodies that are meant to maximize maneuverability.
Many have three doors to make parking a breeze and offer folding rear seats so you can haul more oversized items if need be. City cars rarely come with more than four seats, so they're not meant to transport large groups of people regularly.
While they are generally considered subcompact vehicles, they vary in size from country to country — think of them as "microcars" if you must compare them to something else.
As their name suggests, they were primarily designed for use in the city environment. They are smaller compared to other body models with two doors and a small cabin space inside, making them perfect for city driving conditions.
Hatchbacks
A hatchback is called a "5-door" car because it has 5 doors – 2 front and three rear doors. There is no trunk door. This body style is most commonly used on compact or economy class cars.
Hatchbacks are one of the most popular body styles on the road today. They have a long, sleek design with a sloping rear window that starts at the top of the car and angles downward.
This is unlike a sedan, which has a more squared-off rear end. Hatchbacks typically offer more cargo room than sedans or other body styles. The Volkswagen Beetle is an iconic example of a hatchback.
Sedans
A sedan has 4 doors and an ample trunk space behind the rear seat. Sedans are usually larger than hatchbacks, with more room to seat passengers and greater cargo capacity. Sedans are often marketed as "luxury" or "executive" vehicles due to their high seating position, higher level of comfort, smooth ride, and overall style.
Sedans come in many different sizes, including mid-size, full-size, and subcompact models based on their chassis length (more specifically known as "wheelbase") and engine size.
Sedans are those boxy, four-door cars that look like they're from another era. But their popularity hasn't waned much over time. Today's most popular vehicles are sedans, including the Toyota Camry and Honda Accord. They typically offer good fuel economy and moderate cargo space but aren't as fun to drive as smaller cars like hatchbacks and convertibles.
Sports Utility Vehicles
Sports utility vehicles or SUVs are designed to combine passenger and cargo space. As the name suggests, they were initially designed for transporting hunters and their equipment in off-road areas. They've become quite popular as family vehicles, especially in snowy areas.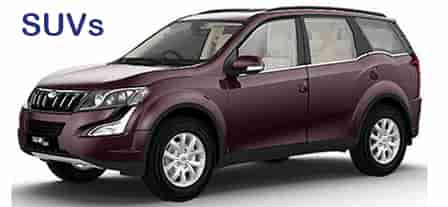 The main advantage of an SUV is that it has more space than a car, especially in the backseat area. Many SUVs also have a four-wheel-drive which means more traction on slippery surfaces.
The downside is that SUVs can be costly and have high gas mileage compared to smaller vehicles. Some are also equipped with a V8 engine which means more gas consumption and higher repair costs if something goes wrong with the machine.
Let's see different types of SUV cars,
Compact SUVs
Compact SUVs are mid-sized SUVs with decent cargo space and seating for up to five people. They usually have well-rounded features but typically do not include extra luxury features. The small size makes them ideal for city driving or commuting in heavy traffic. Examples of compact SUVs are the Ford Escape and Honda CR-V.
Mid-Size SUVs
Mid-size SUVs can seat between five and seven people depending on the model type. The larger size makes these vehicles more suited to long-distance driving or road trips due to the extra cargo space. Features vary from model to model but typically includes automatic transmission, power steering, air conditioning, CD/MP3 player, satellite radio, keyless
Single SUV
The most common SUVs are single-row vehicles that seat five or six people. These include the Ford Explorer, Honda Pilot, Toyota Highlander, and Nissan Pathfinder. The Chevrolet Tahoe and GMC Yukon are two-row SUVs that seat seven or eight passengers. In Canada, the term "sport-utility" is used instead of "sport utility vehicle" (SUV).
Double SUV
Some SUVs are double-row models that seat seven or eight passengers. These include the Chevrolet Suburban, GMC Yukon XL, Cadillac Escalade, Lincoln Navigator, and Lexus LX570. Double-row SUVs are typically less maneuverable than single-row models. Due to weight and size, they also tend to be less fuel-efficient than their single-row counterparts.
Subcompact Cars
Subcompact cars are smaller than compact cars but larger than microcars. The term was first used by the EPA for labeling purposes but has been adopted by many automakers and the auto press.
In Europe, small cars are referred to as superminis, so car manufacturers like Toyota use that label instead of subcompact when marketing their Yaris/Vitz products.
Subcompact cars are best for short trips around town or commuting to work on congested highway systems. They are easy to park and inexpensive to buy, insure and maintain. They generally offer less passenger room than larger cars.
Still, they often come with a standard power source like an electric motor or fuel cell (in hybrid models) instead of an internal combustion engine (ICE). Subcompact cars typically feature a fuel-efficient gas-electric hybrid system and small gasoline engines, such as the Toyota Prius (one of the most popular hybrid vehicles).
Family Cars
Family cars are hatchbacks, sedans, and wagons. Hatchbacks are cheaper and more economical than sedans, but they lack the backseat space found in sedans. They are also beneficial for transporting bulky items in their cargo area.
Sedans have the back seat space and ample trunk space, but they are not as economical as hatchbacks. Wagons have a lot of room for passengers and cargo. Some wagons can be configured to accommodate large families or to haul camping gear and bicycles.
Estate Cars
Estate cars are part of the family car market, with a large boot/trunk at the back. Such cars carry luggage and other items when going on holiday or for family trips.
The estate car is becoming increasingly popular among families as the children get older and their requirements change. The estate can hold more luggage and children's toys than a saloon car, yet smaller than an MPV or SUV.
Costing more than a hatchback but less than an MPV, the estate is a prevalent choice for families who need more space but not necessarily all the features of an MPV.
Grand Tourer
A grand tourer (GT), or sport tourer, is a performance and luxury automobile capable of high speed and long-distance driving. The most common format is a front-engine, rear-wheel-drive two-door coupé with either a two-seat or 2+2 arrangement.
The grand touring concept is European in origin and defines an upscale form of pleasure motoring; the GT was created to take advantage of improved road surfaces in post-war Europe, which allowed increasingly powerful cars to be enjoyed at high speeds without stirring up much dust.
Super Cars
Supercars are the fastest and most expensive automobiles. This type of car was created mainly for racing competitions. But these days, they are also used on public roads. These cars are costly and out of reach for ordinary people. The top speed of supercars is over 300 miles/hr.
Supercars are divided into two types:
Racing supercars
Super racing cars are designed for one thing only – to go fast. They contain potent engines, lightweight bodywork, and enhanced suspension systems. But despite that, such a car will be very vulnerable to high-speed crashes.
Commercial supercars
Commercial supercars have much more room inside than a racing supercar, and they can accommodate more passengers. These vehicles were designed to be comfortable and safe at the same time. These vehicles can't go as fast as their "racing brothers," but their engine power is enough to make them one of the most potent types of cars on the planet.
Commercial Vehicles
A commercial vehicle is a form of transportation designed to transport cargo. Such vehicles include trucks, buses, and cars used for commercial purposes. Commercial vehicles are most commonly used for transporting goods and materials in bulk to and from distribution centers.
Trucks are the most common commercial vehicle. They transport a vast array of goods such as food, furniture, medical supplies, products, machinery parts, and just about anything else you can think of. Heavy-duty trucks are also used for construction purposes.
As the name implies, heavy-duty trucks are meant for heavier loads than standard light-duty trucks and have greater payload capacities. Many trucking companies transport loads over long distances, one load at a time. In this case, the driver makes many stops along the way to deliver each shipment to its final destination.
Car transporters are also used to transport cars across great distances without damaging them or putting them at risk of being damaged by other vehicles on the road. Car transporters hook up to a vehicle via four-wheel dollies, which are extra wheels attached to the front and back of a car that allow it to be towed by a large truck or semi-truck, similar to how an airplane pulls an airplane with two tugboats connected by cables between their two planes.
Crossover Utility Vehicle or CUV
Crossover vehicles, also known as SUVs, CUVs (crossover utility vehicles), and 4x4s, are light trucks. That means that they are subject to different auto regulations than passenger cars. Federal fuel economy standards for passenger cars are currently set at an average of 27.5 mpg for cars and 22.2 mpg for trucks.
A CUV is a mid-size car that offers the comfort and amenities similar to larger luxury vehicles but in a smaller, more fuel-efficient package. The CUV is considered an "in-between" vehicle. It's larger than an economy car but smaller than a regular sedan or even an SUV.
The CUV's compact size makes it easier to maneuver in tight spaces, but it also offers a lot of interior space. The increased popularity of CUVs also comes from higher gas prices, especially among those who regularly drive long distances.
Trucks are typically used for work, while crossovers and SUVs are used for family activities and errands around town. CUVs can be used for both things, but they offer greater fuel efficiency over trucks and SUVs. Because it has the characteristics of both a car and truck, the CUV can be used as both a family vehicle and a work vehicle.
Coupe
Coupe cars are popular among young people because they enhance car performance, and they can be used for racing. In addition, they are beautiful compared to other sedans.

There is a lot of confusion about what exactly constitutes a coupe car. This is because there are different coupes, including convertible coupes, fastback coupes, and others.
Many manufacturers have made their versions of coupes. There is no standard for coupes, but most manufacturers agree that a coupe does not have a hatch at the rear end. A common feature of many coupes is the absence of rear seats.
Several car manufacturers have made coupes in many different shapes and sizes. This has led to varying coupes, such as station wagon coupes. Coupes were first made famous in the 1930s and 1940s but were discontinued after that. In the 1960s, they were reintroduced with modifications and improvements to appeal to customers. These are some of the most stylish cars in the world.
Sports Car
Sports cars are built with speed and performance in mind. They are designed to be driven by a single individual at high rates. Sports cars are generally low to the ground, have a sleek appearance, and feature lightweight materials. They are not made for carrying people or cargo but rather for exhilarating speed and high-performance driving.
Sports cars come in many different shapes and sizes. Some are actual sports cars, while others more closely resemble regular passenger vehicles, which happen to have mighty engines. The defining factor of a sports car is its overall design instead of the specific engine under the hood.
The difference between a sports car and a "regular" car is that a sports car has more speed and less room. Sports cars are typically made out of lighter materials to reduce weight, which gives the vehicle a higher rate of speed.
They typically have only two seats because anything else would not fit with the design of the sporty car. Most sports cars are two-door, but some will have four doors. The price of these vehicles is usually incredibly high because they are made smaller and from lighter material.
These vehicles get around in a different way than regular cars as well. An average sedan will get approximately 30 miles per gallon, while a sports car will get 10 miles per gallon.
Racing cars
Racing cars are automobiles designed primarily for racing. They may be purpose-built (Prototype) or adapted from a production model (Grand Touring Cars).
There are similarities between the processes of racing and manufacturing. Each has a testbed procedure, each is a proof test in its way, each has a development time, and each has to cope with the vicissitudes of chance.
Racing can be viewed as applied science, and cars are manufactured. Both are subject to economic forces, have similar engineering structures, and require expensive tooling. A formula car is an individual product; so is a racing car.

Both need to be maintained and serviced in the field. Many production sports cars are derived from racing designs, which shows that these analogies are not fallacious.
Production-based racing can be viewed as a "rolling laboratory." New ideas about handling, performance, and safety can be incorporated into the design of a Grand Touring car by building prototypes that will later become available as "production" models.
In addition to having public relations value, media coverage of races provides free advertising for both the race organizers and sponsors, generating revenue to offset some of the cost of developing the next generation of racers.
Minivans
There are many different types of vehicles that can be used as family haulers. But if you are looking for a highly safe, roomy, and fuel-efficient car, the minivan is one of the top choices. Here is a look at some of the reasons why:
The minivan was initially being designed to be a safe vehicle for transporting families from place to place. It has more standard safety features than many other vehicles, including stability control and dual front and side airbags. It also has a much higher seating position than a car, which helps with visibility.
Minivans are designed with more interior space than other vehicles, making them ideal for transporting multiple passengers in comfort. There is also extra space behind the third row of seating that can store luggage or other items during travel. This can help to keep your other vehicle from being overloaded.
Minivans are exceptionally fuel-efficient, which helps keep your transportation costs down and is better for the environment. A full-size van can go up to 600 miles on a single gas tank when it is driven conservatively. This means that you could drive from Philadelphia to Myrtle Beach without refilling the fuel tank.
Station Wagon
The station wagon, or estate car, is a body style of automobile with an extended chassis and an enclosed passenger cabin. Station wagons can be described as the cross between a coupé and a sedan; they have some of the characteristics of both.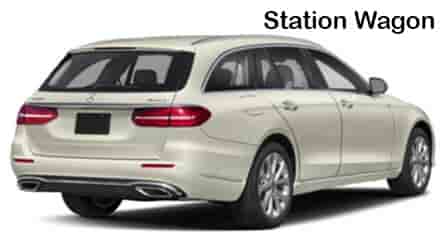 In the past, station wagons have been used as specialized vehicles to carry people and luggage. Now they are used as a train station to their current design as family vehicles (with the majority now being used for transporting people rather than luggage).
With front-wheel drive, it can pull its weight off-road; with an all-wheel campaign, your imagination only limits its usefulness as an errand-runner.
They are popular in North America and Europe, where hatchbacks have taken over the small family/commuter car role. In North America, two terms "estate car" and "station wagon" are used combined, historically they serve the purpose of a luxury car. In contrast, in Europe, "station wagon" is commonly applied to estates and hatchbacks.
In Australia, where it has been called a "Station Wagon" since at least 1930, it is now used like American English to denote what was once known simply as the coupé utility.
Similarly, in South Africa, they are also named "Station Wagons." There is a distinction between an estate (used by station wagon) and the more extended version of the Commodore or Falcon station wagon models in Australia.
Pickup Truck
A pickup truck is a light-duty truck having an enclosed cab and an open cargo area with low sides and a tailgate. The versions produced since the mid-20th century are also referred to as pickup trucks or Utes (slang in some parts of Canada and the United States).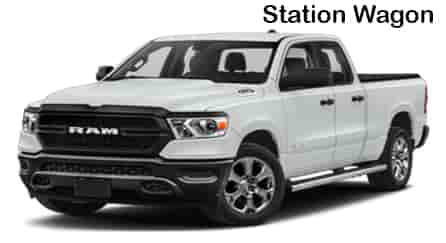 Trucks vary considerably in their size, configuration, and type of body used. Depending on the work it is designed to do, the bed configuration can be of considerable importance. Traditionally most pickups have a separate cabin for the driver and passenger.
The cab-over-engine, also known as cab-forward design, allows for a large cargo area with a short hood. This became a popular option in the 1990s and 2000s (decade) with regular cabs; however, this design is gradually being phased out in favor of crew cabs which offer more room for passengers.
For work purposes, pickups are most often used for transporting people rather than goods, with other vehicles such as SUVs and minivans fulfilling the roles of light trucks in such situations.
Pickup trucks used to come with roll-down windows, but nowadays, almost every pickup on the market comes with power windows. Some people might prefer roll-down windows because they don't require as much maintenance or as much electricity, but they also make it harder to open the window if it's raining outside or if you have a dog that likes to stick its head out of the vehicle.
Air conditioning is a must-have for most people these days, especially if you live in a hot climate. Air conditioning keeps your car cool so that you can drive comfortably. If you live in cold weather, air conditioning allows you to use your car in the wintertime without freezing your butt off!
Frequently Asked Questions
Which cars are economical?
As per Natural Resources Canada, there are few economical vehicles, which means they are fuel-efficient. Some of the models include Kia Niro (small station wagon), Chevrolet Colorado (small pickup truck), Toyota Sienna (Minivan), Mazda MX-5 (two-seaters), MINIcooper convertible (minicompact), etc. The names enclosed in brackets represent the vehicle's class. Apart from these, hatchbacks are also economical family cars.
Which cars are eco-friendly?
Electric cars are environmentally friendly because they are powered by electricity. They are considered not to be contributing to the pollution if the electric energy comes from renewable resources like solar cells or hydroelectric facilities. However, if the electric cars' electric energy comes from a coal-burning power plant, it contributes to pollution. Some examples of electric vehicles are Kia EV6, Tesla model 3 and Y, Ford Mustang Mach-E, Hyundai Ioniq 5, etc.
Which cars are categorized as the best family cars?
Some of the best family cars include Kia carnival (Minivan), Acura MDX (an SUV with minivan smarts), Genesis GV 80 (a luxury family car), Jeep Grand Cherokee L (a family 4*4), etc.
Which car brands are best to buy?
There is a variety of car brands that feature different models. However, some countries are considered to have the best car brands around the globe. Some of the best car brands to buy include Kia, Hyundai, Ford, Honda, Jeep, Lexus, Subaru, Toyota etc.
What are the best selling cars?
Various brands have car models ranked among the best selling cars. Some are honda accord, tesla model Y, Hyundai Tucson, Toyota 4runner, jeep Wrangler, ford escape, Nissan rogue, ram pickup, Subaru Forester, Mazda CX-5 etc.
How often should one get an oil change?
Most people will tell you it is every 3,000 miles or 3 months. For years, this has been the standard, but it might be time to change your thinking as more information on synthetic oils becomes available.
Trying to schedule your auto maintenance according to a specific mileage interval means that you'll either pay more per oil change or have them done less often. It also means that you could be putting off a critical maintenance task until the next service.
Many people won't change their engine oil until they've reached the mileage mentioned above and are experiencing symptoms of worn-out oil, such as a check engine light on the dashboard or smoking from the tailpipe. There is often no point in changing the oil by this time because too much damage has already been done. By then, you likely need a new engine.
One way to avoid this scenario is by keeping tabs on how your car's engine performs and smells. While this may not seem like a precise measurement for how often you should get an oil change, it shows how well your car's engine is operating and any potential problems with it that need to be addressed timely.
How often should one check his Vehicle's Fluid Levels?
It depends on what kind of vehicle you drive and the type of fluids. How often you check your vehicle's fluids, like motor oil, transmission fluid, windshield washer fluid, and brake fluid, can affect your vehicle's performance and safety.
To make sure your car is running at its best, here are some recommendations for checking your car's fluids:
Motor oil. Check your car owner's manual to determine how often you need to change the oil in your car or truck. You should check it before every oil change. Also, check it under the hood every time you fill up with gas. Look at the dipstick, which is usually located near the engine oil cap, and make sure the level is between "add" and "full." If it's not, add enough to bring it up to "full."
Transmission fluid. Transmission fluid lubricates automatic transmissions and powers hydraulic valves that actuate clutches in a transmission. The dipstick will be on the driver's side of the transmission pan under the car or truck.
How often should one Change his car Air Filter?
A car air filter is a device that cleans the air inside your car by removing dust, pollen, and other tiny particles from the incoming air stream. The design of this filter varies depending upon the make and model of your car. Some cars have a large cylindrical filter, while others have an accordion-shaped paper filter.
Changing your vehicle's air filter once every year or every 20,000 miles is imperative, whichever comes first. The only method to know when it's time to alter your air filter is to clean it out and check its condition.
When driving, tiny particles like sand and dust will pass through the air ducts into the engine. Over time these particles will build up, become sticky and clog the air ducts. This makes it hard for air to pass through the filter and thus hard for a fuel-efficient flow of air into the combustion chamber, resulting in substandard performance and decreased gas mileage.
Truck drivers are required to maintain their vehicles in good condition. As part of this maintenance, truckers must know how to check the air filter on their car. Not only does an air filter remove dust and pollen particles from the incoming air stream, but it also traps dirt and grime before it enters your engine.
When should one replace his car Brake Pads?
Tires are the essential safety feature in a car, and tires lose performance over time. The same is true for brakes. Brakes are a secondary safety feature, and like tires, they lose performance over time.
If you have noticed that you have had to step on the brake pedal harder than usual to stop, or if you have noticed that your car seems to take longer to stop than normal, it may be time for new brakes or new brake pads, at least.
You can check the status of your braking system by pressing down on the pedal with the engine off and watching how far the pedal sinks before coming up again. There should be about one inch of travel in the pedal before it comes back up again without you lifting your foot from it. If it goes all the way to the floor or if it only moves down a little bit, then it is probably time for new brakes or new brake pads, at least.
To determine whether you need to change your brakes, you can use the following method:
Locate the tread on your car brake pads. Turn the wheel to each side so that the wheels are off of the ground. You will see two grooves on each wheel that reveal the tread on your brake pads.
Bend over and look at each wheel from above.
If you see that one groove has worn away completely and the other has not, then it's time for your car to be inspected for replacement.
If both grooves have about 2mm remaining, then it is safe to drive as long as there are no other problems with your braking system.
When should one replace his Car Battery?
There's no hard and fast rule, but several key factors can help you decide when your car battery needs to be replaced. It shouldn't take more than a couple of years, primarily if it's used regularly. If your battery is three years old or less and is still not holding a charge, you may have to replace it.
Trouble starting the engine could also mean that the battery is worn out. But this could be caused by the starter or the alternator too. The simplest way to check if it's the battery is to check its voltage while being charged with a charger.
A healthy battery should show 12 volts at rest and 14 volts or higher after charging for 10 minutes. Start the engine and disconnect both terminals from the battery to find out if your alternator is at fault. If it starts, you have an issue with the alternator; you need a new battery if it doesn't.
Worn-out batteries will also discharge quicker when they're hot or cold, so make sure your car has a chance to warm up before you go on a long drive.