This article points out all the differences and similarities between the Jeep trailhawk vs trackhawk. This article will help you to choose the best car among these two cars, depending on your needs. There are minor differences between Trailhawk and Trackhawk. On highways, Trackhawks are ideal, but Trailhawks are ideal for off-road adventures. Despite this, their engines differ most significantly. Fuel efficiency changes significantly as a result.
Trailhawk and Trackhawk are well-known creations by Jeep and both have slight differences in all basic aspects like engine, cylinders, weight, and features. Jeep trailhawk is specially designed for roads as well as off-road journeys, however, Trackhawk is designed only for the roads. Let's delve into the tight comparison, engine capacity, fuel economy, etc.
Overview of Jeep Trailhawk vs Trackhawk
Overview of Jeep Trackhawk
In terms of performance, Jeep Trackhawk might be considered one of the best SUVs in the market in rest time. This vehicle combines the speed and agility of a sports car with the comfort and room of a family SUV.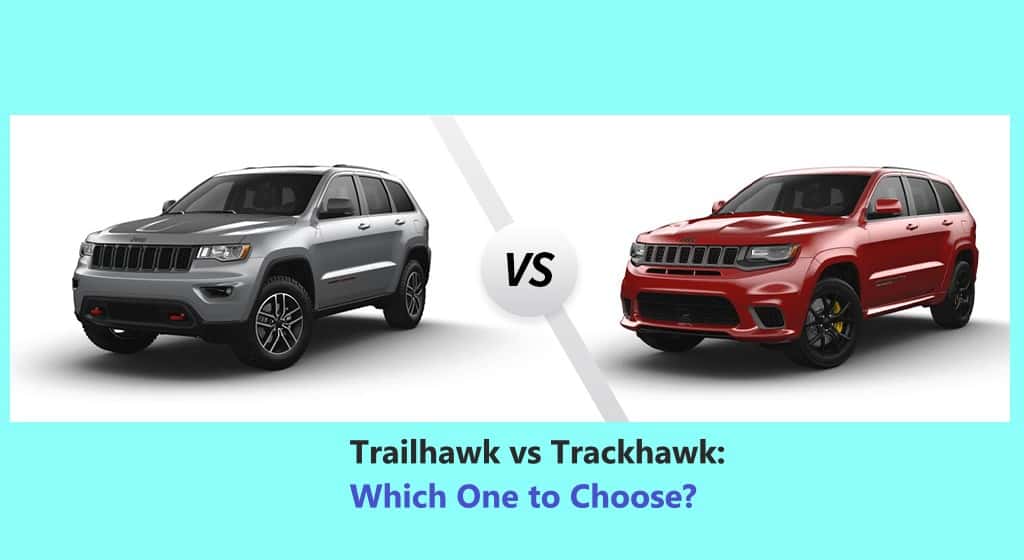 With the Trackhawk, all four wheels have traction. There is no doubt that the Trackhawk has good handling. It has a supercharged Hellcat V-8 engine with 707 horsepower, making it one of the most powerful Jeeps ever built.   The JeepTrackhawk is also equipped with power steering.
Overview of Jeep Trailhawk
Jeep Trailhawks is a special edition of Jeep Grand Cherokees, Cherokees. Off-road equipment is standard on all Trailhawk models, as well as four-wheel drive. A unique 4WD system is installed in the Trailhawk models, which is stronger than the standard Jeep 4WD system, along with traction control, hill descent control, and skid plates.
This engine produces 293 horsepower and 260 pound-feet of torque, which places it close to the top of its class. It is refined and quiet throughout the rev range, making it easy to drive. A maximum towing capacity of 6,200 pounds is provided by the Grand Cherokee's V6 engine. Four-wheel drive Grand Cherokee Trailhawk vehicles have an EPA-estimated fuel economy of 19 mpg in cities, 26 mpg on the highway, and 22 mpg combined.
Although each model bearing the Trailhawk name has a few unique characteristics, the models themselves mostly determine the distinctions. For instance, the Cherokee and Grand Cherokee are moderate to large SUVs, but the Compass and Renegade are tiny SUVs. The Grand Cherokee has the most interior space and the most engine options.
What are the Differences Between Trailhawk and Trackhawk?
01. Fuel Efficiency
If you are looking for better mileage. The Trailhawk is the best choice for you since it achieves around 8 mpg better fuel economy combined than the Trackhawk. The fuel economy for the Trackhawk is 13 miles per gallon.

Additionally, the Trailhawk gets 18 MPG in the city compared to the Trackhawk's 11 MPG. On the interstate, the Trackhawk gets 17 mpg while the other gets 25 mpg. Given this, the Trailhawk is more cost-effective.
02. Features for off-road
With a 1-inch lift, 4X4 drivetrain, and 17-inch off-road tires, Trailhawk is equipped with a high-performance suspension system. Additionally, it has a tow hook, skid plates, and rock rails for enhanced protection and traction, as well as an axle disconnect system for 4WD.
With an off-road mode selector, the Trailhawk can be set for snow, mud, sand, or rock in any situation. One of the best off-road vehicles on the market in recent times is the Jeep Trailhawk.
The Jeep Trackhawk's four-wheel-drive system, patented Bilstein shocks, high-strength steel skid plates, and a low-range four-wheel-drive system give the Jeep Trackhawk a unique off-roading experience. In this way, you can navigate through difficult terrain with ease and tackle a variety of terrains.
Even the toughest off-road trails will be no match for the powerful 6.2L V8 Supercharged engine. Off-road adventures are made easier with the Trackhawk's air suspension system that can be lowered for increased ground clearance and a lower center of gravity.
03. Wheels for Trailhawk vs Trackhawk
There are wider wheel sizes available on the Jeep Grand Cherokee Trackhawk. Trailhawks have 18X8-inch wheels on the front and rear. In contrast, Trackhawk wheels have a 20X10-inch dimension.
The Trackhawk's wheels are two inches wider and two inches larger than the Trailhawk. There is a slight difference in quality between Trackhawk wheels and other wheels.
04. Infotainment System
In the Jeep Grand Cherokee Trailhawk and Trackhawk, the Uconnect 4C NAV is standard equipment. The infotainment console located on the dashboard of the vehicle is equipped with an 8.4-inch touchscreen that is located inside the dashboard.
Using the pinch-to-zoom feature on the monitor, you are able to view 3D maps and other graphics with ease. In a matter of seconds, the Android Auto and Apple Car Play portals can be accessed with just a few taps on your smartphone.
Both Jeep SUVs are equipped with a sound system made by Alpine, which has nine speakers in total. It is possible to add the 19-speaker Harman Kardon audio system to the Trackhawk as an option. A subwoofer is included in this optional sound system, as is an 825-watt amplifier to enhance the sound
05. Weight for Trailhawk vs Trackhawk
The Trailhawk's curb weight is set at 5,004 pounds in its standard configuration. Jeep Trackhawk, on the other hand, weighs 5356 pounds, which is a considerable amount more than its predecessor.
The simplest way to describe Trailhawks is that they are lighter compared to Trackhawks. It is for this very reason that Trailhawks tend to perform better off-road than other vehicles.
06. Towing Capacity
In terms of towing capacity, the Trailhawk is capable of towing up to 6200 pounds. The Trackhawk, however, has a towing capacity of 7200 pounds. It is impressive to see both cars pull off such great capacity.
07. Performance for Trailhawk vs Trackhawk
A 3.6 liter V6 cylinder engine powers the Trailhawk, and it boasts a lot of power. There is the option of upgrading it to a 5.7L V8 Engine if you want to spend more money on it. With a top speed of 137 mph, the Trailhawk is capable of going fast.
Powered by a 6.2L V8 Gasoline Engine, the Jeep Trackhawk has a total output of 707 horsepower and 645 pounds-feet of torque. The huge amount of power behind this car produces a whopping top speed of 180 miles per hour. A further advantage is that the high-performance SUV is capable of reaching 60 mph in only 3.5 seconds from a standstill.
Trailhawk vs Trackhawk Safety Features
Jeep Trailhawk
There are several features in the Jeep Trailhawk that can keep you and other passengers safe while driving. Many cutting-edge features are available to keep you safe while driving. Blind spot warning is one of the vehicle's most notable features, which informs you if a car is in your blind spot, preventing potential hazards. Using a range of airbags and a post-crash safety system, the Trailhawk is equipped to help mitigate damage in the event of an accident.

In addition to child safety locks on rear doors and stability and traction control, other safety features include child seat anchors. A variety of brakes are also included on the Trailhawk, including front and rear-vented disc brakes. You get LED headlights and daytime running lights on the Trailhawk when driving at night or in fog. Your safety and the safety of your passengers are made possible by all of these features.
Jeep Trackhawk
Several safety features are available on the Jeep Trackhawk to help you stay safe on the road. This includes a warning system to alert you when something is in your blind spot or when you are about to change lanes.
Airbags are installed at the front and rear of the car. You will be protected from severe damage if you are involved in a collision.
On slippery or uneven roads, the Trackhawk is equipped with stability and traction control to help you maintain control. The rear doors are locked to prevent children from opening them while the car is in motion and have special anchors for child car seats.
As well as good brakes, the Trackhawk also has systems that enhance visibility, especially during bad weather and at night. Lastly, it is equipped with alarms and other security features to prevent theft. A lot of safety features are included in the car as a whole.
Pricing Ideas for Trailhawk vs Trackhawk
In terms of pricing, The Jeep Trailhawk starts from $47,400 and the Jeep Trackhawk is almost double the price as the price of the car starts at $88,400. In comparison with each other, the price may seem unfair. In contrast, all their features are similar, and they are almost identical.
In particular, the Jeep trackhawks have the incredible horsepower for any car There is a slight improvement in the tires and brakes. Furthermore, your power system will be upgraded to the Jeep Trailhawk and, there are even some design upgrades. This is the reason for the higher price of the Jeep Trackhawk.
Jeep Comparison Table: Trailhawk vs Trackhawk
We have summarized the basic comparison table between Jeep Trailhawk and Trackhawk:
| | | |
| --- | --- | --- |
| 8-Speed Automatic | Jeep Trailhawk | Jeep Trackhawk |
| Engine Capacity | 3.6L | 6.2L |
| Types of Engine | V6 | V8 |
| Nos of cylinders | 6 | 8 |
| 8-Speed Automatic | 271 hp | 707 hp |
| Engine Transmission | 8-Speed Aautomatic | 8-Speed Automatic |
| Wheels | 18X8 inch | 20X10 inch |
| Towing Capacity | 6200 lbs | 7200 lbs |
| Weights | 5004 lbs | 5356 lbs |
| Fuel Tank Capacity | 24.6 gal | 24.6 gal |
| Fuel Economy (MPG) in City | 18 | 11 |
| Fuel Economy (MPG) in Highway | 25 | 17 |
| Fuel Economy (MPG) in Overall | 21 | 13 |
| Safety | Advanced | Advanced |
| Performance at top speed | 137 mph | 180 mph |
| Price | $47,400 | $88,400 |
Jeep Comparison Table: Trailhawk vs Trackhawk
Which Car Should You Choose – Trailhawk or Trackhawk?
Trailhawk and Trackhawk are both great Jeeps, so choosing between them is difficult. Most of the features of Trackhawks and Trailhawks are also very similar. Your preferences and needs ultimately determine your choice.
Due to its superior suspension, thinner tires, and increased mileage, the Trailhawk is ideal for those who frequently venture off-road. Furthermore, the car's price is almost half of the Jeep Trackhawk's.
However, if you spend most of your time on the road, the Trackhawks are a better choice. Choose the Trackhawk if performance, speed, and driving dynamics are more important to you. Jeep Trackhawks are the most powerful and agile and feature-rich Jeeps ever built. This would make sense if it were tailored specifically for tracks.
Due to the increased speed and larger tires, you will be able to drive at the best speed. In addition, you would not have any problems on the road because of the low mileage figures.
Conclusion
Finally, in our comparison between Trailhawk and Trackhawk, the choice of selection is based on your needs and budget. Hence, we have covered a brief comparison between Trailhawk vs Trackhawk! Any questions, please let us know.
FAQs on Trailhawk vs Trackhawk
Is a Trailhawk the same as a Trackhawk?
Although look wise both Trailhawk and Trackhawk are almost same however, both car has different aspects. They are different in terms of off-road capabilities, suspension system, power, engine capacity, tire sizes, etc.