Let's explore Tesla the Game! This article acts as a suggestion for anyone who is looking for the best games to play in their Tesla cars. The gaming capabilities of Tesla cars and its future as a whole are also discussed in brief.
Tesla is known thorough out the world for making some of the best electric cars in the world. In all the latest Tesla models there is an infotainment system that lets anyone play video games. The owner of Tesla who is a fan of gaming himself has promised frequent bug fixes and multiple additions of games both older and newer in future OTA updates.
Tesla The Game: Gaming in Tesla
A major investment has been made by Tesla in integrating video games into its in-car Infotainment system over the last few years. The feature that lets you play games in your Tesla Cars is known as Passenger Play. At first in 2018, it was first announced that Tesla registered games that can be played in the Atari Classics, games as Pac-man, Super Breakout, Pitfall,  Raiders of the Lost Ark, and Donkey Kong can all be played.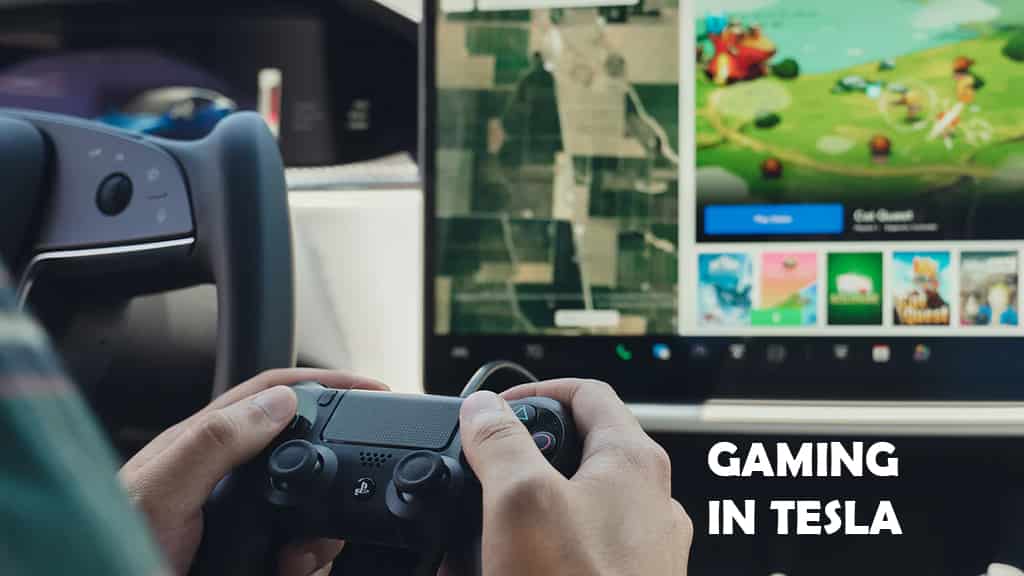 Recently, in December 2022, Tesla rolled out Steam Compatibility for the Tesla Model X and Model S, meaning anyone can play almost any game that is available in the steam library.
The games can be played by using the Tesla car steering wheel, the touchscreen on the dashboard and also by using the pedals of the car. You can also play by connecting a gamepad controller like the Xbox controller in order to play games.
Tesla's Infotainment System: Gaming
An 11-teraflop gaming system is powered by the Tesla Arcade processor which is present in the infotainment system. A Tesla game powered by this technology, such as an old Atari game from the 1980s, or one from a modern console such as the Xbox Series X or PlayStation 5, can be powered up at least ten times.
The Tesla Arcade System has the AMD RDNA2 Navi 23 GPU which is configured at 32 CUs and has a clock speed of 2.44 GHz. The maximum bandwidth that can be achieved is 224 GB per second.
Both the 2022 Models S and 2022 Model X due to their newer engine, battery and capacity also have Steam Implementation, which means you are able to play any game that is present in the Steam Library.  Both cars come with 16GB of DDR RAM and need a high speed internet connection for smooth functioning. The Steam support might arrive in other Tesla models through OTA updates in the future.
Safety Regarding Gaming in Tesla Cars
Playing in Tesla while driving was a major safety hazard as people who played games while driving might get distracted from the road and might cause a serious accident. Due to this reason of safety, this issue was raised by auto safety regulators, resulting in Tesla agreeing to stop allowing video games to be played on the centre touchscreens of its vehicles while in motion.
The National Highway Traffic Safety Administration says a software update will be sent over the Internet that will lock the Passenger Play feature and prevent it from working while vehicles are moving.
This rule covers each Tesla Model S, X, Y and 3 that were released between 2017 to 2022 and all upcoming models in the distant feature also have to follow this.
Best Games You can play in your Tesla
From classic games from the retro Atari era to the latest games on Steam, Xbox etc, there are tons of games that you can play in your car. Here we are going to list the best games that you should play in your car.
01. Cuphead
Cuphead is a popular Run and Gun game known for its unique watercolour style art which resembles old cartoons. The game is also known for its boss fights and the game also has multiplayer support.
There was a lot of attention given to Cuphead from the development to the publishing stages. There were over 3 million copies sold in less than a year, and a new character was introduced in DLC entitled "The Delicious Last Course". Recently, Netflix released an animation series titled "Cuphead Show".
There is no complete version of Cuphead on Tesla Arcade yet. As a result of limited car storage, only level 1 is available, and an additional controller is required to enjoy the game.
02. Cyberpunk 2077
Cyberpunk 2077 is an open-world game created by CD Projekt Red, the game was in development for 8 years before it was released. The game takes place in Night City which is set in the Cyberpunk Universe. Players play as a character named V and can use the character to complete missions and engage in combat.
In addition to offering a Sony PS5-like performance, Tesla games arcade offers Cyberpunk 2077 with a Sony PS5-like interface. Since its processor is able to drive high-end graphics and animations, it is able to give stable performance and framerates.
Wireless controllers and Tesla's infotainment make Cyberpunk 2077 a dream for many gamers.
03. The Witcher 3: Wild Hunt
The Witcher 3: Wild Hunt is also a game that is made by CD Projekt Red. The game is an action role-playing game(RPG), the game is set in a mythical open world and the game is based on a novel of the same name. The Witcher as a franchise is very popular and recently there have been two different Netflix series based on the franchise. 
Players control a monster slayer for hire seeking his adopted daughter, Geralt of Rivia who is based on Slavic mythology. A player must use magic, weapons, and other strategies to overcome the game's dangers and complete quests in order to gain gold and experience points.
With the 17-inch central console, this popular action video game has significantly improved Tesla's gaming capabilities, bringing it up to date with more modern games.
04. Super Breakout
Super Breakout is one of the classic atari games which was released all the way back in 1978. This game is timeless and can be played casually even by anyone who is not a gamer.
No products found.
Double, cavity and progressive game modes allow players to bounce balls into walls. Owners of Tesla Model S, Model 3, and Model X cars can play Super Breakout on their in-car touchscreens or steering wheel buttons.
05. VR Chat
VR Chat is technically not a regular game, it is a virtual platform

that people can use to socialize. You can create any kind of character of your choice While VRChat is called VR Chat, it does not actually require a VR headset. With Tesla's infotainment screen, you can hang out with anyone. It is a fun experience for anyone to get along and the character design also makes it very unique.
06. Cat quest
Despite being a short and solid action game, this game is a Role-playing game (RPG) with beautiful visuals. Play as a cat searching for its kidnapped sister in this action RPG game. It has a simple yet fun game mechanic and game that was released on Steam and consoles after its success on mobile.
This RPG is unique as RPGs are generally very long, but this game provides a very nice experience in a short amount of time. Whether you are charging your Tesla car or just spending some extra time, it can be enjoyed anytime, anywhere.
07. God of War (2018)
God of War is one of the best games to be released in the PS4 era, The game is an action-adventure game which was developed by Santa Monica Studio. The game was a Sony Playstation Exclusive but was released for other platforms in 2022. At the moment the game is just available for the 2022 Tesla Model S and the 2022 Tesla Model X due to their higher spec system and Steam implementation. The game features amazing graphics and physics with a very interesting storyline.
The sequel of the game God of War Ragnarok was recently released and this is the perfect time to play the first game if you have not played it yet. Playing this game in your Tesla will be a surreal experience for any gamer.
08. Hades
Just like the God of War, Hades is also a game which is based on Greek Mythology. While the game might not have such high graphics as God of War, the game still has a unique art style and has fun hack and slash gameplay.
In the game, we play as Hades, a roguelike character following Zagreus, the Greek underworld prince, as he attempts to escape his father's home and clutches.  The narrative and voice acting are superb. There will be a sequel soon, so it is the best time to play the first game.
Final Thoughts
In addition to its constant innovation, Tesla is also known for its commitment to the future. Tesla is gradually transforming its automotive utility into an infotainment centre with the inclusion of more Tesla games in its arcade. Due to this reason, parking lots and charging stations no longer offer endless boring downtimes for drivers.
The new generation of car owners who are gaming enthusiasts will be excited to see what Tesla has in store for them. Tesla may one day surpass the latest and greatest gaming consoles in terms of performance. Any questions on tesla the game or gaming in Tesla!