In this article, we will learn what are exhaust fans, its definition, meaning, working, types, selection, facts, calculation, performance, etc.
What are Exhaust Fans? Definition
Exhaust Fans Definition
Exhaust fans aid in getting rid of excess moisture and unwanted odors in rooms, kitchens, pantry, dining, toilet, washrooms, pump house, battery room, etc. They are present in areas where water builds up quickly. Ensuring proper ventilation is of prime importance.
Exhaust fans help in ventilation and also remove contaminants that can cause harm or irritation if inhaled. They are devices that provide ventilation and hence prevent allergies, headaches, asthma, etc. It also reduces the risk of mold, mildew, and damages to walls or furniture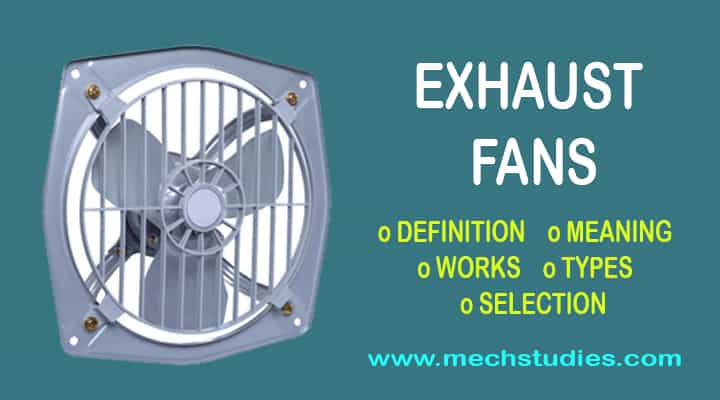 Exhaust Fans and Ventilation
Ventilation is an important phenomenon. It's the movement of air into, through, and out of an area, room, or building. It is categorized into two major types; unintended and intended ventilation.
Unintended ventilation is the natural one.
On the contrary, intended ventilation can take place when several systems are installed. Exhaust fans are intermittent fans installed for intended ventilation.
Term intermittent used for exhaust fans shows that they are switched on for a short period in a particular area, for instance, during a shower in a bathroom. It is triggered mainly by a light switch. Once it stops, we rely on the phenomenon of cross ventilation for managing the rest.
In case the exhaust fans are not functioning appropriately, it may cause several problems. Firstly, ventilation no longer occurs in that room or area. Secondly, the unwanted moisture will find its way into the other parts of the house or building, often leading to condensation on cold surfaces, which ultimately causes mold. Hence exhaust fans are vital in ensuring proper ventilation throughout the area.
How Does Exhaust Fans Work?
The primary role of exhaust fans is providing ventilation. They function by sucking moist or hot air from an area, replacing it with fresh and cool air. The ducting system is significant in expelling out the warm or stale air. Hence, the stale and humid air is forced out through the exhaust vent, exiting the area.
The fans use electricity to operate. Some exhaust fans are installed with sensors that detect steam or humidity and automatically turn on. At the same time, others are fitted with a thermostat that senses the temperature changes and then operates accordingly.
Types of Exhaust Fans
Exhaust fan comes in various types. Some of them are discussed below.
Wall-mounted exhaust fans
Wall-mounted exhaust fans are pretty familiar and have a hassle-free installation. These fans are mounted on the external walls of houses mostly. They allow the air from inside to pass to the outside environment through the fan.
Exterior Exhaust fans
Exterior exhaust fans resemble wall-mounted exhaust fans. They are installed on the outer ends of houses and buildings to expel the air from inside to outside. This type is preferred since the noise produced is not much due to the exterior location of fans.
Ceiling mounted exhaust fans
As evident from the name, a ceiling-mounted exhaust fan is fitted in the ceiling of a room or building. For this purpose, a hole is required in the building's attic. Usually, they are the best go-to option for upstairs rooms and ensure better airflow.
Kitchen exhaust fans
Kitchen exhaust fans have become popular in the past few years and are installed right above the stove in the kitchen. They ensure the removal of unavoidable smells common in the kitchen area, and moisture levels are also reduced with kitchen exhaust fans. They are also referred to as kitchen hood exhaust fans.
Bathroom exhaust fans
A bathroom exhaust fan is necessary to be installed in washrooms for maintaining normal moisture levels. After the bath, humidity appears on the tiles and mirrors. The moisture needs to be removed to avoid mold and other related problems. They are cheap, small, efficient, and easy-to-install among all the types.
Inline exhaust fans
Inline exhaust fans are smart ones among all the types of exhaust fans. In certain areas, like in some rooms or apartments, ventilation doesn't take place efficiently. In these scenarios, the inline exhaust fan is the best. The fans are installed in between the ducting, and in this way, stale air is expelled through ducts.
Exhaust fans with lights
Exhaust fans with lights are another type that performs the same function as the other fans. However, it additionally illuminates the ventilated area due to the lights present in them.
Windows exhaust fans
Window exhaust fans are designed smartly to fit on the open window. Some of them are installed with side panels that are expandable hence covering the entire window opening. The majority of units come with one large fan, or two smaller ones mounted side by side. Most window exhaust fans have a maximum of three variable speeds: low, medium, and fast. Some models also allow users to switch between in and out modes, known as reversible ones.
Sale
VIVOSUN D4 4 Inch 195 CFM Inline Duct Ventilation Fan HVAC Vent Blower for Hydroponics Grow Tent
Powerful Airflow: This VIVOSUN powerful blower with a fan speed of 2500 RPM can create an airflow of 195 CFM; It works efficiently in ventilating grow tents, transferring heat or cool rooms, circulating fresh air, as well as controlling proper humidity, temperature, and air quality for your grow area
Quiet Operation: Fitted with a flow deflector that concentrates the fan stream and cuts turbulent kinetic energy to reduce sound output to just 30 dB, which does not have any harm to your health and will not disturb your work
Safety Protection: The motor is ETL listed and features an automatic reset function to prevent overheating or other safety issues; The electrical junction box is made from flame-retardant components for fireproofing
Simple Hookup: The flanges on both the intake and exhaust ends are simple to assemble with the vent hose by locking tabs; A cord of 5.9-feet long for hassle-free setup; The housing, even the impeller and blades, are easy to detach for cleaning and maintenance
Wide Applications: It can improve airflow to reduce humidity, block odors, and lower temperatures in grow rooms, basements, or kitchens; Can be used with a variable speed controller (bought separately)
Design of Exhaust fans
Fans aid in the movement of air through rotating blades ensuring low-pressure generalized air circulation. Typically the fans are constructed based on the following designs:
Axial fans
The axial fans use blades for air movement. The intake and expelling of air take place in the same direction. Areas that need a regular flow into and out of space need axial fans. In such applications, they are best designed in the movement of large amounts of low-pressure clean air.
Centrifugal fans
Centrifugal fans are based on high-speed rotating fans to increase the speed and pressure of air passing. The fans possess higher pressure capacities and are ideal to use in harsh environments where humidity and contaminants are present at high levels. The air expelling out from the fan moves at a 90-degrees angle to the fan's entrance direction.
The fans are either equipped with forward-curved or backward-curved blades. The former moves small air volumes with less operating noise while the latter offers faster airspeeds, greater volume capacities, and higher efficiency.
How to Select Exhaust Fans?
The primary purpose of ventilation stays intact, i-e getting rid of foul air and moving in of fresh air. While selecting an exhaust fan, various parameters are based upon the application that needs to be considered. They include:
Model of the fan
The working principle of fans remains the same, but there are specific models. Each model is best suited for a particular application. The diversity in the application has forced manufacturers to bring into the market a variety of fan models. The model provides economical and adequate functioning in the application for which it is created. Therefore, before selecting, one should know their needs. Here are a few things to consider while choosing a particular model.
Location
An exhaust fan is installed at three essential locations that are wall, duct, or roof. The components and working are the same wherever the fans are installed, but location matters for efficient working and best results. Based on the airflow pattern, fans are mounted in either of the three sites mentioned above.
The infrastructure of the building or house needs examination, which will help determine how the air flows. This way, the location for installation is finalized, and proper ventilation takes place.
Direct Drive and  Belt Drive
Low volume and static pressure areas (below 2000 CFM and 0.50'') need direct drive fans, which are pretty economical. They come with speed control for adjusting CFM and require little maintenance. Areas with air volume and static pressure exceeding the above values require Belt Drive fans. They have adjustable pulleys. Moreover, fan speed and CFM is also adjustable. The High-temperature fans (above 50 degrees Celsius) are usually belt-driven.
Centrifugal and Propeller fans
Centrifugal and propeller fans are available. The efficient ones are centrifugal fans which work best in higher static pressure areas. Apart from that, the best thing is they are quieter. Their models are constructed such that motors are mounted out of the air stream, which aids in ventilating high temperatures and contaminated air.
Sale
Comfort Zone CZ310R 9" 3-Speed, 3-Function, Expandable, Reversible Twin Window Fan with Remote Control, Removable Cover
️3-SPEED FUNCTIONALITY: Choose between low-, medium- or high-volume air speed options on this twin window fan in order to optimize air circulation and airflow to suit any environment.
️MULTI-FUNCTION OPTIONS: Select the cooling function to refresh a room, the exhaust function to remove stale air or the circulating function to move the blades on each fan in opposing directions.
️ADJUSTABLE WIDTH: Accordion expanders adjust from 23-1/2" to 37" to accommodate most window sizes, then can be locked to secure the twin window fan in place.
️CONVENIENT CONTROL: The included remote control allows you to conveniently change speed settings, choose fan functions and power on the fan from a distance.
️WINDOW FAN: This Comfort Zone 9in. Reversible Twin Window Fan with Remote Control has a 3-in-1 design that allows you to choose from three different settings. The cooling setting brings in fresh air, while the exhaust setting removes stale air.
Exhaust Fans Air Flow Rate
During selecting an appropriate model, the air changes per hour must be taken into consideration. The building codes usually constitute information about suggested air changes to ensure adequate ventilation. "Air changers per hour" is required for areas with extreme conditions.
The geographic location and average duty level of a room are considered to find the actual number needed within the range. A lower number in the range is selected for hot and more-usage areas to change the air rapidly. On the contrary, a higher number is selected for lighter usage and moderate climate areas. There is a formula for calculating the air flow rate of an area to ensure proper ventilation. It is:
Where,
V = Room volume = LxWxH
Q = Air flow rate
ACPH = Air changes per hour, which depends on applications as well as codes & standards
Note: In the area where heat is generated, ventilation calculation is done based on ACPH & heat load and whichever is higher, the same is selected. Would you like the detail calculation, then please visit industrial ventilation
Static pressure
Static pressure measurement is critical to the fan selection process. It is calculated in inches of water gauge. Inside the ductwork, the static pressures can be calculated using a manometer. The static pressure exhaust fan depends on the air velocity in the ductwork, the number of duct turns (and other resistive elements), and the duct length.
Loudness (Sones)
Noise or loudness is a worth considering factor while buying an exhaust fan. On an industrial level, the unit "sones" represents loudness. One sone loudness equals the sound generated by a quiet refrigerator placed at a distance of five feet (in an acoustically average room).
Hence according to the area and application, the exhaust fan model with the appropriate sone range must be selected. After knowing the application, select the exhaust fan model. The parameters mentioned above are taken into account during the selection process.
Sale
VIVOSUN Ventilation Kit 4 Inch 190 CFM Inline Duct Fan with 4"x 14" Carbon Filter Odor Control System with Australia Virgin Charcoal for Grow Tent Ventilation
Perfect Combination: This ventilation kit includes a 4-inch 190 CFM inline duct fan and a 4"x 14" carbon filter; This combo is primarily used in air circulatio and ventilation projects
Powerful Air Flow Fan: The powerful inline fan with a speed of 2300 RPM can effectively circulate air for optimal room ventilation; Meanwhile, less than 30 dB noise level will not disturb your work
Excellent Odor Control: The porous activated carbon with 1050+ RC 48 Australia Virgin Charcoal helps eliminate some of the most undesirable, pungent smells and particulates for indoor grow tents
Premium Material: Made of high-quality material, which makes the ventilation kit serve for a long time; The inline fan features a strong and powerful motor, and the ducting is also flexible
Widely Applicable: Suitable for both commercial and residential air ventilation solutions; Widely used in grow rooms, planting room, grow tents, HVAC applications, bathroom venting, etc.
Factors Affecting Performance of Exhaust fans
Several factors affect the performance of exhaust fans. Some of them are elaborated in this section.
Duct Type
The types of ducts affect the performance of exhaust fans. Smaller ducts, in addition to bends and twists in ducting, significantly increase the airflow resistance. On the other hand, longer duct runs result in increasingly reduced airflow.
The diameter of ductwork and piping is an essential factor in determining the performance of the fan. Sometimes due to space constraints, the duct diameter is reduced, which means bottlenecking of fans. It ultimately leads to airflow resistance and adds up to the strain on the motor. The ducts are kept straight. It is advised to avoid sharp 90 degrees bends which can cause a reduction in airflow. Hence, keeping the ducts straight means increasing the efficiency of the fan.
Issues after installation
If the system is old or finished installing the fan, some issues may occur with the airflow. There is an easy way to check it out. Firstly, check the duct system for any holes or leaks. If you find any, get it repaired or replace it for better performance. The poor installation of exhaust fans also leads to several issues. It can cause the fans to create noise while operating, making the users avoid the usage. It can ultimately lead to moisture issues in the house or building.
Motor
The motor significantly impacts exhaust fans, ventilation system, energy efficiency, and lastly, costs. High-efficiency motors are costly, but they offer 20% less energy for working than low-efficiency motors.
Speed
Speed of the fan motor and blade affects the performance of exhaust fans. If fan speed increases, the turbulence in air moving through the fan will heighten, leading to decreased efficiency. Moreover, high turbulence also adds up to the noise of exhaust fans. Noise is a negative aspect that indicates poor design and performance.
Moreover, to avoid issues in the performance, it is advised that the fan blade tip speed be lesser than 4500 feet per minute. The recommended fan diameters are 12, 24, and 36 inches keeping in mind the area and application.
Blade design
Blade design and shape is worth determining factor in fan efficiency and performance. Many companies opt for designs that minimize dirt buildup, a common issue in busy household exhaust fans. Mostly machete or teardrop-shaped blades work more efficiently than cloverleaf style blade designs.
Building design
The building or house design is also impactful over exhaust fan performance. A phenomenon is known as Vena-contracta, in which air enters through an opening, creates turbulence, and reduces an effective cross-sectional opening area. The opening area's shape determines the amount of reduction that will take place.
Maintenance
Maintenance is another crucial aspect. While considering all the factors mentioned above, keep in mind the cleaning and maintenance of fans also. Even the best and most efficient model will not give a satisfactory outcome if not cleaned or services. The fan blades and shutters need to be cleaned, the shutter pivots and motor must be clean and lubricated. Moreover, the drive belts are required to be appropriately tensioned and aligned.
Exhaust fan efficiency and performance are important considerations; they are not the only criteria for purchasing decisions. Initial cost, availability of components, loudness, housing durability, maintenance ease, and estimated annual hours of operation are other significant factors affecting long-term costs and functionality. All of these factors, along with efficiency, must be considered.
Applications of Exhaust Fans
The applications of exhaust fans are listed below.
Commercial spaces and warehouses use commercial exhaust fans to keep the products cool and dry, maintaining quality standards.
Another vital role of industrial exhaust fans is fumigation, preventing toxic or stale air from staying.
In a hospital building, the air is full of pollutants and unwanted humidity even greater than the outside air. It's significant to maintain an environment favorable for healing. Hence the exhaust fans in hospitals ensure the recovery of the patients in pollutant-free air. Laminar exhaust fans are widely used in hospitals due to their fast circulation of air. (300 times/ hour)
Kitchen and bathroom exhaust fan is the most common among all types, present in every house around the globe.
Chimney and fireplaces at houses and offices look elegant and are a luxury. They are used in the winter season and are prone to poor ventilation and drafting, resulting in dispersion of smoke and odor in the area. Chimney exhaust fan is utilized in such scenarios to get rid of the smoke and odor. The fans successfully drive some up the chimney flue and out from the house/building. This way a proper draft and smoke-free environment is possible.
Exhaust fan is globally used in industries also.
Manufacturing facilities use exhaust fans for controlling airborne dust and fumes.
Oil and gas facilities utilize fans in dampening noise and control the high temperature in the ventilation system.
The fans have a usage in pharmaceutical and biotechnological operations also.
Laboratories in educational institutes also have fans to prevent the spread of airborne contaminants and maintain good air quality
Wastewater treatment facilities also use the devices to control the smell and spread of pollutants.
Axial design exhaust fans are used in exhaust and ventilation systems at warehouses, paint booths, furnaces, and wastewater pump stations.
The devices are also used in the food and beverage industries.
Advantages of Exhaust Fans
The advantages of exhaust fans are listed below.
They are advantageous in maintaining premium air and temperature quality in buildings or homes.
They are compact and easy to install.
They are a perfect approach to ventilation.
The installation of exhaust fans is beneficial in preventing moisture issues such as mold.
Air quality is something that can't be neglected. The devices ensure premium indoor air quality inside buildings and houses, preventing allergies, asthma, and other related health problems.
The stale and stuffy air, especially in bathrooms and the kitchen, can be readily removed if exhaust fans are installed.
The unpleasant smell of air due to poor ventilation is quite irritating. The fans help in eliminating such odors making the indoor environment comfortable and pleasant.
The fans help eliminate humidity from houses or buildings, preventing the moisture from reaching the walls and ceilings, hazardous.
The installation of these exhaust fans also eradicates air contamination.
The air exchange is pretty swift and efficient.
The ventilation possible through exhaust fans results in cooler temperatures.
Disadvantages of Exhaust Fan
The demerits of installing exhaust fans are given below.
Exhaust fans can be pretty noisy if not installed correctly.
They are restricted to providing localized ventilation.
The devices operate on electricity. Hence, during a power outage, they won't work.
The fans are not mobile. They are installed at specific locations like walls, ceilings, or windows.
Improper installation of the fans results in the escape of moist air into other areas of the house or building. The condition may cause the tiles to be damp.
They remove the air only in one direction, for instance, inside to outside.
Conclusion
Ventilation is a significant phenomenon. Exhaust fans are devices used to eliminate moisture and odor in buildings or houses hence providing adequate ventilation. They aid in achieving pollutants and odor-free air, preventing the risk of several health issues also. The devices play a crucial role in maintaining better indoor air quality. The primary principle of working exhaust fans is air movement. The stale air is expelled out from the building or house, and cool air replaces it—this way, the temperature also reduces.
The fans come in a variety of types. Depending on the location and application, the types of exhaust fans are wall-mounted, ceiling-mounted, exterior ones, bathroom and kitchen fans, inline exhaust fans, windows mounted, and exhaust fans with lights. Additionally, the exhaust fans are primarily based on different designs. The types available may be categorized under centrifugal fans or axial fans.