Let us talk about the windshield washer fluid along with its definition, meaning, how to refill it, uses, types of Windshield Washer Fluids and a list of top 5 rated fluids.
What is Windshield Washer Fluid? Definition & Meaning
Windshield washer fluid is a fluid used in motor vehicles to clean the windshield with the windshield wiper when the vehicle is being driven, This fluid is known as windshield wiper fluid, wiper fluid, screen wash, or washer fluid.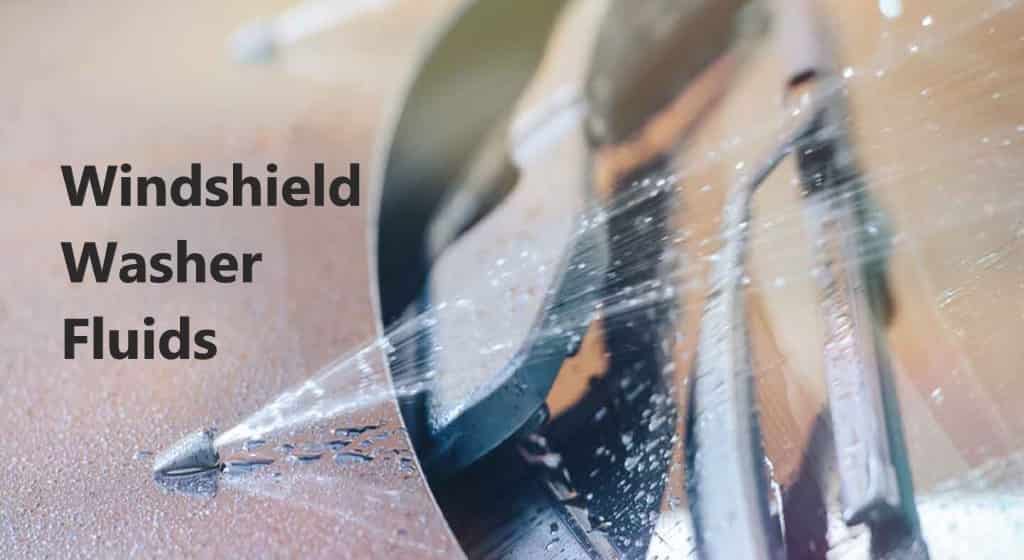 There's nothing worse than activating the windshield washer sprayer only to discover you are out of washer fluid when you have got dirt, road grime, or bug splatter on the windshield.
It is simple enough to change windshield washer fluid, but you'll quickly discover there are many different choices.
How can you refill the Windshield Washer Fluid?
Windshield washer fluid does not break down like motor oil and other fluids in your vehicle. Because of this, windshield washer fluid cannot be changed according to a specific procedure. The process of refilling the reservoir with the windshield washer fluid of your choice is as follows
Firstly open the hood of your vehicle.
Locate the cap on the windshield washer reservoir. An image of a windshield spraying water will be either pressed on or screwed on.
Remove the cap by pulling it upward or unscrewing it.
When the reservoir reaches the "Full" mark or the top of the filler neck,  carefully pour windshield washer fluid into it.
Make sure that the windshield washer reservoir cap is pressed downward until it clicks into place or screws the cap back on.
Wipe if there is any spilled Windshield Washer Fluid
After you are done with all the processes close the hood of the vehicle.
Is it Important To Use a specific  Windshield Wiper Fluid?
Many car owners do not even give a second thought to windshield wiper fluids even though they seem like simple products. In most cases, all that needs to be done is to open the hood, locate the tank, remove the lid, and pour in whatever fluid they have available.
You may not have realized that choosing the best windshield wiper fluid is vital, especially during colder weather, bug problem or rainy weather, etc.
Different Types of Windshield Washer Fluids
01. Standard
This is the standard, everyday blue liquid that you can get at any car parts store, bargain retailer, or petrol station where you may spend three times as much for it in an emergency. Typically, this fluid is a concoction of water, methanol, and other compounds.
Standard windscreen washer fluid tends to clean more completely than other blends thanks to its high concentration of cleaning chemicals, giving you clear vision and fewer streaks.
02. Bug Remover
A heavy infestation of bugs is in full swing during summer and spring, causing windshields to be coated with sticky guts. During this time, the extra cleaning additives in bug remover windshield washer fluid will come in handy.
Fluids of this type dissolve and wash away bug splatter particularly well. Since there is less space for antifreeze, the freezing point is higher due to the use of more cleaning agents.
03. De-Icing
With its antifreeze additive, typically ethylene glycol and methanol, de-icing windshield washer fluid can withstand cold temperatures as low as -49 degrees Celsius without freezing.
A thin layer of ice on your windshield can also be melted using an antifreeze fluid because it prevents the fluid from freezing.
Using a heavy antifreeze content limits the amount of cleaning agents in the wash fluid, which may not effectively remove dirt and grime. In addition to being a bit expensive, winter windshield washer fluid is also the most difficult to find.
04. Water Beading
It uses silicone and other chemicals to cause the rain to bead up on your windshield and roll off, sometimes as washer fluid, sometimes as an additive, you mix with your existing washer fluid.
With aging wiper blades, the water repellent chemicals cause more streaking due to the beading action. The most popular beading windshield washer fluid is Rain-X.
05. All-Season Washer Fluid
If you can not decide on the best windshield washer fluid for your vehicle you can use any well reputed All season Windshield Washer Fluid the work of every other windshield water fluid can be achieved in this single formula.
The only problem is that these fluids generally tend to cost almost double the amount of the others.
In addition to enduring relatively low temperatures – sometimes as low as -45 degrees C – without freezing, this formula also contains anti-bug additives and plenty of cleaning agents to remove road grime.
What is the best windshield washer fluid?
The market offers a wide variety of windshield washer fluids when it comes to topping up your car's reservoir, but not all of them are the same. The climate challenges in the region you live in, your driving habits, and the places you drive should all be taken into consideration before buying a cleaning fluid to keep your vehicle's windshields clean.
We are going to discuss some of the best windshield washer fluids that are available in the market.
Best Overall windshield washer fluid (Prestone All Season 3 in 1 Windshield Washer Fluid)
This is an overall great option for anyone who loves to travel and goes to different places thus facing many kinds of climates throughout the year. The product that is offered is an all-season 3 in 1 solution that is specially designed to keep your windshield clean and clear throughout the entire year.
It is a de-icer that helps melt ice quickly and protects you from freezing in temperatures from -27°F (-32°C) down to -27°F (-32°C). In order to remove the bugs from your windshield, you will need to use this solution that comes with a bug wash that penetrates even the toughest residue, breaking down and removing it.
You can use this solution in any weather condition, especially if you live in a region with snow or ice. Because it is pre-mixed, you do not have to do anything except add it to your reservoir. Compared to concentrated solutions that you must mix yourself, it is somewhat more expensive for a single gallon of solution.
The water repellent advanced beading technology that is used on your glass helps to make sure that the glass is streak free and glare free. The only con of this windshield fluid is that the solution is on the costlier side when compared to other products in the market.
Best Windshield water fluids for winters: Prestone De-Icer Windshield Washer Fluid
It is possible that you live in an area that has harsh winter conditions, even though Prestone's all season washer fluid is capable of providing winter protection but you might need a specific fluid for cold weather.
This is where the De-Icer windshield washer fluid from the company comes into play. Ice and frost are quickly removed from your windshield thanks to its quick freezing at -27°F (-32°C) temperature, which is the same as the 3 in 1 solution.
There is a high concentration of methanol in the solution, as well as ethylene glycol, to prevent dangerous refreezing. A hydrophobic shield is left on the glass by Prestone De-Icer windshield washer fluid, helping prevent road spray from adhering.
The price of the Prestone De-Icer Windshield Washer Fluid is also very budget friendly and is functional for the harshest of weather. The con of this washer fluid is that it contains too much methanol and can be only used for winter and cold weather.
Best Windshield water fluid for bug problems: Prestone Bug Wash Windshield Washer Fluid
If you live in an area where there is a lot of problem with bugs and pests this is the best choice for Windshield Washer Fluid. There are a number of benefits to using this advanced washer fluid, including cleaning bug residue, road grime, bird droppings, and tree sap from your windshield.
According to the manufacturer, the cleaning solution penetrates even the toughest residue, breaking down and removing up to 99.99% of all bugs in the process.
Additionally, it creates a barrier between your windshield and the outside world, preventing bugs, grime, and other residues from sticking. Furthermore, Prestone's Bug Wash fluid features advanced beading technology that helps repel water, just like Prestone's all season solution.
It leaves behind a fresh citrus scent that you will find pleasing to the senses if you are particularly sensitive to smell. The only con of the Prestone Bug Wash Windshield Washer Fluid is that it does not work in cold weather and is quite expensive when compared to solutions that are concentrated
Best Windshield Water Fluid for bugs and cold weather: Rain-X All Season 2-in-1 Windshield Washer Fluid
Rain-X is one of the most well-known brands for its water repellents, but the company also offers its own windshield washer fluid at a good price. In addition to combating light snow and ice, the two in one all season formula also kills bugs, road grime, and salt.
It is effective at -25°F (-31°C) while also inhibiting the growth of ice and snow. It is important to keep in mind that this windshield washer fluid does not only melt precipitation with its Rain-X technology but also provides hydrophobic protection that helps the water bead up.
Adding Rain-X to your reservoir is as easy as pouring it in since it comes pre-mixed. Comparing it with concentrated solutions you mix yourself, it is a bit more expensive, but it's comparable with other one-gallon solutions.
Those who live in areas that experience rain and snow should consider this product. Rain-X technology is applied to the windshield, so it provides rain protection as well. The Rain-X washer fluid line, like Prestone, includes an all-season option as well as a de-icer and bug remover.
The only con that this Windshield Washer Fluid has is that the cost of the fluid is on the high side than other concentrated solutions.
Best Concentrate  Windshield Washer Fluids: Nextzett Kristall Klar Washer Fluid
The Nextzett Kristall Klar Washer Fluid is one of the most highly rated and popular windshield washer fluids that are currently available on the market. With a concentration of 1:200, each bottle of washer fluid can be mixed with water to create over 12 gallons of washer fluid. You need to remember to mix the windshield washer fluid as it is a concentrate.
There is a reasonable price tag attached to this product, and it promises to deliver glare free and smear free cleaning. This windshield cleaner's formula is designed to quickly remove bugs and dirt from your windshield. It also contains lubricants that help to reduce the amount of water skipping and shuddering.
Moreover, the water softeners in the Kristall Klar washing fluid prevent mineral accumulation from hard water, which might jam the jets.
In addition, it is also ammonia-free, so you would not have to worry about damaging chrome, paintwork, rubber, or plastic. It leaves a refreshing citrus scent behind, and Nextzett states that it is free of toxic methanol and has no smell whatsoever.
There is, however, a problem with using this product in areas with freezing temperatures. During the winter and year round protection in colder environments, Nextzett does provide a Winter and Anti-Frost Concentrate for all your needs.
Bonus Best Windshield Washer Fluids
Dokiko Windshield Washer Fluid Tablets
The convenience of purchasing actual windshield washer fluid is that you just pour it into your reservoir when you need to clean your windshield, but there is the more cost effective alternative of using tablets instead.
They produce windshield washer fluid when dropped into the water in a reservoir. This option gives you 120 liters of windshield washer fluid from each tablet, which can be mixed with four liters of water. Your windshield will be free of splatter, sap, and normal road grime if you use these products.
Winter windshield washer fluid is particularly important if you live in an area where freezing temperatures and snow are common. You can also use these tablets to clean your car windows and mirrors by dropping one into a spray bottle filled with water.
Concentrated tablets are available in a number of forms. Taking into account that they are probably made in the same factory, the most important factors are price and satisfaction with the seller. The only con of these tablets is that these tablets can only be used during the summer season and is not very effective during the winter.