Reciprocating compressors are described along with different parts, types, applications, advantages, disadvantages etc.
Let's explore Reciprocating compressors!
Reciprocating Compressors Basics
Let's try to understand the basics of reciprocating compressors! There are some innovations and phenomena which hold massive value. We can also deduce that some natural attributes should be contained to get the maximum out of them.
Whether it is related to channelizing the force or using fuel for combustion, everything is correlated.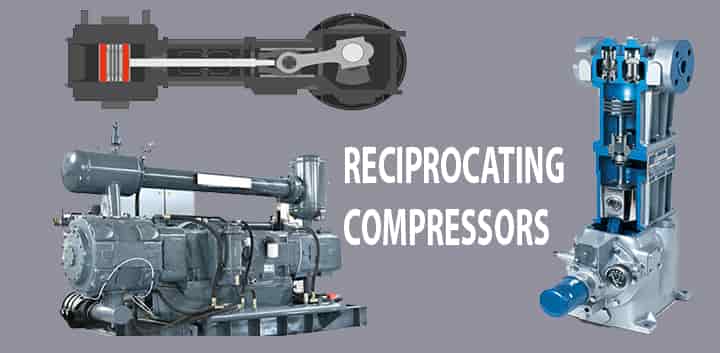 Compressors are also one of the pieces of equipment that is specifically used to increase gas pressure while containing its volume to the lower level.
Here we will provide comprehensive information about one of the efficient types of compressors, i.e., known as a reciprocating compressor.
Reciprocating compressors or piston compressors are the compressors in which the process takes place when the gas reaches the suction manifold.
The gas then flows to the compressor's subsequent part, which is known as a compression cylinder.
This is the place where the gas is compressed with the help of a piston.
The reciprocating compressors are widely used in,
Oil refineries
Natural gas processing
Refrigeration system
Chemical plants
Instrument air skids etc.
This is the basic definition of the reciprocating compressor. Here we will provide all the information from top to bottom about the reciprocating compressor.
Let's start with the core definition or what is a reciprocating compressor all about?
What is a Reciprocating Compressor?
Reciprocating compressors are the compressors that use pistons that are attached inside the cylinder. It is a widely used compressor in various industries.
A movable piston is present in each cylinder with a closed-end and resides next to the cylinder head.
The piston is available at the other end.
The movable piston is among the significant parts that play an essential role in compressing gases.
Lets try to understand the two cycles,
In reciprocating compressors, the first stage of the compression constitutes air movement inside the cylinder through a suction valve.
This is triggered by the piston movement, which helps in creating a vacuum.
In the second cycle, the piston reverses the motion, which justifies this mechanical machinery's name as the compression of air takes place.
When the cylinder's interior pressure increases, the pressure in the discharge pipe then valves open and effectively allows the cylinder's air.
Apart from the above, the reciprocating compressor can also be defined as the machine in which the crankshaft is driven in a reciprocating motion.
The intake gas that comes out from the crankshaft can then be used for different purposes. Mainly these are used for industrial purposes.
There are many reciprocating compressor courses available on the internet to have more details with certifications. You can check one of the most highly rated, elaborative, well explained

Parts of reciprocating compressors