Do you have any idea about the CNC machine! It is the abbreviation of Computer Numerical Control or Computerized Numerical Control. It means the machine is controlled by an inbuilt computer.
In this case, we are going to learn every sort of detail about the CNC machine and its operation, types, working principles, evolution, advantages, disadvantages, and much more stuff.
Therefore, without any further delay, let's dive straight into the world of CNC machines.
What is a CNC Machine?
CNC Machine Basics
CNC machine is a symbol of modern technology. Over time technology and computers have evolved. The high-precision computer control has gained the power to perform most of the operations.
With the advancement in technologies now the error has gone where human's word majorly involved in the manufacturing industry.
Nowadays much of the manufacturing is overpowered with computer programming inputs.
One of the high precision manufacturing techniques is CNC machining.
CNC Machine Definition
Many of us may or may not possess the knowledge of CNC machines. Therefore, to make you people understand we are going to explain CNC machines in a simplified manner.
We have already seen lathe machine, shaper machine, slotter machine, milling machine, etc and all are operated manually. When these machines are controlled by computers inbuilt within the machine itself, and the operations are performed based on the software inputs, the machine will be called CNC machines.
As the name suggests, it is known to produce prototypes directly from a soft copy file present on the computer.
The computer numerically controlled device is an electromechanical device used to perform manipulation of tools from various axes.
This device is used to generate the physical part of any computer design in a file commonly called additive manufacturing.
Only it is an automated machine capable of machining various tools by using computers.
By using computers, we meant that it produces output from a coded, programmed set of instructions without the intervention of any manual operator operating the machining. It is one of the computerized manufacturing techniques that work based on preloaded patterns.
History of the CNC machine
CNC machining is one of the revolutionary mentions in the field of manufacturing. Upon computers for its various operations.
In the year of 1940 and 1950s for the first time when CNC machines were developed, it relied on a popular telecommunication storage technology called punch tape or perforated paper tape.
This perforated paper tape technology is now out of the market as the data medium was quickly transformed from analogue to digital.
How Does a CNC machine work?
Typically, a set of instructions is fed into a computer by the user, and it executes the operation by directing the machine to produce the required output. Transforming things has never been easy.
Additionally, when you want to change a stocked piece of material into a block of plastic, then you need a CNC machine for the process to occur.
CNC machines work similarly to other prototype development technologies that are known to produce various prototypes such as CAD (Computer-Aided Design), FDM (Fused Deposition Modelling), and many more.
Nowadays, computer-aided manufacturing is mainstream because of convenience and efficiency.
Computers regulate this process of manufacturing and prototype cutting.
Due to the present automation in computer-aided manufacturing, the working process has been easier than conventional tasks.
Sometimes to make the exact cut the manufacturing process required for the utilization of various sizes of tools.
In CNC machines, these tools are combined into standard units or sets from which cutting can be performed.
The CNC works digitally provided instructions made on various software such as Mastercam for Solidworks.
Both of these software come under the computer-aided manufacturing or computer-aided design segment, stored in the memory from the input program.
The data is then transformed to control position and velocity signals. The movement of control access or spindle.
In the case of unmatchable programmed data, action is required.
According to the direction of the machine axis, the speed control unit is known to work harmoniously with the CPU.
CNC Machine Working Schematic
Look at the simple diagram to understand the working procedure,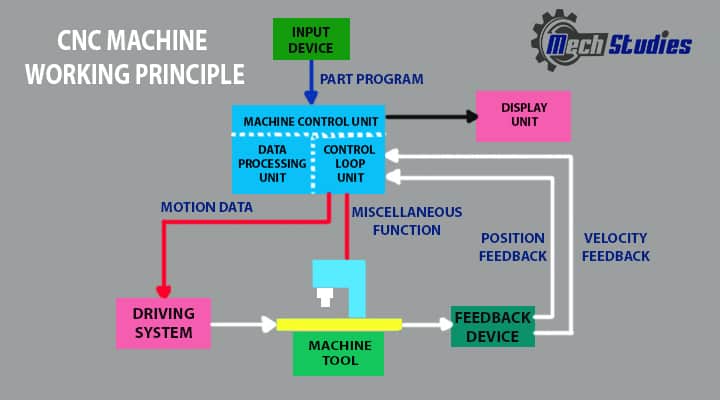 Step-1: There are few input devices like magnetic tape reader, tape reader, etc. are used in CNC machine.
Step-2: Write & insert the part program codes (G&M) into the Machine Control Unit.
Step-3: Once the program inserted in Machine Control Unit (MCU), all the data is processed and the respective motion commands to be sent to the driving system.
Step-4: The drive system has two functions, (1) to control the motion and (2) to control the velocity of the machine tool.
Step-5: During the operation, it is required to record the position and velocity measurement of the machine tool. A Feedback system is used to do that.
Step-6: This feedback system sends a feedback signal to the Machine Control unit. It encountered all errors and send new signals accordingly.
Step-7: There is a display unit in the CNC machine to track all the commands, errors, programming, etc.
Primarily, CNC machines can create many things from various materials such as
plastics,
metals,
aluminum,
wood and many more.
Parts of CNC Machine
This automated machine whose motion can be controlled contains the following components,
which are enlisted below:
Command function
This component of CNC is known to accept and interpret commands from its code.
It contains a controller that can read all the codes, and it has a function to interpret design along with required moves.
This part of the CNC is highly automated and ensures the proper controlling operation of the system.
Motion system
The motion system of the CNC machine ensures proper printing of the desired output. It is responsible for matching the input from the preloaded pattern guide to forming the cuts.
You can check a very nice video on CNC machine,
Feedback system
Being designed by humans, we have added one more function to the CNC machine, and that is a feedback system. This segment of the CNC machine makes sure that the whole process of interpreting and producing a design is suitable to the user or not. It is a kind of review system where you can put your feedback into the system for its betterment in the next move.
In connection to a numerically controlled system to perform various functions of a machine tool with input.
Here is the list of inscribed elements of the machine:
Input devices
Central processing unit
Programmable logic controller
Machine control panel
Servo control unit
Display unit
For the data transfer from a computer to CNC machine, a serial communication port is used, and it follows the international standards for communication. CPU is the core of a CNC machine as it controls the whole system.
How to Use a CNC?
After learning so many things about CNC, you must have been thinking about how to operate or what are the skills required to handle the CNC machine in programming as well as metalworking.
These CNC machines are known to make full use of CNC machines to manufacture things. There are many technically trading schools and apprenticeship courses that offer complete tutorials of CNC operation. If you want to learn how to use a CNC, then you should be capable of having the knowledge of metal cutting as well as software programming.
CNC Machining Operations
CNC machines are widely used for machining processes in various manufacturing industries from agriculture to aerospace. This machine has so many computer-controlled machining operations. Few of them are listed below,
Facing
Drilling
Milling
Boring
Turning
Broaching
Threading
Sawing
Honing
Grinding
Lapping
Which Type of Software is Commonly Used in CNC?
Computer-aided design is the one software that initiates most of the CNC projects. However, there are many different kinds of CAD software packages to create various designs. The following softwares are quite popular as a software tool used for machine cutting,
Another segment of software utilized in CNC is computer-aided manufacturing, known as CAM software. The programs created by CAM software are widely used in the CNC machines as it provides access to the user for setting up the workflow. The user can set tool parts and execute some cutting simulation before any actual cutting process.
Overall utilizing computer-aided manufacturing software in CNC machines has made CNC programming easier. Examples of CAM software are,
Mastercam,
HSM works,
Solidworks,
Edgecam, and
OneCNC.
Types of CNC Machines
CNC is one of the indispensable contributions in the manufacturing industry. , CNC is an automated tool known for receiving and interpreting the data and controlling the subsequent actions accordingly.
Therefore, there are numerous types of CNC machines designed to achieve vivid manufacturing tasks. Most commonly as follows,
3D printer
Routers
Lathe
Milling
Plasma cutter
Pick & place machinery
So we are going to know a few of them for better conceptual understanding.
3D printer
A 3D printer is one of the types of CNC machines known to lay down a small portion of materials.
It uses the input program to direct where the bits of material can be cut to achieve the desired design or shape of the material.
It is known to produce 3D parts that are layered mechanism utilization.
Laser for solid defines the liquid or power over the multiple levels.
Routers
The CNC routers are known to perform a standard operation on three Axis coordinates. While working on three different accesses, the CNC router will cut the material into three dimensions.
This type of routers is typically used to car large sizes for various kinds of materials such as wood, plastic, metals, and sheets.
You should know that there are machines that are manufactured to work on 4 5 or 6 axes for intricate designs and shapes.
Lathe
The CNC machine category is quite common in the most manufacturing workplaces. It has the function of turning the workpiece and enables the movement of the cutting tool to perform the task.
Usually, the typical lathe CNC is of two axes, but furthermore, the axis can be added according to the requirements.
To make the desired shape let it is responsible for the rotation of a spindle and exerting pressure against grinding or carving tool inscribed in the machine.
Usually, it is being used to manufacture spheres, cones or cylinders that are symmetrical.
Milling
Milling CNC is a type of machinery that offers higher accurate moves to carve out the exact coordinates on the workpiece.
The manual milling machine involves the usage of handwheels and screws to carve out the workpiece effectively.
There is an array of multiple types and sizes of a milling CNC machine to run on additional axes.
Plasma cutter
With the advent of technology in the manufacturing sector, it has been embellished using lasers as the technology. Therefore, the CNC plasma cutter is known to utilize the laser for cutting purposes.
This type of CNC is specifically used to shape hard materials such as metal sheets or workpiece plates.
Pick and Place Machinery
Pick and place machines are manufactured in a way to operate similar to a CNC router. Instead of cutting various materials, this machine can pick up many components using suction power and move it to the required place.
This machine is widely utilized to make computer motherboards or other assembling work.
Advantages of Using CNC Machine
The invention of CNC machines is a boon to the manufacturing sector. It has made things easy, quick and effective. Here, we are going to list some advantages of using CNC, which is the primary reason behind its success in the manufacturing industry.
Less human error
Consistent machining in each go
Precise operations
An efficient way of operation
Quick work
Fast production
Less wastage
Even less knowledge of machine can do things.
Hassle-free operation
May result in a prosperous business
Production switching has gone simple.
Reduction in indirect costs
Enhances productivity
Automatic control
Boosts quality
Improvised automation
Application of CNC Machines
From the availability of CNC machines in various areas, it is widely used in the manufacturing industry as we have already stated above.
Other than that it is used to manufacture innumerable things like cabinets, furniture, musical instruments, aluminium and brass machining etc.
The presence of CNC machines is versatile and known to contribute to multiple industries. Because of its extraordinary ability to produce customized tools, it is widely used in the sectors where customization matters.
Use of CNC machining to manufacture and produce various kinds of stuff in the following industries,
medical,
aerospace,
oil and gas,
transportation,
electronics,
marine,
military and
defence etc.
The rapid customization ability of CNC machining has empowered it in the manufacturing of multiple designs and shapes to objects.
Conclusion
These were some of the basic information about CNC machining. The invention of CNC machining has increased our productivity to produce things according to our requirements.
There are many more aspects that need to be explored, such as its coding, more types of CNC machines, crashing and position control, and many more. We have tried to carve an outline mechanism of CNC machines in this article. We are hoping that you're enjoying the learning process.
Further Study
Check out a few nice articles,