In this article, we will learn the basics of saw, its basic terms, different types of saws, advantages, disadvantages, applications, etc.
Let's explore!
What is Saw? Definition
Saw Definition
A saw can be defined as a machine, equipment, or hand tool used to cut a hard thing with the help of a blade or cutting disk. It is primarily used to cut wood, steel pipes, and metals. It is also used to cut specific types of stones like marble in desired shapes.
Saw Basics
Generally, a saw consists of a wooden handle, sharp edge blades having teeth and toes. Its blade is a hard-resisting material made of steel, wire, or chain with sharp-toothed structures. Blades are made of materials that are harder than those on which they are used. Its handle is solely made up of wood which helps in holding it quickly. Now saws also come with plastic handles. The use of saws is as old as human history. In ancient times people were using homemade types of equipment to cut the hard things.
Saw History
If we go back in history, we can see that saws were also present 3100 years ago in Egypt. They were using notched edge saws not only for cutting hard materials but also to cut human throats as a punishment from monarchs. Many monument houses containing thousands of such copper saws from ancient ages are hanging on walls for illustration purposes.
They were of different sizes, models, and types. Saw was first invented by Lu Ban, a Chinese structural engineer, carpenter, and inventor in Chinese history. It is said that once he was climbing up with the help of tree trunks, his hand was cut by a leaf with a spiny texture.
He got the idea and made a more efficient form of saw working on the same principle. In ancient times, saws were made up of copper. Later on, they were also made of iron and bronze.  Roman Hierapolis sawmill was the first sawmill in 300 AD for sawing stones.
Check out our 'MechStudies – The Learning App' in iOS & Android
Process of Metal Cutting by Saw
The process of cutting a material through a saw is very simple. The toothed edge sharp side of the blade is placed with the cutting material forcefully. The next step is moving the saw forcefully forth and back with a continuous rhythm.
The force behind this action might come through hand, steam, water, electricity, or other power resources. The quality of the saw depends on blade sharpness and long-lasting toothed edges.
Saw Term & Conditions
Back
It is the part of the saw opposite the toothed side of the saw. It doesn't involve cutting directly.
Fleam
It deals with the angles of teeth of a saw. Angles must be relative to the line perpendicular to the face of the saw.
Gullet
Teeth are adjacent to each other. A gap between two teeth is called a Gullet.
Heel
Teeth are arranged systematically in the saw. The last tooth, which is closest to the saw's handle, is known as the heel.
Toothed Edge
An edge of blade containing teeth-like structures which make cutting more efficient is known as the toothed edge.
Toe
The last tooth, which is farthest from the handle of a saw, is referred to as Toe.
Teeth
These are sharp edges on the cutting side of a saw.
Abrasive disc
It refers to a band used for cutting purposes instead of using toothed edge blades.
Web
Web can be seen as a saw blade held in a frame. Mostly it has both sides containing teeth edges. The frame helps in holding the blade for efficient use.
Rake
The angle of the front face of the tooth is relative to a line perpendicular to the length of the saw. Teeth designed to cut with the grain are usually stiffer than teeth designed to cut across the grain (crosscut).
Kerf
The measure of narrow channels left behind by the saw and their width is named Kerf. It depends on various factors, including the width of a saw blade, the number of blade's teeth, the amount of wobble created during the cutting process, and the size of material pulled out from the size of the cut.
Many people believe that Kerf refers to only the thickness of the blade, but this isn't true. It is misleading and informal information. Blades with the same set of teeth and thickness can be created to a different size of kerfs. It can also cause larger kerf creation rather than expected and more formation of wobbles. This issue can be resolved by setting the teeth set of a saw with the help of an instrument called a saw tooth setter.
Set
It is the degree through which teeth are bent down on both sides of the blade; manufacturers are making set teeth in new serrated saws to make the Kerf wider than the blade. It helps in getting desirable kerfs and makes the free movement of the saw while cutting without any hindrance.
It varies from saw to saw because the setting always depends on the need for a cut. A saw set is a tool that helps in adjusting the blade's teeth.
Point per inch
The most common measure of tooth frequency on a saw blade. It is taken by placing the tip (or sharp end of teeth) of a tooth at the zero point on a ruler, then counting the number of points between the zero mark and the one-inch mark, inclusively (i.e., including both the point at the zero mark and any point that aligns precisely with the one-inch mark).
There is always an extra point of an inch than actual points of teeth set. For example, if a saw has 20 teeth per inch, it will have 21 points per inch, and a saw with 11 points per inch will have ten teeth per inch.
Teeth per inch
It is another measurement of teeth frequency on a saw blade. It also has the abbreviation of TPI. If a blade consists of 19 teeth per inch, it will have a value of 19 TPI.
Types of Saws
There are several types of saws in the market nowadays. It varies on the project on which a carpenter is working. We will discuss numerous types of saws in detail;
Hand Saw
It is one of the simplest and oldest forms of the saw. People have been using it since ancient times. It is mainly used in houses for common purposes, including modifying or framing things. It also helps in cutting the bones.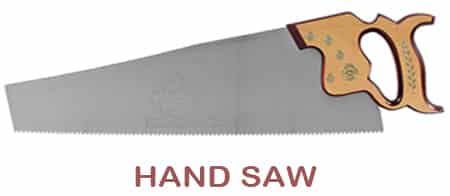 These are used for the simple cutting of wood pieces around the home and garden. These are powered by the user's force rather than electricity, steam, or any other power source. That's why these are known as the hand saw.
Crosscut Saw
Crosscut saw consists of a thick blade having large sharp-toothed edges. It is used for cutting large and rough woods. It has a handle on both sides of the corners so that two-man can easily run it smoothly.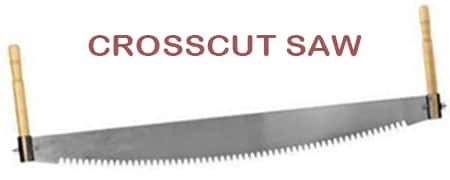 It helps in the accuracy of perpendicular wood products because these saws are designed to work across the wood grain.
Bow Saw
It is a modern type of saw present in any carpenter shop. It is named a bow saw because its shape is similar to a bow. It consists of a long narrow blade with rough teeth, which helps cut the thick part of the wood.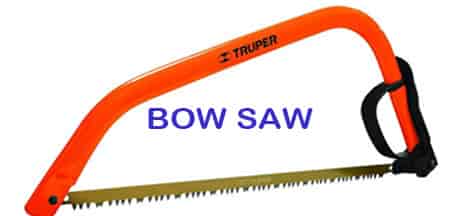 This medium-sized saw is used outdoors for shortening plants and trimming trunks. It is most commonly used for curved woodcuts.
Fret Saw
The fret is a French word that means lattice in English. These are made to do more complicated woodworks. Its blades contain 32 teeth per inch, which makes it more precise and accurate for fine cuttings.
It has a 15-20 inches long handle with a small 5 inches blade. This saw works best to cut the curves in a small space. It also helps in easy scrolling and trimming.
Back Saw
Such saws are also known as tenon or dovetail saws, as they are ideal for making dovetail, mortise, or tenon joints that require precision and accuracy. These saws have sharp-toothed edges on the cutting side and narrow blades for exact cuts.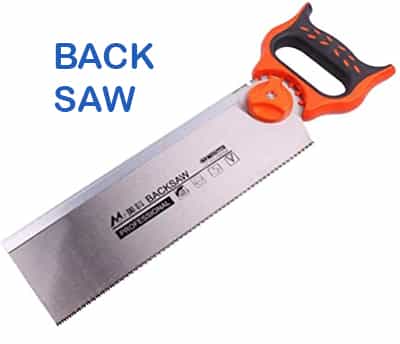 Back saws help from a hard piece of metal such as brass or steel affixed to the polar side of the teeth edge. This piece of metal helps the users by providing them greater control and involves very little applied force.
Veneer Saw
These are small double edge saws which are used to cut veneers, plastics, and laminates. They are used in small areas, but they are efficient and time-saving. It consists of 13 teeth per inch blades on both sides.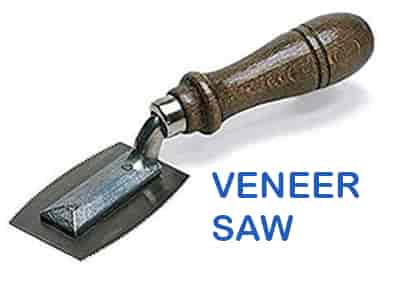 It helps in getting quick and exact cuts. To get the undamaged cuts of veneer wood, this saw is the best choice.
HackSaw
It is most commonly used and the best saw for cutting the materials with precision. It has a C-shaped plastic frame attached with a wooden handle. Frame holds the thin steel blade in it.

Blade teeth range from 18-32 TPI. It is used to cut plastics, steel, and metal pipes. Cutting wood from this can damage its blades.
Band Saw
It is a power saw that uses electricity, steam, or any other power resources rather than users power. The best thing about power saws is that they are quicker than hand saws. It consists of a long sharp blade and a band of toothed metal, spanned between two or more whirls to cut materials.
It is used in woodworking, lumbering, and metal cutting. Most forms of it have two wheels swirling in the same machine, one of which is powered, although some may have three or four to distribute the load.
The blade itself can come in various lengths and tooth grades (teeth per inch, or TPI), which makes the saw highly universal and proficient at chopping a wide variety of stuff, including wood, metal, and plastic. It is present in both stationary and portable forms.
Circular Saw
It is named after the circular shape of its blade. Its blade circulates at high speed, which cuts the material quickly. The user holds the blade firmly with the cutting object, and the blade spins into the beneath of the object. These saws are easily portable from one place to another.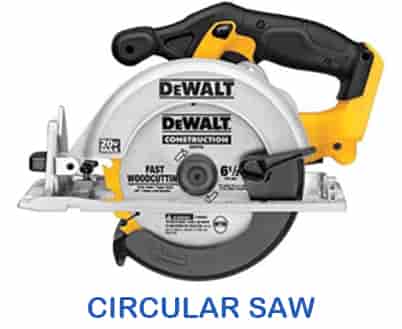 They have very low weight compared to other fixed saws; carpenters bring these saws to construction sites due to their versatile use. They are universal in their use, cutting almost all materials, including wood, steel, ceramic, plastics, and stones.
Miter Saw
These saws work on the same principle as the circular saw. But it has some distinctive features in it. They are designed to cut the objects at a specific angle.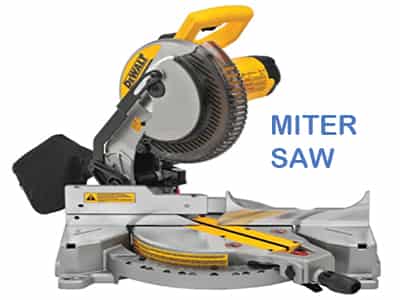 If a person wants to merge two pieces of wood, it requires a specific angle to join firmly. In such circumstances, a miter saw is the best option to get desired angles.
Jig Saw
It is power machinery that gets not only straight cuts but also ensures curved cuts. Its blade is on its downward pole attached to the upper handle. It's fine-toothed blade can easily move up and down through the material. It also has a very low weight and is easily portable from one place to another.
Another distinctive feature of them is they are relatively quiet while working. They are made to cut thin materials like plywood and wood sheets. They are used as households to get needed designs of sheets.
Table Saw
The table saw is fixed on a table and not portable. It has a circular blade-like circular saw that emerges outward from the table. It works on the opposite principle of the circular saw. In a circular saw, we move the blade on the cutting material, while in a table saw, we move the material on the blade.
The blade depth can be adjusted with the situation accordingly. Its blade can also be replaced according to the materials. But it needs some extra care and training to operate due to risk factors of damages.
Chain Saw
As the name mentioned, a chain saw consists of a linked chain that rotates around a piece of steel. It has teeth-like notched edges attached to the chain. When the chain rotates, it cuts through the wood very fast. Chain saw using different sorts of power resources including gas, petrol, electricity, and battery-powered motors.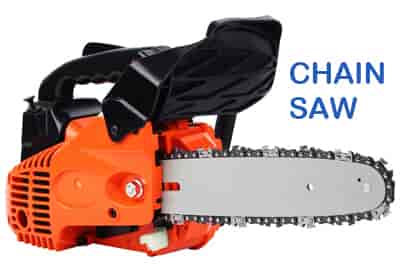 They are used to cut the lumber and fell or trim the long and thick trees. They vary depending on the power resources, as gas-powered chain saws are more powerful than electric chain saws. But due to intense vibrations, it is not very easy to operate.
It needs excellent power to hold it against the cutting materials. Electric chain saws are less powerful and vibrate less, so they are a good choice for longer cutting routines.
Flooring Saw
As the name mentioned, they are specifically designed to work on the floor adjustments. They are used in the fitting of hardwood, laminate, and bamboo on the floor. It is an alternative to the table saw with its distinctive features of cutting.
It is easily portable due to its low weight and simple structure. It fixes all the adjustment issues of the floor that carpenters often face during construction.
Oscillating Saw
It consists of a blade cutter attached to a grinder. It has the vast application of cutting the materials and can be used for grinding, scraping, and removing caulk and grout.
It has its unique shape and speed. Its speed can be controlled through its speed controller.
Folding Saw
It is a foldable saw. It is not as efficient as other saws. But it is best for minor tasks and useful in trekking and camping for peeling purposes.
Tile Saw
As the name is mentioned, it cuts tiles in specific sizes and shapes without damaging edges. It has a blade coated with diamond and a cooling water system.
Panel Saw
It consists of a horizontal and vertical alignment that helps cut thin logs into desired sizes for making dashboards.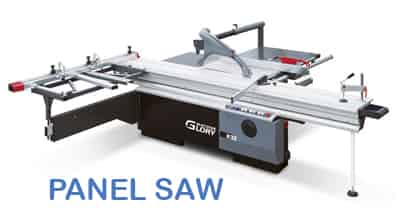 They are very expensive saws. They are primarily used in cabinet and sign-making industries.
Rotary Saw
A fixed blade with small screwdriver-type handles is available at markets. They are suited for drywall, paneling, and minor cuts. They are also designed for cutting, crafting, repairing, and construction.
Reciprocating Saw
It works on the same principle of jigsaws. They are generally used to demolish or cut off something. They cut wood, tubes, and plastics, especially under walls and roofs. They are also known as Sawzall.
Radial Arm Saw
This type of saw is designed to do compound cuts, bevels, and miter cuts. It has a circulating blade attached to an arm that is present over the table on which this system is working.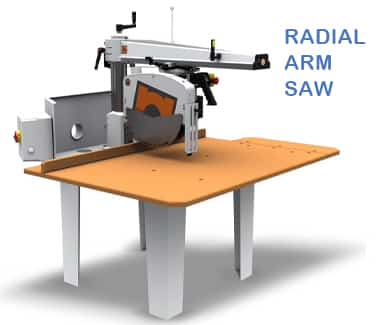 Application of Saw
Sawing is the most common manufacturing process in industries and factories. Almost everything prepared that comes to us has been passed through the sawing process somehow in its formation stage. Saws are used to cut down the material and reduce them to manageable sizes for down streaming processes.
With technology development, hand saws are replaced with power saws while stationary saws are reciprocated with portable saws. In industrial use, material sawing is an essential factor that needs speed as well. Band saws are used in getting vertical and horizontal models of wood, metal, and steel bars.
Block saws are used in concrete, brick, and glasses. Abrasive saws are used for tile, cement brick, and asphalts mostly coated with diamonds. There is a huge variety of saws in the markets due to the extensive use of different saws in our everyday life.
They have a wide range of applications in houses, timber markets, manufacturing factories, and construction and design industries.
Advantages of Saw
The advantages of saw are as follows:
They are very fast and efficient.
Time-saving as compared to any other kind of cutting process.
Exact and smooth cutting.
The desired form of angles, models, and designs can be obtained by using different saws.
A huge variety of saws are available for different purposes.
Advanced saws are easily portable from one place to another.
Power saws can work more with less energy from the operator.
They have versatility in nature as they are used for grinding, scraping, and removing caulk and grout.
Saws are very lightweight, and they can easily move in different construction sites.
They have blade options to use different blades for different materials.
Saws have a high production rate.
They are easy to set up and have a low operating cost.
They are also effective for in-depth cutting in confined spaces.
Best for lumbering and harvesting forests for huge requirements.
Disadvantages of Saw
The disadvantages of saw are as follows:
There is always a risk factor of body damage while using. It needs extra care and training to use correctly. Otherwise, minor negligence can lead to cutting an organ or body part due to its high speed.
Almost all saws and cutters produce a certain amount of noise. It affects the operator's hearing ability and has an unpleasant effect on the environment. Although new devices have improved to tackle noise, still it's a significant issue.
It needs power resources to run. Sometimes it isn't easy to find such power resources in under-construction sites.
It also involves a huge waste of wood and other materials while obtaining specific designs.
Many saws are not portable, and they also have high costs for maintenance purposes.
Conclusion
Saws must be used according to the materials and designs you need. There is a wide range of saws varieties present in the markets. Many manufacturers offer different saws' safety and convenience features which vary by style and application. 
While purchasing the saws, make sure that you know all the saws types with their benefits and loopholes. Another thing to consider is safety measures while using any of the equipment.
Check out our few most interesting articles,