In this article, we will learn about diaphragm pumps along with the definition, parts, types, especially air-operated, electric pump, how does this pump works, etc. Since 2000 B.C., pumps have been used for getting water, to get water; the introductory instrument that was utilized was called shadoof. Indeed, it does not work as per the mechanical procedure, but it was broadly acknowledged by numerous peoples and industries and was fully utilized for the execution of pumping actions.
The development of all these stood as the premise for the improvement of diaphragm pumps and they were advertised since 1854. The essential development of the diaphragm pump was done by J. Pease. And presently within the 21st century, the Diaphragm pumps are popular in use for executing any pumping exercises, and there comes more competition within the advancement of these gadgets, so let us dive into the depth of these concepts.
Let's explore!
What are Diaphragm Pumps?
Let's try to understand the basics of Diaphragm Pumps along with the definition.
Diaphragm Pumps Basics
Let's learn about diaphragm pumps! Pumps are different types and the selection of the type of pumps depends on the applications.
In order to move liquids, a diaphragm pump uses a combination of reciprocating action and a flapper valve or a ball valve that is either hydraulically or mechanically operated.
When using a diaphragm pump, you can transfer liquids with a wide range of viscosities and solid contents.
For viscous liquids, Diaphragm Pumps are appropriate since they are self-priming. These pumps are used in almost every major industry.
They are commonly used to transport abrasive fluids such as concrete, as well as acids, chemicals, powders, Latex, Adhesives, greases, paints and are also widely used in automobiles and aircraft.
A membrane pump, air-operated double diaphragm pump (AODD), or pneumatic diaphragm pump is another name for a diaphragm pump.
In this article, we shall get to know the Diaphragm Pump, its working, applications, advantages, disadvantages, and many more, so let's begin!
Definition of Diaphragm Pumps
Pumps have a long history, dating back to the year 2000 B.C. The very first tool invented to fetch water was defined as a shadoof.
Although it does not function mechanically, it really is widely accepted by many and best serves the pumping activity.
The development of all of these formed the foundation for the development of diaphragm pumps, which were introduced in early 1854. J. Pease developed the diaphragm pump in its simplest form.
And now, in the twenty-first century, diaphragm pumps are highly integrated into pumping activities, and there is greater competition in the advancement of these devices.
Happybuy Air-Operated Double Diaphragm Pump, 1/2 in Inlet & Outlet, Cast Iron Body, 8.8 GPM & Max 120PSI, Nitrile Diaphragm Pneumatic Transfer Pump for Petroleum, Diesel, Oil & Low Viscosity Fluids
Premium Double Nitrile Diaphragms: Our air-operated double diaphragm pump adopts nitrile diaphragms, durable, corrosion-proof, and long-lasting. Max. Temperature: 150 ℉/66 ℃; Max. Pressure: 115 psi; Max. Flow Rate: 8.8 GPM; Max Head Lift:226.4 ft/69 m.
Sturdy & Leak-proof Construction: The diaphragm pump housing is made of cast iron material, bolted against leakage, sturdy, and corrosion-proof for long-time use.
Excellent Air-operated Performance: Inlet/Outlet Port Size: 1/2 inch; Air Inlet Size: FNPT 1/4 inch. A high-quality glyd ring, the double-acting sealing, strengthens air performance.
Unique & Professional Designs: Our double diaphragm pump features an externally available air distribution system. The modular air valve is stainless. This low pulsation air valve provides smooth and rapid changeover for increased efficiency and minimizes downtime.
Wide Applications: This diaphragm pump can handle various fluids, such as waste oil, alcohol, hydraulic fluid, gasoline, diesel, detergent, drink, and so on. It is widely used in many industries, such as petroleum, metallurgy, mining, coating, printing, water treatment, and automobile.
How Does Diaphragm Pumps Work? Diagram
A diaphragm pump is a positive displacement pump that transports liquids and uses a combination of reciprocating action and either a flapper valve or maybe a ball valve.
It can also be hydraulically or mechanically actuated. For viscous liquids, self-priming diaphragm pumps are perfect.
Diaphragm Pump Diagram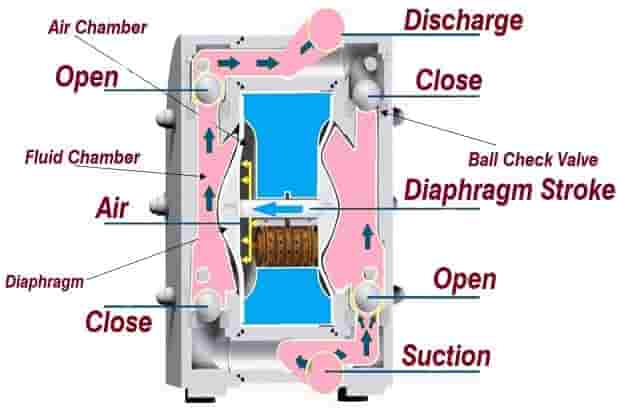 Working Principle of Diaphragm Pump
The diaphragm pump gets its name from the rubber membrane that the pump uses to perform its pumping action.
The diaphragm operates on the principle of air displacement.
The membrane is pushed and pulled mechanically into and out of a pumping chamber.
A diaphragm pump has two diaphragms and based on its flexibility, it moves back and forth or reciprocating motion. This diaphragm acts as a wall that helps to separate the air and the liquid. Once the diaphragm, moves back & forth, a temporary cavity is created which helps the pump to transfer the liquid.
Let's see how does diaphragm pump work?
Working Procedure of Diaphragm Pump
To understand the working procedure, we will specify the strokes which are created during the action of the pump.
First Stroke of Diaphragm Pump
In common, the working of a diaphragm pump employs two versatile that have back and forward developments that make a transitory depth and this segment pumps in and removes the fluid through the pump. The two diaphragm works as a parcel boundary between the fluid and the air.
Within the introductory stroke, the two Diaphragms are connected through a shaft through the center chamber; here the air valve is additionally situated. The most functionality of this air valve is to let the compressed air towards the primary Diaphragm one hence permitting it to be near to the center chamber. The primary Diaphragm creates a press stroke that pulls the fluid out from the pump. 
The Diaphragm Pump performs a suction stroke, the air which is within the raised area of the moment air makes natural weight to thrust near the fluid towards suction.
Second stroke of Diaphragm Pump
Coming to the moment Diaphragm Pump, when the constraint to begin with Diaphragm comes to the stroke conclusion, the air development will get moved to the posterior of the moment Diaphragm pump through the air valve. The constrained air drives the moment the Diaphragm pump to be absent from the center area which suggests the primary Diaphragm pump is near to the center segment. 
Within the moment pump cavity, the release ball valve is moved absent from its situate, though within the beginning with pump depression the inverted work happens. Upon the stroke completion, the air valve coordinates the air once more to the raised side of the primary Diaphragm pump and the cycle will be restarted.
Types of Diaphragm Pumps
The straightforward rubber-component diaphragm has advanced into a gadget upheld by finite-element calculations and complex fabricating forms. The diaphragm is fundamentally capacities to uproot gas or fluid from the pump's compression chamber. Integration into a pump is generally basic: The elastic diaphragm is clamped pressure-tight between the pump head and the lodging to partition the exchange compartment from the housing's insides. The diaphragm at that point is associated pressure-tight to an interfacing rod.
Small Air-operated Diaphragm Pump
Pumps operate smoothly at all fluid viscosities and can handle liquids with no mash centers. They are used for dispersing low volumes of fluid. Its outlet and channel ports are 3/8, 1/2, another size, 3/4, and its stream rate is between 2GPM and 10GPM.
Small Motor Driven Pump or Electric Diaphragm Pump
It is possible to create qualities of up to 60 PSI & in many cases even 100 PSI using the motor-driven pumps. There are essentially two types of these pumps. An imperative one is the questioning mold, which has a settled drive switch to routinely finish and start the pump with the correct drive setting.
The auxiliary style is Bypass wherever the pump keeps up to run in show disdain toward or drive inside the framework but inside maintains a strategic distance from stream on the off chance that the removal valve is closed. Be that as it may, in case the expulsion valve is closed for a number of minutes, at that point fluid-overheating can take out and internals of the pump can be damaged.
Air operated Diaphragm Pump
Usually the foremost acknowledged diaphragm pump. Compressed air is used to operate these pumps. These pumps moreover incorporate two gathering rooms with a diaphragm to be specific gulf check valve as well as an outlet check valve in each get together room.
A control device can be built into a pump so that air can be moved from one gathering room to another. This repetitive moving handle of air from one get together room to another can drive liquid out of one gathering room & into the removal piping through the extra gathering room is being filled with liquid. There's a few release stream throb inside this pump, which diminish a bit with throb dampeners inside the release piping.
Hydra Cell Diaphragm Pumps
Unlike smaller shaft driven pumps, this one has a greater flow rate of 36 GPM and can manage stress in the range of 1500 to 2500 PSI. These are sketched out with particular metals as well as the Elastomers for acidic courses of action, slurries, unpleasant chemicals, abrasives, wet-able powders, and hot liquids.
Therefore, they are normally used for all around stomach pumps and generally work best for soil free fluids and troublesome chemicals in less weight applications. A pump of this type can handle fluids of all moo and medium viscosities, making it an extremely versatile kind.
Design of Diaphragm Pump
Diaphragm pumps have made significant advances in the technology due to improved materials and advanced controls. Together with more efficient construction, these improvements can enhance your design flexibility. In order to meet the dynamic and complex requirements of complex systems, pumps are often purchased at the wrong time during the design process.
Pumps with diaphragms should always be regarded as dynamic subsystems capable of being customized for a particular application. Material, configurations, and coatings are available to tailor a pump to your application.
Molded Diaphragm
Molded Diaphragm Pump give to a critical enhancement by completely encasing the side of the diaphragm found within the pumping chamber. By vulcanizing the metal stud which is necessary to encourage the diaphragm into the middle of the diaphragm, an inflexible zone is formed, disposing of the requirement for a rigid clamping disk and an attainable spillage path.
With this plan the pumping chamber adjusts to the form of the activated diaphragm and the clearance volume of the pump is diminished without the chance of the diaphragm striking the pump head at the upper turning point of the development. A perfect vacuum is made and the closed surface of the diaphragm advances prevalent gas snugness for the pump. In expansion, this plan inherently allows for the improvement of chemically safe forms without having to coat metal parts; the vulcanized metal stud of the pump is as of now secured by the Elastomers.
Flat Diaphragm
Simple and least expensive is a flat diaphragm, essentially an Elastomer disk. Several clamping disks and a screw guide the connecting rod through a hole on the diaphragm to provide the connection between the diaphragm and the connecting rod. As a result of the connecting rod and the diaphragm-support disk, pumps with flat diaphragms provide high compression strength.
However, pumps with flat diaphragms will not typically achieve optimal vacuums, uncoated metal parts will tend to corrode or be aggressive to aggressive media, and relatively poor gas tightness is often expected, which can lead to higher leakage rates.
Structured Diaphragm
In contrast to flat and molded diaphragms, structured diaphragms combine many of the advantages of both. A metal stud required to act on the diaphragm is vulcanized centrally into the diaphragm, forming a rigid zone, which closes off the pumping chamber side of the diaphragm.
Physically, the patented structured diaphragm has an underside that is ribbed to accommodate the load being imposed as well as a centre that is stiffened. 
Oval Diaphragm
Oval diaphragm accomplishes this objective by utilizing the unused space over the engine to form the pump chamber. The additional surface zone of an oval compared to a circle leads to the next stream rate. By appropriately adjusting the introduction of the oval with the unpredictably situated connecting rod, an expanded stream is delivered by a pump of the same external size as a lower flow design. As a result there's no additional extend on the diaphragm, lifetime remains the same as a standard form. This can be especially useful with battery-operated air moving applications.
Efficiency of Diaphragm Pump
The pumping of squander liquids is an imperative prerequisite in a wave of distinctive businesses and fluid squander can as often as possible contain changing sums of solids, from slime, slurries, and solids in civil and mechanical squander applications, to slurries loaded with rocks, stones and other particles within the mining industry. 
Diaphragm pumps triumph over other pump plans such as those with close-fitting or pivoting components where rough slurries can cause genuine wear to working parts. As a result, this will cause critical reclamation costs and may suspend efficiency. Due to the estimate of diaphragm pumps, these issues seldom happen. 
Of course, these sorts of pumps are not limited to pumping squander containing solids. They are similarly well suited to pumping other sorts of squander, counting forceful chemicals, and indeed thick liquids since the stream rate is straightforwardly relative to the speed of the pump. Where pumps are diverse when it comes to pumping thick materials is.
Characteristics of Diaphragm Pumps
This positive displacement pump is capable of pumping fluids that are flammable, harmful, abrasive, or corrosive.
It is capable of managing extremely viscous fluids. The viscosity correction table is being utilized as a technique to keep the AOD pump's size from shrinking.
It has an excellent ability to self-prime. This pump's design distinguishes the pump fluid from potentially sensitive internal pump elements.
This pump's highest efficiency could achieve 97 percent. It utilizes the manufacture of air pumps for small aquarium filters.
Internal pump components are frequently suspended in oil and insulated to prolong the pump's life.
These pumps work much better with corrosive and abrasive solutions. An artificial heart could be created using a diaphragm or membrane pump.
It has decent idling characteristics. Satisfactory for exhaust pressures of up to 1200bar
These pumps have good suction lift qualities, and some are low flow rates and low-pressure pumps.
Other models, depending on the diaphragm's stroke length and effective working diameter, can provide higher flow rates. Slurries and sludge with relatively large solids and particle sizes could be managed.
Factors for considering Diaphragm Pumps
Pump Volume requirements
When considering a diaphragm pump, it is necessary to make sure that the pump you are evaluating operates at 50% of its full capacity during daily operations.
If the pump is run at half of its maximum capacity, it should last for a long time without requiring any maintenance.
On the sales sheet or in the deal manual, diaphragm pumps should specify their operational capability (gallons/minute).
Type of displacement pump drive
The diaphragm of the diaphragm pump can be relocated and forth in a variety of different ways to allow material to be pushed.
Pneumatic or electrical drive pumps are the most typical diaphragm pump driving alternatives.
This drive is essential for the safe operation of the diaphragm pump, and also the pump's operating position.
Pump Material
Positive displacement pumps are made of a variety of materials. The pump seat and ball materials, as well as the pump body material, are the most suited material alternatives for available diaphragm pumps.
There are many aspects to consider, but stainless steel seats and balls, as well as PTFE membrane materials, are frequent coating selections.
Stainless steel is extremely wear-resistant, yet it comes at a premium cost. PTFE, on the other hand, is far less expensive than stainless steel, although it may not be able to endure abrasion.
Moreover, when stainless steel is hot, it becomes much more pliable.
Performance curve
Each diaphragm pump has a performance curve that offers a wealth of additional information.
The amount of air (CFM) required by the diaphragm pump at various levels of operation, and also the amount of material that can be supplied and conveyed at multiple levels of operation, are now all covered by the diaphragm pump's performance curve.
It is critical for a certain diaphragm pump to understand that it requires sufficient air to operate and that it can move the material at the desired speed and distance.
It is critical to ensure that the diaphragm pump in question is capable of providing the requisite volume of material (the curves will show greater operating speeds, but it should be noted that it is generally advisable to operate the pump at a capacity of up to about 50 percent to reduce wear).
That is why we should be having adequate air within the required distance to operate the pump.
A Few Amazing Features of Diaphragm Pumps
A modern-era pump must have in vogue highlights to keep the waste framework dynamic, in  Present days we are examining particular highlights of this pump taking after:-
Advance Vacuum
The diaphragm pump is used with a dry-running invention, with the fundamental guideline of discussing uprooting. The diaphragm is pushed by the connective pole. It screws between the head cover and the lodging to create a gap between them, and that region also serves as a suction chamber.
Currently, the screwed portion increases semi-liquid mixtures when pumping. At that time, the chamber keeps it throughout the suction line. Acceptance and ejection strokes cause diaphragm collapse in this approach.
Adequate PID management
Weight, temperature, stream rates, and technique factors are all monitored by the PID controller available in these Diaphragms, making it an ideal product for any industry. It includes a concept called robotization control to adapt to variations in visits between input and set point. A PID controller performs admirably as a fundamental component of a diaphragm pump. It contains the words basically, subordinately, and relatively, in each case, these terms are adaptable.
Through the comparative method, the target factors estimated for input application can be changed or corrected.
Errors can be remedied using the integral method, available in the Diaphragm.
By slowing down the correction factor, the derivative method prevents the corrections from overlapping.
So in order for an accurate flowing channel, a strong PID controller in the Diaphragm pump is to be installed.
Easy to use interface
A well-planned strategy is a fundamental feature of any advancing pump, the diaphragm pump is also a very common and positive displacement pumping option. It includes all of the highlights of a well-thought-out strategy. Several diminishing mechanical frameworks are implemented in what is known as a fashionable plan. In short, that advanced pumping solution is one of the innovative and commonly used mechanisms which are adaptable and profitable for any mechanical industry.
Uses of Diaphragm Pumps
These pumps are utilized to thrust fluids like destructive chemicals, unstable solvents, thick, shear-sensitive foodstuffs, pharmacy items, sticky liquids, grimy water, littler solids, creams, grating slurry, oils, and gels.
A diaphragm pump could be using pressurized water or a mechanically incited positive relocation pump that employs a combination of responding activity and either a flapper valve or a ball valve to exchange liquids. Diaphragm pumps are self-preparing and are perfect for thick fluids. Essentially all major businesses use diaphragm pumps. They are commonly used to move grating liquids, counting concrete, or acids and chemicals.
They are moreover common in automobiles and aircraft. A diaphragm pump is additionally known as a film pump, discussing a worked twofold diaphragm pump or pneumatic diaphragm pump.
Alternatives of the Diaphragm Pumps
Peristaltic Pumps
The peristaltic guideline of pressing a flexible tube is generally incorrect because it is extremely sensitive to stream rate, up-line and down-line weight, the versatility and dimensional precision of the tube, the consistency of the liquid being pumped, the number of cycles the tube has been subjected to, and the temperature. Precision is also affected by how the administrator stacks the tube in the pump driver.
Accuracy is achieved by measuring temperature and weight, knowing the liquid thickness and physical parameters of the tube, counting the number of cycles, and then adjusting for these factors using computer software. As a result, a sophisticated and costly pump driver with many disappointing modes is created. Additionally, it is hard to verify that the tube set is compatible with the pumping controller.
From no-flow to the most extreme stream, the render is pulsed with expanding adequacy. Straight peristaltic pumps reduce sufficiency but necessitate a large number of mechanical moving components, which translates to high fabrication costs and worn parts that necessitate scheduled maintenance and periodic calibration.
At the slightest one put on the tube must be pushed closed all the time, requesting critical limitation, which deciphers into additional imperativeness utilize irrelevant to the fluid stream. Unless an additional tube clamp component is provided, there is a free-flow condition when the tube is released from the driver.
Gear Pump
Gear pumps are habitually made up of two spur gears that flawlessly work together and flawlessly fit into a divider in space with one-way valves. The accuracy of estimations is delicate to channel and outlet weight and liquid consistency. The near manufacture versatility vital to realize measurements exactness makes it costly to develop and undesirable for concentrates containing cells or micro-particles.
Syringe Pump
A plunger, which normally emphasizes an elastic seal against the inner distance across of a syringe or vial, is organized with a lead-screw that causes uprooting of the liquid relative to the syringe's cross-sectional zone. The exactness of measurements is nice, but it becomes less precise as the syringe breadth increases.
Quantex Pump
Since the Quantex pump is based on a revolving, settled uprooting guideline, it is less sensitive to parameters such as line weight, liquid thickness, and stream velocity.
There is no prerequisite for any computer program remuneration, indeed at the limits of working. The driver is simply a motor that will be customized in terms of speed and number of changes. The pump is connected to the fluid pack being allocated or to the pack line. This guarantees that an unused pump is displayed with each current pack, driving zero cleaning and back prerequisites and no occasional estimation requirements.
Piston Pump
A piston pump, which is as a rule utilized in a twofold completed barrel, draws fluid in at one end whereas discharging fluid at the other end. That specific strategy requires the utilization of one-way valves interior the fluid circuit.
The surrender is greatly tall, and the coming about development causes vibration and commotion.
Problems and Solutions for Diaphragm Pumps
Diaphragm pumps offer a cost-effective solution for pumping large volumes of coatings at a relatively low cost. They also have a relatively simple structure, consisting of a membrane-like seal that forces air to move from side to side, moving the material in the process both inside and outside the pump.
A diaphragm pump makes a lot of sense given all of its advantages. However, if you're experiencing problems with your diaphragm pump, it might soon become an unappealing choice.
A diaphragm pump's successful performance is often dependent on the correct installation and diligent maintenance.
Nevertheless, even a correctly mounted pump might have issues such as suction, pressure, pulsation, noise, or oil consumption. If you suspect that the pump is not operating correctly, you should move quickly to establish the source of the problem and repair it
A few methods are routine maintenance, whereas others ought to be carried out by talented technicians or at authorized benefit centers. If the problems tend to occur on a regular basis then it is suggested to first evaluate if the pump that you have was appropriately chosen for the proper application you need it for.
Common Issues regarding Diaphragm Pumps
The pump is not properly drawing water
A typical problem with a diaphragm pump is a problem known as a wink. When cloth exits a diaphragm pump at an irregular rate, it produces a wink. This might be an issue, particularly if your diaphragm pump is being used in a situation where consistency in the liquid transfer is crucial. A diaphragm wink happens when the discussed diaphragm shifts from utilizing one side of the pump to the other, coming about in a temporal alter in liquid volume generation and a modest wink. This is often not an issue, but may be a typical impediment with a diaphragm pump. In the event that your diaphragm pump winks once you utilize it, which may be irritating, you might think approximately getting a liquid yield controller.
When the pump has problems drawing water then you should try to take apart the parts of your diaphragm pump and should always check if the control regulator is set up to the by-pass mode. This problem is basically triggered due to long inattention towards the pump.
Another possibility for inconsistency in fluid supply is that the diaphragm within your pump gets eroded. The diaphragm may wear out and possibly rupture over time. When this occurs, the pump would not move uniformly from side to side, resulting in unequal fluid delivery.
Breakdown of the Diaphragm Pump
If you are constantly rebuilding your diaphragm pump, this is usually an indication that it is overloaded. A maximum flow rate of the working medium is specified for diaphragm pumps. However, this maximum rate is somewhat misleading as it represents that the pump can theoretically run.
Most of the time you want the actual GPM of the diaphragm pump to be around 40-50 per cent of its full GPM capacity. This makes the pump move slower and increases its lifespan.
Diaphragm Pump Freezes and Gets Jammed
Another problem that can arise with diaphragm pumps is that the diaphragm can catch when trying to move from one side of the pump to the other. While this was a much bigger problem when diaphragm pumps first appeared, it has improved significantly over time.
However, if this problem occurs regularly, it may be time to check the pump's internal diaphragms as well as the air check valves, which control airflow to either side of the pump and provide forward motion while the pump is running.
You may also need additional Cubic Feet Per Minute (CFM) of air to run the diaphragm pump. When the pump physically freezes, this is usually an indication that the diaphragm pump is overloaded. This usually occurs when the pump's GPM is insufficient to do its job.
Last but not least, a diaphragm pump provides a long-lasting solution. The most common issues that might occur include worn ball and seat seals, worn diaphragms, and worn air check valves. In other cases, a diaphragm pump that's chosen for your application may be too small or lack the necessary accessories, such as a fluid regulator, to prevent uneven fluid distribution.
Advantages of Diaphragm Pumps
Creative Apparatus
The diaphragm pump operates with a specialized component that distinguishes between enlargement and withdrawal. As a result, the pump brings in a part within the weight range between the chamber and its specific ranges. The liquid then compensates for this fluctuation in accordance with the adaptive hypothesis inside the atmosphere. Furthermore, the liquid flows down from the heavy pressure-containing space to the lower pressure-containing region.
Two crucial things occur as a result of these weight shifts the distinction between extension and compression is quite important. The chamber's adjustable volume plays an important role in pushing mechanical fluids. It also improves the adaptability of the diaphragm pump's stream rates.
Self-priming ability and excellent lifting capability
The superior performance of the diaphragm pump is useful for various mechanical industries.
On the entire suctioning framework, it operates at a good tempo for any vacuum formation. An excellent hermetically sealed seal period is also an important component of its instrument. The strong vacuum on the top evacuation framework to thrust liquid causes the entire component to react. The diaphragm pump's enormous equipment structure pulls fluids from the lower level to its upper level.
This pump's robust pulling capabilities allow it to pick up fluid from relatively low levels, such as the basin. Therefore, businesses using positive displacement pumps have an advantage when filling tanks.
The diaphragm pump part functions properly. And the benefit of this truth is reflected in its operation. It is not necessary to use the external power to fill the suction pipe. It follows a self-sucking pattern while in operation.
And it fills the suction pipe with the needed discussion during the initial stage. It is also capable of removing discussion through the conveyance framework. Following the conclusion of the discussion, it resumes normal operations.
Technique of Dry-Running
A few specific models of diaphragm pumps have the proper instrument to push out the liquid. Those have a safe and solid preparation for pressing liquid. The airtight barrier that separates the pumping chamber from the greased-up transmitting focuses creates a dry-running handle. During self-priming, this arrangement protects the pumping instrument from any negative impact. As a result, a dry-running gadget improves the toughness of these models.
It reduces overheating and damage to combinatorial bars and cylinders during self-priming. With this method, the models transport mechanical fluids containing powerful chemicals.
Corrosion Resistance
The ease of use of a diaphragm pump is implied by the high resistance control. These pumps are protected against erosion by a special PTFE invention. The versions of the C arrangement include corrosion-resistant technology features. As a result, it is extremely reasonable to transport any highly acidic liquids alongside dissolvable vapors. Its corrosion resistance allows the pumps to operate for an extended period of time.
It avoids the need for specialized support, the C-arrangement diaphragm pumps are really technique-pleasing in the manufacturing industry. It disposes of mechanical fluid in a cost-effective manner. These are the advantages of using this pump for a trustworthy liquid-pushing structure. Any manufacturing industry requires these positive displacement pumps to dispose of fluids.
Drawbacks of Diaphragm Pumps
The device may be damaged if there is little pulsation in them.
Pumps used for these applications are persuaded not to push very accurately at their base section.
Many diaphragm pumps require nearly 100 PSI of air pressure and 20 cubic feet of air consumed every minute to operate properly.
Conclusion
Since relatively moderate pumping speeds and ultimate pressures exceeding a few mbar are acceptable in laboratories, diaphragm pumps have taken over as the go-to option. The water-polluting water jet pumps have now been replaced.
They are often used as small dry backing pumps in many high vacuum systems today. The sophisticated structure design of today allows for trouble-free operation for even more than 10,000 hours, followed by basic service. As a result, they are typically most effective for dirt-free fluids and hard chemicals in low-pressure applications.
Since they can handle fluids with low, medium, or greater viscosities, these pumps are extremely efficient. Finally, diaphragm pumps are an excellent solution to effectively and swiftly transport big volumes of materials. Consider the four features (listed above) when picking a diaphragm vacuum pump to ensure that your diaphragm or membrane pump generates outstanding results.
Check out to our a few interesting articles,