In this article, we will learn all basics of SUV Cars with Definition, Introduction, History, Types, SUV vs Other Cars (main features), Market share, Benefits, Limitations, Best SUV cars 2022, and many FAQs.
Let's explore!
What is SUV Car? Definition
Definition of SUV car?
An SUV (sport utility vehicle), is a vehicle that is an amalgamation of road-going passenger car features and off-road vehicle characteristics such as higher ground clearance and four-wheel drive.
Basic of SUV car
In the automotive business, the term 'SUV' stands for Sports Utility Vehicles. It refers to a vehicle that is elevated from the ground and has four-wheel drive as well as a rugged appearance. The word 'SUV' was coined in the United States to characterize vehicles with a large amount of passenger and cargo space as well as the ability to drive off-road across rugged terrain. They were created for folks who want to spend their weekends doing things like canoeing and mountain biking.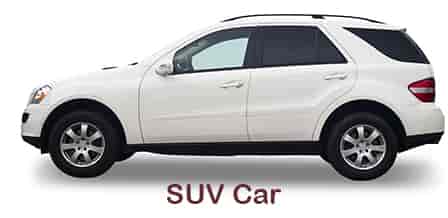 Currently, the term is used to denote a much broader range of automobiles. There are a few traits that unify SUVs and distinguish them from other types of vehicles within that broad spectrum. They all have suspension that raises them higher off the ground than a saloon or hatchback, and many have a taller body and four-wheel drive.
History of SUV car
The term SUV initially appeared in a 1974 Jeep Cherokee SJ brochure, but it wasn't until later that the phrase stuck. The 1984 Jeep Cherokee XJ is regarded as one of the first modern SUVs to have such a moniker. The SUV, like other autos, was born out of need. People in the late 1930s desired a four-wheel-drive vehicle with a bit more trunk space. The Russian GAZ M-72 Pobeda, which was produced from 1955 to 1958, was one of the earliest unibody four-wheel-drive cars. This is the first crossover SUV: it's a half car, half SUV.
In America, the 1980 AMC Eagle was the first crossover SUV. It was not only the first car-SUV crossover, but it also established the value of a tiny 4×4 wagon and proved that unit-body cars with independent front ends could endure off-roading. Jeep went on to become one of the most popular vehicles on the market after that. Around the time of WWII, more SUV-style vehicles began to appear.
These vehicles have four-wheel drive, spacious interiors and cargo compartments, and the ability to travel off the main path. Sport utility vehicles (SUVs) have to be just that: sporty and utilitarian. The number of SUVs increased throughout the 1980s and 1990s. With this, the popularity of body-on-frame construction grew even further. This is because it gave the cars a truck-like appearance while also increasing their capability. The unibody construction approach grew in popularity as Jeeps became more popular in the 1990s.
Also Read: Types of Cars
Types of SUV Cars
It may come as a surprise, but there are over 130 different SUV types sold worldwide. It is by far the most congested automotive segment, and SUV cars have dominated the world automotive industry for some years and will be doing so in the future too. However, because there are innumerable SUVs in all forms and it has dominated the industry for several years with no indications of slowing down.in daily life, if we notice the vehicles, we come to know that most of them are SUVs.
However, because there are so many SUVs in all forms and sizes, Let's draw a distinction between crossovers and SUVs before we get started.
Normally, crossover cars are designed considering on-road capability, it has a sporty design like SUVs as well.
SUVs, mainly a boxy design type, are normally large and comfortable as well, and it is mainly designed for on-road and off-road both with all-wheel drives.
Let's get into the types now.
XPH is your home for BMW, Audi, Ford Mustang, VW, Porsche and Nissan GTR aftermarket parts.
Compact SUVs
Compact SUVs, which are designed to be a little tougher-looking and slightly more capable than crossovers, are very famous across the world.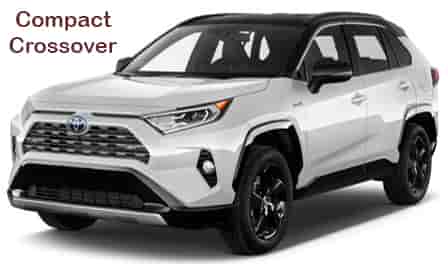 Compact SUVs has a wide range like:
Very comfortable, safe, a reliable family car like the Toyota Rav4, Hyundai Tucson
Highly robust compact designs like Toyota Land Cruiser, Jeep Wranglers, etc. which are very suitable for desert safari.
These cars are with enough interior space, modern technology, adequate engines, and a reasonable price. There are many compact SUVs available on the market in terms of various cost ranges from economy to luxury cars based on your requirements. BMW X3 is one of the best compact luxury SUVs cars sold across the world.
Also read: Types of bikes
Mid-size SUVs
The mid-size SUV, in our opinion, is the definitive class that lies between compact SUVs and full-size SUVs and all the basic design ideology is complying with SUV requirements. Not only does this class include the most models, but it also includes some renowned names like,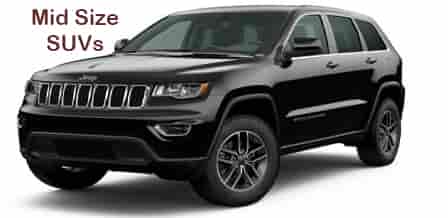 Jeep Grand Cherokee,
BMW X5, and
Chevrolet Blazer.
However, there are several models available on the market and it varies with respect to the manufacturers, technology, features, and design. If you like comfort and luxury, a model like the Volkswagen Atlas Cross Sport is a good choice, but if you want to race in the Baja 1000 off-road race, the Toyota 4-Runner with its strong mechanics and off-road tires can be the option.
Spring is here! Save big on our best-selling WAGNER TUNING BMW F CHASSIS N55 CATTED DOWNPIPE
Full-size SUVs
Over time beings, luxury sedans have evolved into full-size SUVs. When SUVs are becoming the most demanded vehicle, they automatically developed spacious, large size, more powerful SUVs to have more comforts & full-filling other needs.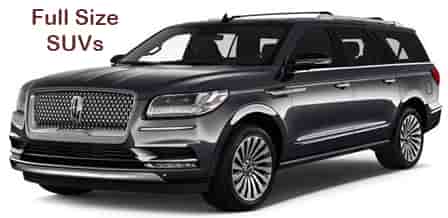 Full-size SUVs are a better choice for traveling long roads, giving high comforts, and safety, and come with an all-wheel-drive system.
There are many full-size SUVs like:
Chevrolet Suburban,
Ford Expedition,
Lincoln Navigator,
BMW X7,
Jeep Grand Wagoneer, etc.
Performance crossovers and SUVs
Despite the fact that crossovers and SUVs evolved from off-road vehicles that were never equipped with powerful engines, car manufacturers gradually launched performance models, which made sports car lovers apprehensive. SUVs such as the Porsche Cayenne Turbo S, Jeep Trackhawk, BMW X5 M, and Mercedes GLC 63 AMG are not only powerful but also incredibly speedy, with 0-60 mph times that rival or exceed those of well-known sports and muscle cars. High-power SUVs and crossovers are the best way to combine the comfort of a huge SUV with blisteringly fast performance, despite their less-than-optimal turning abilities due to their hefty curb weight and size.
Also Read: What is Governer
Subcompact crossovers
These are the tiniest Crossover/SUVs available, with the majority of them based on low-budget cars.
Few of subcompact cross overs are as follows:
Ford Ecosport
Toyota Yaris
Mitsubishi Outlander
Ford Fiesta,
Chevrolet Trax
Hyundai Kona
Mazda CX30
Honda HR-V etc.
Subcompact crossovers, on the other hand, are fantastic commuting vehicles with high fuel efficiency, and ample capacity for four persons (frontside two persons & backside two persons). It is good to have as it is very economic for normal people. Front-wheel drive is standard among many of them, with AWD as a choice if required.
Compact crossovers
Compact crossovers, which are based on the conventional hatchback chassis, provide more interior room and features while maintaining the same tiny proportions, usability, and affordability as subcompact versions. Compact crossovers are mainly used as a family car but it can be used as an overlanding vehicle as well considering the proper selection.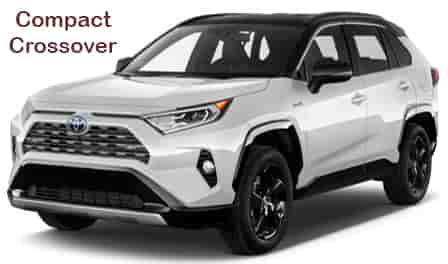 A few compact crossover cars are referred to below which are world-famous and best-selling cars even now as well.
Toyota Rav4
Subaru Forester
Ford Escape
Kia Sportage, etc.
Mid-size crossovers
This is one of the most interesting cars on the market. Those vehicles provide a lot of space, both for occupants and luggage, as well as good driving characteristics and comfort. Mid-size crossover is one of the best not only on street roads but also on off-roads. This is why so many people want one, and it's no surprise that over 2.2 million mid-size SUVs and crossovers were sold in the United States alone last year. This segment is dominated by Ford Edge, Honda Pilot, Kia Sorento, Kia Telluride, and Mazda CX9.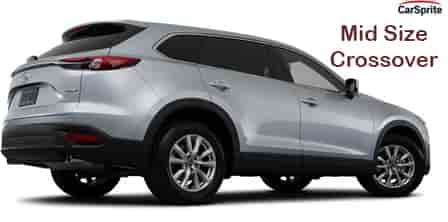 Also Read: What is Engine
Full-size crossovers
On the top of the crossover sector, we have full-size models like the Chevrolet Traverse, Volkswagen Atlas, and Nissan Armada. They're all big, roomy waggons with third-row seating and plenty of space. Those full-size crossovers are ideal people-movers, allowing large families to travel in luxury and safety. People shopping for such vehicles are searching for a comfortable ride rather than off-road capability.
SUV Car vs Other cars (Main Features)
SUV vs hatchback
The suspension on an SUV is higher than that of a hatchback, thus it sits higher off the ground. It's also known as 'extra ground clearance' or 'increased riding height.' This extra height provides you with the extra space you'll need to traverse difficult terrain. It also means you sit higher than in a hatchback or saloon, providing you a greater view of the road. It can also make getting in and out easier, and some people prefer the sensation of being up high. SUVs also feature more upright, boxy designs than hatchbacks and saloons, allowing for additional passenger and baggage space. Although most larger hatchbacks and estates only have five seats, several larger SUVs have seven.
SUV and crossovers
The phrases 'crossover' and 'SUV' are practically interchangeable. Some companies and individuals in the automotive industry prefer the name "crossover. If there's one thing that separates crossovers from SUVs, it's that they're often smaller and lower, with four-wheel drive being even less common. Although many crossovers lack four-wheel drive, classic SUVs are more likely to have it as a standard or optional feature.
Also Read: Fuel Pump
Some Notable features of SUV 
Gas Mileage
Larger automobiles have a reputation for being gas guzzlers. SUVs are heavier than sedans, so even the most fuel-efficient models in this category will achieve much fewer miles per gallon. The most fuel-efficient SUVs get approximately 20-25 MPG on average, whereas sedans get between 30 and 40 MPG. The fuel efficiency loss is accompanied by an increase in fuel costs, implying more frequent stops at the gas station.
Emissions
The increased use of gasoline in standard SUVs results in a larger carbon footprint. SUVs are characterized by more utilization of petroleum for travel and basic driving tasks as compared to smaller automobiles, hence, the outcome is more emissions being released into the atmosphere.
Tires and Brakes
An SUV's extra weight puts pressure on the tire's lifetime. While comparing other vehicles to SUVs, it is noticed that tires of SUVs will wear out more quickly and also the repair is costly. Most SUV tires have a 30,000-mile lifespan on average, but most sedan tires can last up to 50,000 miles before needing replacement. Bring your vehicle to Atlantic Tire & Service whether you're trying to downsize or upgrade in size, or if you're just looking for a new vehicle to get you from point A to point B. Our specialists will offer you an overview of the costs of maintaining cars and SUVs, as well as which vehicle type is appropriate for your commuting needs.
Also Read: Gear Box
Market share of SUV car
Global SUV sales have remained strong during the pandemic, increasing by more than 10% between 2020 and 2021. SUVs are expected to account for more than 45 percent of worldwide car sales in 2021, breaking both volume and market share records. SUV sales are still on the rise in various nations, including the United States, India, and Europe. Other nations, such as China, are seeing a slowing in SUV sales, owing to the rapid proliferation of small battery-powered electric vehicles.
According to MarkLines, a global car industry tracker, they are expected to climb by 4% in 2021, reaching close to 80 million and recouping some of the massive dips they saw in 2020 owing to the Covid-19 outbreak. Electric vehicle sales, in particular, have been resilient in the face of market uncertainty. As of late November, the market share of electric automobiles has reached record levels in a few significant car markets, including Germany (over 34 percent), the United Kingdom (28 percent), France (over 23 percent), and China (18 percent).
To date, about 34 countries have declared rules that set a future deadline for banning new ICE car registrations. This has been accompanied by announcements from automakers including Ford, Volkswagen, and General Motors that they want to phase out ICE vehicles from their production lines. Even if worldwide electric car sales reach the most optimistic projections in 2021, SUV sales are expected to be five times greater.
Also Read: Diesel Engine
Benefits of SUV car
In the last 20 years or so, SUVs have become extremely popular. They're especially popular as family vehicles, with many people preferring them to more conventional options. The popularity of SUVs can be attributed to a number of factors. Apart from the fact that they look beautiful, there are a variety of reasons why SUVs are becoming so popular. Their adaptability, spaciousness, and cost-effectiveness are only a few of the benefits, but here are a few more:
They are usually more capacious and practical than a similar-sized estate car or hatchback.
Their raised suspension and higher seating position make it easier for persons with mobility issues to get in and out of child seats, and you don't have to lean down to do so.
Many people prefer the view from a higher vantage point, while others prefer the tough image of an SUV or the sense of security that a larger, bulkier vehicle may provide.
More legroom, headroom, and other amenities
A pleasurable driving experiences.
Built-in towing capabilities and greater cargo capacity Why SUVs are heavier than cars and have superior handling in poor weather and on rough roads. When compared to what a car can offer, SUVs with either all-wheel or four-wheel drive provide excellent handling.
Vehicle Security.
Fuel efficiency.
Drivers benefit from increased visibility thanks to higher seating.
Ability to go off-road (in 4WD models) Why SUVs are just much larger than sedans, from headroom to cargo capacity and everything in between, and offer a level of comfort and elegance in the cabin. Extra compartments and storage space keep bring-along-like toys and snacks securely stashed away, making an SUV exceptionally child- and pet-friendly.
Compared to a sedan, an SUV can be employed for a larger range of applications. They can easily manage a variety of road surfaces, are ideal vehicles for frequent family outdoor adventure activities, and most come equipped with powerful engines that let you tow a trailer, boat, or even a caravan.
SUVs are ideal for large families and anyone who enjoy sports or the outdoors since they allow them to bring large items such as tents, mountain bikes, kayaks, and surfboards with them.
This four-wheel-drive vehicle is unaffected by wet or slick conditions. Neither is the earth harsh nor uneven. It can basically take you wherever you want to go.
An SUV's more robust structure provides a solid basis for the vehicle's longevity and power. If you enjoy adventure and the great outdoors and plan to do it on a regular basis, this vehicle will be ideal for you.
Because of the higher seating posture, you will be able to see the road well, allowing you to avoid hazards such as potholes or fallen objects on the road. In heavy traffic, you'll also be able to see over smaller vehicles ahead of you, giving you the benefit of finding a parking spot in a busy lot.
SUVs can drive through deeper water than cars without harming the engine, in addition to being able to mount pavements. Note: If you ever find yourself in an emergency circumstance like this, such as a flooded street or bridge, always err on the side of caution.
Limitations of SUV car
SUVs are more expensive to purchase than a comparable hatchback or estate car. SUVs use more gasoline and release more carbon dioxide from their exhaust since they are taller and often heavier. As a result, they'll cost you extra in terms of fuel and taxes. It's worth mentioning, though, that some SUVs have excellent fuel efficiency, and there are also many hybrid and electric SUVs to select from. The following are some of the drawbacks of having an SUV.
Cost – Generally speaking, the larger the car, the higher the price. And that's only the start.
Fuel costs – Because an SUV is larger and heavier than a typical passenger car, it will consume more fuel. Although manufacturers are attempting to make cars more fuel-efficient by using more aerodynamic designs and lighter structural materials, sedans are simply smaller and lighter and will be difficult to beat in terms of fuel economy.
Parts cost more – In addition to the greater cost of car parts, SUVs' added weight puts more strain on their tires and brakes. As a result of the increased wear and tear, you'll have to replace components more frequently.
Bulk and weight — Driving an SUV in the city can be difficult. All that heft is wasted room unless you're transporting five to eight passengers every day.
CO2 emissions — A vehicle that consumes more gasoline, such as an SUV, will naturally emit more carbon dioxide into the atmosphere, making it an environmentally unfriendly purchase if you care about your children's future on the planet.
Parking – Due to its bulkiness, maneuverability in this arena isn't as easy as it is in a smaller vehicle, and parallel parking may be a struggle even for the most experienced driver.
Best SUV cars 2022
2022 Hyundai Tucson
Because of its balanced ride and handling, large and upmarket interior, user-friendly infotainment system, and comprehensive list of driver aid systems, the new Hyundai Tucson 2022 ranks at the top of the compact SUV class. Hyundai Tucson's no. 1 ranking for 2022 comes from its performance in the Compact SUVs category.
2021 Mazda CX-5
The 2021 Mazda CX-5, with its engaging handling and sophisticated interior, competes for the top spot in the competitive compact SUV sector. The Mazda CX-5 is a fantastic compact SUV. It's one of the most enjoyable cars to drive in the class, thanks in part to its nimble handling. The basic engine has some vitality, but the turbocharged model has a lot more.
2022 Mercedes Benz GLC Glass
The well-appointed cabin, slick electronics, and superb overall performance of the Mercedes-Benz GLC 2022 place it high among premium small SUVs. The Mercedes-Benz GLC is a nice luxury small SUV. It's simple and enjoyable to drive, with a strong turning ability, a comfortable ride, and a variety of interesting engine options. A base turbocharged engine delivers quick acceleration and good fuel economy, although AMG variants with additional power, enhanced handling, and agility are available.
2022 Acura RDX
The Acura RDX 2022 is large, well-equipped, and enjoyable to drive. All of these factors contribute to its position near the top of the luxury small SUV segment. The Acura RDX is a good compact luxury SUV. It boasts lots of space for passengers and cargo, as well as a plethora of features and a reasonable price tag.
The Acura hits a solid balance between comfort and quickness, and its engine is fine for commuting. These advantages far outweigh the RDX's minor flaws, which include a lack of improved engines, clumsy infotainment controls, and limited driver visibility.
2022 Kia Soul
The 2022 Kia Soul is towards the top of our subcompact SUV rankings, thanks to its large cabin and storage space, as well as its simple infotainment system. It is, nevertheless, less enjoyable to drive than some of its competitors. A good subcompact SUV is the Kia Soul.
Although it lacks the agility of competitors such as the Mazda CX-30, the Soul's small turning radius makes it easier to maneuver about town. Although the four-cylinder standard engine is adequate, the enhanced turbo-four will allow this spirited SUV to accelerate more quickly.
2022 Hyundai Kona
The well-balanced ride, high-quality cabin materials, and user-friendly infotainment system of the newly redesigned 2022 Hyundai Kona help it place towards the top of the subcompact SUV class. When it comes to subcompact SUVs, the Hyundai Kona is the complete deal. Because of its excellent combination of quality and value in the class, we dubbed it our Best 2022 Subcompact SUV for the Money.
It gets excellent gas mileage and has a respectable level of horsepower. For those looking for a little extra power, there's also a stronger engine option. The cabin is attractive, and it comes with a lot of useful features. The only notable drawbacks of this Hyundai are its below-average load capacity and cramped rear-seat space.
2022 BMW X1
The 2022 BMW X1 is towards the top of our premium subcompact SUV rankings, thanks to its all-around appeal, which includes everything from well-rounded performance to a big, elegant cabin. The BMW X1 is a fabulous subcompact luxury SUV. It has pretty about everything a little crossover could possibly want.
It offers a spacious cargo compartment, straightforward infotainment controls, a powerful engine, and dynamic handling. The fuel consumption is also impressively less. Despite some cheap cabin plastics, there's a lot to enjoy about the BMW.
2022 Kia Telluride
Because of its spacious and well-appointed cabin, huge load space, and modern technology, the 2022 Kia Telluride takes the top spot in our midsize SUV rankings. The Telluride is a fantastic midsize SUV. Its cabin is brimming with high-quality materials and convenient conveniences.
There's plenty of capacity for up to eight people in three rows, as well as lots of cargo space. Furthermore, even if it doesn't outperform the competition in any one area, Telluride is a well-rounded performer. The V6 engine is a reliable workhorse, and the ride and handling are well-balanced.
2022 Hyundai Palisade
The Hyundai Palisade is one of our favorite midsize SUVs for 2022. It provides a lot of cargo and passenger room, as well as a smooth ride and a lengthy list of standard features. Hyundai's Palisade is a fantastic SUV. It boasts a V6 engine that produces plenty of power and accelerates quickly. Despite its size, the Palisade rides comfortably, even on rough roads, and is easy to drive.
It boasts one of the best cabins in the class, with premium levels that rival those seen in some high-end SUVs. All three rows of seats are comfortable for adults, and there is plenty of cargo capacity. We chose the Palisade a finalist for our Best 3-Row SUV for the Money award in 2022 because of its strong overall balance of quality and affordability.
2022 Genesis GV80'S
The mix of power, comfort, and interior space offered by the 2022 Genesis GV80 are difficult to beat, and it helps it place towards the top of our luxury midsize SUV rankings. The Genesis GV80 is an excellent SUV. It comes with two capable powertrains, good gas mileage, and a pleasant ride.
It handles better than you'd anticipate, making for an exciting driving experience – if that's your thing. The GV80 is stunning on the inside. With beautiful styling, comfortable seats, loads of gadgets, and enough room for people and goods, it offers one of the best cabins in the premium midsize SUV class.
2022 Jeep Wagoneer
The spacious and stylish cabin, the wealth of standard features, smooth V8 powerplant, and cushioned ride help the 2022 Jeep Wagoneer rank near the top of our big SUV rankings. The Jeep Wagoneer is a fantastic huge SUV. It has seats for up to eight people, a large cargo compartment, and a massive towing capacity of 10,000 pounds.
Thanks to its hybridized V8 powertrain, it accelerates quickly while still getting good gas consumption, and its precisely adjusted suspension gives a smooth ride over difficult terrain. The Wagoneer is also brimming with high-end materials, active safety systems, and a cutting-edge infotainment system.
2022 Cadillac Escalade
In our premium large SUV rankings, the Cadillac Escalade 2022 ranks towards the top. This beast is luxurious and comfy, with plenty of space inside. The Cadillac Escalade is an outstanding SUV. It's not particularly fast, but it's never lacking in power. It rides smoothly and handles effectively on any road surface.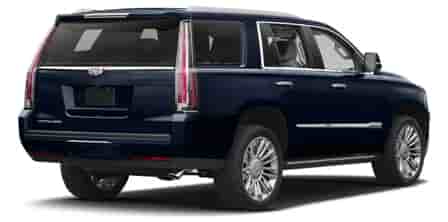 Even by luxury large SUV standards, the cabin is stunning and filled with top-of-the-line materials, with three rows of roomy seats and a tremendous load capacity. A user-friendly infotainment system is also included as standard equipment.
2022 Ford Mustang Mach-E
Because of its poised handling, rapid acceleration, long driving range, big and upmarket interior, and user-friendly features, the all-electric 2022 Ford Mustang Mach-E ranks near the top of the hybrid and electric SUV class. The 2022 Ford Mustang Mach-E is a fantastic electric SUV that is one of the first to fully compete with Tesla.
The Mach-E accelerates quickly and quietly, and it has a range of up to 314 miles on a single charge. It's relaxing to drive on Main Street yet thrilling to maneuver on curving routes, and the luxurious cabin has plenty of seating and cargo capacity. This Ford also has a user-friendly infotainment system and numerous driver aid technologies, such as BlueCruise, a hands-free driving mode.
2022 Porsche Cayenne Hybrid
Because of its brawny engine performance, balanced ride and handling, sleek and comfortable inside, and user-friendly amenities, the 2022 Porsche Cayenne Hybrid ranks near the top of the luxury hybrid and electric SUV class. The Porsche Cayenne Hybrid is a fantastic two-row luxury SUV for 2022. It has a powerful plug-in hybrid technology that can propel the SUV to incredible speeds while also allowing it to whizz around town on battery power alone.
On switchback roads, the Cayenne Hybrid rides comfortably over damaged pavement and demonstrates remarkably nimble maneuvers. Its inside is roomy and luxurious, with high-quality materials throughout, and the widescreen infotainment system is simple to operate.
SUV cars FAQs
Are SUVs less maneuverable?
Many people believe that an SUV's big size will result in an unresponsive driving experience, but this isn't the case. Modern SUVs are frequently equipped with turbocharged engines and complex hybrid systems, and some now combine the agility of a hatchback with the adaptability and size of an SUV.
Are all SUVs four-wheel-drive?
It's a frequent misconception that all SUVs are four-wheel drive because they generally go hand in hand. Despite the fact that most SUVs have four-wheel drive, some are two-wheel drive or all-wheel drive. These several drive options enable you to select the ideal model for your driving requirements.
What's the difference between a 4×4 and a sport utility vehicle (SUV)?
SUVs aren't necessarily four-wheel drive, as previously stated. Some SUVs have the two-wheel drive, which means the engine power is directed entirely to the front two or back two wheels, while others have all-wheel drive. Any vehicle with power provided to all four wheels is referred to as a 4×4.
What are the different sorts of SUVs?
SUVs come in a variety of shapes and sizes, including tiny, compact, full-length, and extended models. Although micro and compact SUVs, often known as crossovers, have less capacity than their larger counterparts, they may offer better fuel efficiency.
Are SUVs inherently safer?
SUV drivers are safer than those in sedans and smaller cars, which are more readily damaged because there is more metal between them and the road. SUVs generally outperform smaller cars in terms of safety, despite having similar safety features (such as side airbags and anti-lock brakes).
Is it true that SUVs are better in the snow?
SUVs perform better off-road and in the snow because of their shorter wheelbases and more balanced weight distribution. In that sector, there are also more alternatives for full-time 4WD. The selection of tire size is one area where drivers don't usually consider weight distribution.
Are SUVs more difficult to drive?
Because of their size, SUVs are more difficult to drive than automobiles. They have a high center of gravity, which makes them less maneuverable in small areas and have bigger blind zones, but becoming a skilled and safe SUV driver is a talent that can be learned with practice.
Is it worthwhile to purchase an SUV?
If you're in the market for a new vehicle right now, an SUV is a great option. To begin with, these automobiles may be less expensive. They can also provide you more bang for your buck because they give you a height advantage and greater cargo capacity.
Is an SUV suitable for new drivers?
SUVs and pickup vehicles, especially those without 4WD, are terrible choices for first-time drivers. They have a tendency to fishtail during panic stops or when the road is slick due to their light rear end (due to the weight of the engine/driveline being concentrated up front).
High Rated Automotive Engineering Course
Our Videos
Refer YouTube
Our Apps
Check out our 'MechStudies – The Learning App' in iOS & Android
Check out our most viewed articles,