In this article, we will learn different types of bikes along with basic examples. Riding a motorcycle is an exhilarating adventure. However, just as there are numerous varieties of automobiles, there are numerous sorts of bicycles that individuals love to ride for various reasons. Some are utilitarian and have a highly functional purpose, while others are purely aesthetically beautiful and are simply made to attract attention.
Motorcycles were much easier to comprehend 50 years ago. All road bikes appeared to be pulled by a five-year-old, off-road bike had knobby tires, learner bikes were similar but smaller, and sidecar outfits were identical but had a small caravan attached by tent poles. It's a lot more complicated nowadays.
Different Types of Bikes
Because there have been so many diverse combinations in motorcycle design, it's not fair to attribute everything to either design or thrill. The various combinations deserve to be considered as their whole. So, here's a list of some of the most popular bikes in the world.
Some bikes are solely for sport, while others are designed to impress passers-by. In any case, they're all famous for a reason, and we may look into a few aspects of their design and appeal here.
Because there are so many different types of motorcycles, it's critical to understand what you're getting. Here's a summary of the various types of bikes, their purposes, and how they're usually utilized.
1# Standard Bikes Type
Standard bikes are a popular choice since they have a straightforward design and can be used for various applications. It comes in sizes ranging from 125cc to 1,000cc and can be customized with luggage, a tank bag, and a different seat, making it an excellent first and all-around motorcycle. It usually doesn't come with a large front fairing, if one exists at all.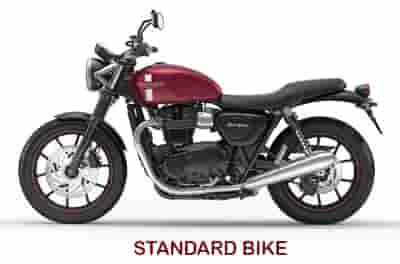 The ergonomics are pretty neutral because it isn't too forward-leaning or rearward-reclining. Seat height usually is shorter to the middle, and practically everyone can sit comfortably.
Examples of standard bikes
For a nice all-around town motorcycle, we recommend the Yamaha SR400. It's not too big for a beginner, but it's also not too little for a seasoned rider.
Also Read: Types of Cars
2# Off-road motorbikes Type
Off-road motorbikes do exactly what they say on the tin: they're designed to go where no man has gone before. They have higher seat heights to tolerate deeper undergrowth, as well as a high suspension to handle a few bumps. Because they usually don't have lights or turn signals, they'll be trailered to the weekend riding area.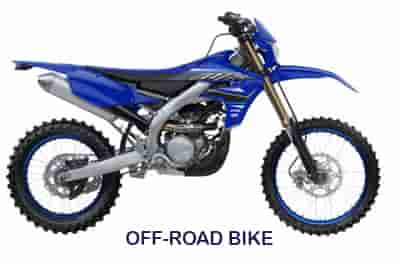 Most of them are relatively light, and they're ready to spend the entire weekend on the back trails. Kawasaki has an excellent off-road motorbike portfolio that isn't too expensive. The KLX110 has a 4-speed transmission with a clutch-less design that makes ascending steep slopes to see the scenery comfortable on the hand and wrist all weekend.
XPH is your home for BMW, Audi, Ford Mustang, VW, Porsche and Nissan GTR aftermarket parts.
Examples of off-road bikes
Some manufacturers, including BMW and Honda, offer more off-road-oriented models, such as the BMW R1250GS Adventure and Honda Africa Twin Adventure Sports, geared for true off-road experiences. They frequently have far larger fuel tanks, extensive crash protection, much longer suspension travel, and some of the tallest seats available.
Also Read: What is Governer
3# Mopeds Type Bikes
The term 'moped' combines the words 'mo' for motor and 'ped' for the pedal; Because the original 1950s definition was a bike with an engine and pedals for starting and assistance on steep slopes. The engine's displacement was limited to less than 50cc, and the peak speed was limited to 30 miles per hour.
Pedals are no longer required; however, engine capacity and speed constraints are still in place. A modern moped has a sub-50cc engine (typically 49cc) with a top speed of 30 miles per hour. However, because of these limits, a moped can be ridden by 16-year-olds, making it the only option for riders who wish to go on the road asap.
Because the bulk of today's 50cc mopeds is scooters, they include a basic automatic transmission, small wheels, a step-through frame, and full bodywork. However, several 'genuine' 50cc motorcycles have manual transmissions and traditional chassis layouts.
Examples of Mopeds
Peugeot Kisbee 50, Honda Vision 50
Spring is here! Save big on our best-selling WAGNER TUNING BMW F CHASSIS N55 CATTED DOWNPIPE
4# Scooter Types
The motor scooter initially appeared between the wars, combining fundamental motorcycle dynamics with a slick appearance and more accessible ergonomic design. Commuters could ride to work without getting dirty thanks to leg shields, footboards, and a step-through frame design. At the same time, an enclosed engine and automatic (or semi-automatic) transmission kept things simple.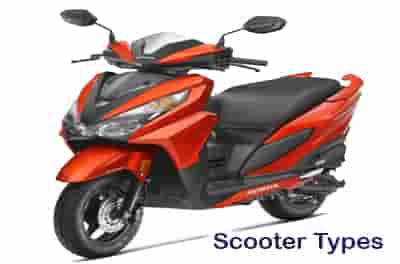 Current scooters retain these essential elements while adding a big under-seat storage compartment, a sleek, fuel-efficient engine, and safety features such as ABS or connected brakes. Millions of riders worldwide rely on premium options like Yamaha's XMAX series or scooters from Piaggio and Vespa for reliable, inexpensive, and easy everyday transportation.
Examples of Scooters
Piaggio, Vespa, Yamaha, Peugeot
Also Read: What is Engine
5# Maxiscooter Types of Bikes
The maxi-scooter is a relatively new invention; big-bore scoots first debuted around the turn of the century. However, they've taken off in a big way since then, especially in continental Europe, where they're selling like hotcakes.
The concept is straightforward: take the convenience, weather protection, ease of use, and practicality of a compact, 125-200cc automatic scooter, and boost it with a 400cc+ engine and commensurate chassis modifications.
With a larger set of bodywork, you get all the benefits of smaller scooters, but with three-figure top speeds and the ability to travel on highways for much longer distances. That means 50-mile commutes and two-up touring trips are doable.
Examples of Maxi Scooters
Yamaha T-Max, Suzuki Burgman, Honda Silver Wing
6# Sport Touring Types of Bikes
Sport tourers are mainly modestly modified high-end sports bikes, such as the Kawasaki Z1000SX, but some, like the Honda VFR800, are built particularly for the role. They're designed to have the same characteristics as touring cycles without compromising any of the sportiness, so they're lighter, corner better, but aren't as comfortable.
Sport Touring motorcycles, as their name suggests, are a good mix of sport and touring motorcycles. They usually have a higher seat height than a Touring motorbike and better luggage options for lugging extra items on longer excursions than Sport motorcycles. They're good at mixing both modes, and with the correct gear, they can do it all, from quick outings with friends to longer road trips you've been considering.
Engine sizes are typically in the middle of the spectrum compared to some of the larger options. Simply use your best judgment to determine the size that best suits your riding style. The Concours14 ABS is a superb Sport Touring motorbike from Kawasaki. It can contain a lot of extra gear and allow you to log a lot of miles over the course of a long weekend. The engine is slightly larger to provide more power for cruising the country's highways.
Examples of Sports Tourer Motorcycles
Honda VFR800, Triumph Sprint ST, Ducati ST4, Yamaha FJR1300, BMW S1000 XR, Ducati Multistrada, KTM Super Adventure
Also Read: Fuel Pump
7# Touring Types of Bikes
A touring bike has traditionally been defined as a large, heavyweight motorcycle with a large-capacity engine, all-enveloping bodywork, ample luggage capacity, and luxury seats for the rider and pillion. BMW's K1600 LT, Honda's Gold Wing, and Harley-Electra Davidson's Glide all fall into this category, with Yamaha's FJR1300, Honda's Pan European, and Triumph's Trophy 1200 providing a comparable combination in a somewhat smaller package.
Sound systems, built-in hard luggage, and luxuries like a reverse gear, aid-adjustable suspension, integrated intercoms, and electrically heated grips and seat are standard on larger 'supertourers.' The K1600 and Gold Wing have massive engines, with six-cylinder engines (a flat-six on the Honda and an inline-six on the BMW), shaft drive, and super-smooth running.
Although the smaller tourers are still powerful machines, they provide a more dynamic and agile riding experience. Both the Pan European and the FHR1300 are on the cusp of sport-touring levels of handling and speed, making them excellent mid-distance commuters as well as continent-crossing touring beasts.
Pure touring bikes, like sport-touring cycles, have been overtaken in recent years by adventure bikes. The BMW R1250 GS, Triumph Tiger 1200, and KTM Super Adventure 1290 are the biggest models here, and they all have enough power and oomph to transport two people and a bag of luggage across Europe in a few days. Yet, miniaturized electronics mean they can also offer plenty of luxury. Color LCD dashboards, integrated GPS, heated grips and seats, and an adjustable windscreen are now standard, and they can equal practically anything in the full-on touring class.
Examples
BMW R1250 GS, Triumph Tiger 1200, KTM Super Adventure 1290, Honda Gold Wing
Also Read: Gear Box
8# Sport Bikes Types
Sports bikes have one purpose in mind: to get from point A to point B as quickly as possible. They accomplish this by reducing weight while increasing power, preferably around 1bhp every 1kg of weight. They also have a low, aggressive riding position, a full aerodynamic fairing, cutting-edge technology, and the best possible lean angle for cornering as quickly as possible. The most expensive bikes are usually based on the manufacturer's current MotoGP race bike.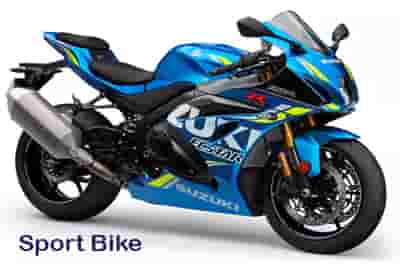 However, sales have recently suffered because they aren't as comfortable, pillion-friendly, affordable, or practical for everyday riding, and if you just have one bike, an Adventure or Sport Touring model makes more sense, especially if you won't be bringing it near a track. The middle capacity, approximately 600cc, has suffered the most, with the exquisite Yamaha R6 remaining the only viable alternative.
Examples of Sports bikes Motorcycles
BMW S1000RR, Kawasaki ZX-10R, Ducati Panigale V4
9# Cruiser Types of Bikes
The cruiser, also known as a chopper, was created with the intention of cruising in mind, which is how it received its name. It usually has a lower seat height, making it an excellent "cruising" around-town motorbike, but it may also be used as a weekend rider with a little extra luggage. Engine displacements range from a tiny displacement engine to 1,000cc or more, depending on the brand. Although it may feel more like you're sitting in a cruiser than riding one, it's an excellent choice for both new and experienced riders.
Harley-Davidson may be the first brand that springs to mind when you think of a cruiser (particularly a chopper). For a decent example of a cruiser, we recommend the H-D Low Rider. It's a low-slung motorcycle that can ride for miles and comes with plenty of accessories, making it ideal for a fast trip or a fun weekend on the road.
Examples of Cruiser Motorcycles
Harley-Davidson Sportster/Big Twin, Triumph Rocket III, Yamaha V-Max
Also Read: Diesel Engine
10# Adventure Bikes
Long travel suspension, a decent-sized screen, a high seat height, extensive baggage possibilities, optional wire-spoked wheels, and decent drop protection are all common features of Adventure bikes. They want maximum capability, range, and the occasional light off-road/dirt track adventure, albeit carrying a large, heavy bike off-road will be difficult. They were also known as dual-purpose, dual-sport, and on/off-road motorcycles in older definitions.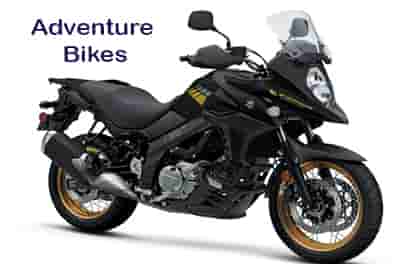 The bikes are typically taken over from other sorts of bikes, particularly sports bikes with their aggressive and uncomfortable geometry, because they are so good at commuting, touring, sports, and more lately looking attractive. You can obtain adventure bikes with practically any type of engine, from single cylinders to various twins and triples to inline and V-engined fours.
When going off-road, good low-down running and strong midrange grunt are essential, but most modern adventure vehicles also include a decent dose of top-end power. The same can be said about adventure bike brakes; the minimum needs aren't high, but you'll never be fast enough on genuine off-road rides to require a lot of stopping force. In the same way, new machines tout impressive braking performance figures.
Examples
BMW R1250 GS, Honda Africa Twin, Suzuki V-Strom, KTM Super Adventure
11# Bobber Types of Bikes
The phrase 'bobber' is a term that originated in the United States. The bob in bobber is derived from the word 'cut' or 'trim,' as in a bob-tail animal or a bob haircut. In the realm of motorcycles, it's the back end of the big old American cruiser that's been bobbed. The front mudguard, rear fender, brackets, baggage, and bodywork are all removed, leaving a lighter, more agile motorcycle.
Nowadays, a bobber can be a brand-new standard model that is based on a classic machine and comes with a bobbed style straight from the manufacturer.
Triumph's Bonneville Bobber is one of the company's most popular models in recent years, with admirers of its basic appearance and effortless performance flocking by the boatload. Other versions, such as Yamaha's XV950, are less well-known, but since the core of a bobber is customization, you should probably build your own.
Examples of Bobber Motorcycles
Triumph Bonneville Bobber, Yamaha XV950
Also Read: Towing Capacity
12# Chopper Types of Bikes
It's the iconic American custom, possibly best exemplified by the bikes from the Easy Rider movement. Captain America, Peter Fonda's bike from the film, is an extreme variant, but it demonstrates what matters: a super-long front fork, booted well out, tiny front tyre, and looping 'apehanger' handlebars.
There's no back suspension, instead opting for a 'hardtail' chassis, and there's also no front brake… The engine is a Harley-Davidson V-Twin, and while choppers can employ any big-bore motor, an American V-Twin is the most common. Harley-Davidson can still make a modest chopper-style bike that looks well and works well, such as the current Breakout model or the Low Rider Softail versions. However, if you want a truly intense dosage of chopper-style, you'll have to make your own!
Examples of Chopper Motorcycles
Harley-Davidson Breakout, Harley-Davidson Low Rider Softail
13# Street (Crotch Rocket)
An adventure bike is one of the most well-known bicycles on the planet. It screams adventure and is designed to navigate the world's most treacherous terrains and quickest routes. Adventure bikes, whether they're made for speed or for tough terrain, are built to take punishment.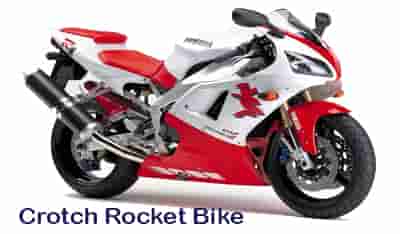 Before being sent packing, they can withstand a lot of resistance as well as a lot of bumps and leaps. Their appearance is a combination of a classic bike designed for international travel and a dirt bike designed to withstand a lot of punishment. With these bikes, you may have the best of both worlds.
The dual sports bike is another variant of the adventure cycle. To negotiate congested traffic and late nights, this has additional features such as blinding lights and deafening horns. It also has an off-road suspension that is quite harsh. The seat is higher so that back roads may be negotiated more comfortably, and it can be equipped with extra bags for a camping trip.
14# Café racer Types of Bikes
Cafe racer refers to 1950s and 1960s roadside coffee shops, truck stops, and transportation cafes. Bikes would congregate here, and timed dashes up the local bypass or comparable road would be part of the entertainment. A cafe racer was based on a typical British motorcycle at the time, but with an upgraded engine and suspension, lower clip-on handlebars, and sometimes a rakish small flyscreen.
It wasn't a race-replica super sport upgrade; it was more of a healthy road tune, with stronger shocks, possibly a high-compression piston, and meticulously maintained four-leading-shoe drum brakes. You can currently choose from factory-built cafe racers or build your own from any basis you like.
A decently strong engine, simple fairing, good-quality suspension and brakes, and premium design are the prerequisites. Kawasaki's Z900RS Cafe, Husqvarna's Vitpilen 401 or 701, Ducati's Scrambler Cafe Racer, and any of the Triumphs, including the Street Twin, Streep Cup, or Speed Triple, may all be found in the ready-made area.
Examples of Cafe Racer Motorcycles
Kawasaki Z900RS Cafe, Husqvarna Vitpilen 401/701, Ducati Scrambler Cafe Racer, Triumph Street Twin/ Street Cup/ Speed Triple
15# Classic Bike Types
A classic bike is often defined as one that is more than 20 years old, though there are no hard and fast criteria. Around this age, most insurance firms begin to offer discounts and special deals on motorcycle plans, reflecting the possibility that owners will be more cautious with their prized possession. A vintage bike can range from a £100k+ pre-war Brough Superior to a tattered £500 Yamaha Fazer 600 from 1999.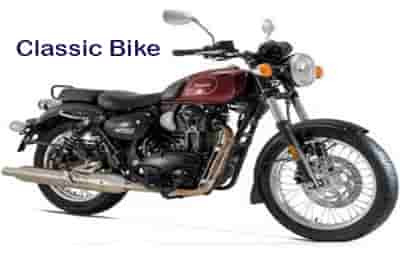 Most people distinguish between pre-1970s machinery from the United Kingdom and Europe and subsequent types of modern classics,' mostly Japanese, produced between 1970 and 1999. British bikes, including Norton, BSA, Triumph, Velocette, Royal Enfield, Matchless, and Ariel, dominated the early classic scene. Single or twin-cylinder air-cooled engines are typically used in steel tube frames with simple suspension and brakes.
The bikes aren't fast, but they're full of personality, and with modern updates to things like valve gear, ignition, and electrics, they're far more reliable than the originals. Modern classics can perform in a near-contemporary manner. A 'vintage' bike, such as a 1999 Honda Fireblade or Yamaha R1, produces roughly 150 horsepower and weighs less than 200 kg – amazing numbers. Even if you don't require extreme performance, a 1996 Suzuki Bandit 1200 is a dependable, attractive everyday ride that is practical and inexpensive to maintain.
Examples of Classic and Modern Classic Motorcycles
1999 Honda Fireblade, Yamaha R1, or anything pre-1970!
16# Electric Bikes
What does the future hold for motorcycles? Electric bikes are still in their infancy; with only a few niche manufacturers, expensive pricing, limited range and performance, and nowhere near the performance and usability of regular petrol-powered motorcycles, the biking community is split down the middle on this.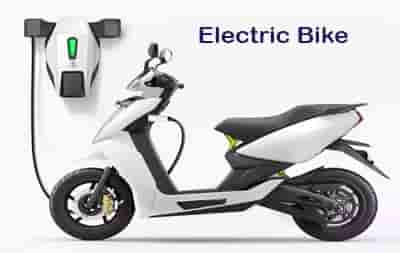 The Zero range works well, looks decent, and is as near to being a practical alternative as the cutting edge will allow. In dirtbike racing, the Alta off-road machine performed some incredible things. There are also a number of companies who make compact commuting cycles, which are a decent alternative for a short commute around town where you can charge at both ends.
Examples of Electric Motorcycles
Harley-Davidson Livewire, Zero SR/F, Vespa Electrica
17# Enduro Types of Bikes
Enduro bikes are a step down from full-fledged motocross bikes, designed for more mild dirt action — but they're still capable machines. Since many enduro races use public roads to go between parts, they often have lights and road equipment installed, and most enduros are simple to register on the road. However, you won't want to put too many miles on one: the accommodations are basic, and running a highly-tuned 450 single-cylinder engine at highway speeds would quickly wear it out.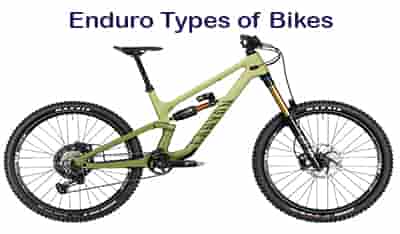 However, a short journey on a bright day is simple to accomplish – even more so if you modify your tires, wheels, brakes, and gears. With a pair of 'road' wheels, sticky rubber, higher gearing, and a larger brake disc, an enduro bike may be transformed into a supermoto, which is a real blast to ride in the city and on winding backroads.
Examples of Enduro Motorcycles
Husqvarna 701 Enduro, KTM XC250
18# Motocross Types of Bikes
These are the bikes to get if you're serious about tough dirt riding. Most MX bikes are only legal for off-road use and are restricted to specific race circuits or private land. Single-cylinder two-stroke or four-stroke engines with high power outputs and specific class sizes – usually 125s, 250s, 400s, and 450s – are virtually always used. These are bolted into heavy-duty frames that can withstand a lot of abuse. High jumps, whoops, and crashes all put a lot of force on the frames, which are subjected to a lot of abuse.
Suspension and swingarms are subjected to identical treatment and must be bomb-proof. That means super-thick fork legs and a strong aluminum swingarm, as well as the ability to swiftly and effectively strip, maintain, and rebuild suspension components to keep them up to spec. Few machines are subjected to such abuse, and four-stroke MX engines, in particular, require special attention to avoid exploding.
Parts have a 'life', and if you don't replace a piston, valve, or con-rod at the appropriate frequency, it will usually fail, inflicting considerable damage to the remainder of the engine, which will be much more expensive to fix.
Examples of Motocross Bikes 
KTM, Husqvarna, Kawasaki
19# Naked Types of Bikes
Approximately half of the naked bikes start out like last season's top-of-the-line sports bikes, which are subsequently stripped of their fairings to become "naked." Other changes commonly include less aggressive geometry, straighter handlebars, no screen, a single light cluster, and some wiring trimming to highlight the engine.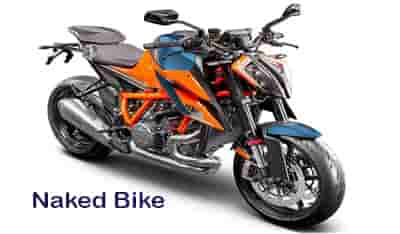 To save money, the engine is sometimes taken from a prior generation sports bike. They are also known as roadsters or standard bikes, especially by BMW, while the most powerful types are known as muscle bikes, street fighters, or hyper-naked.
Examples
The Yamaha R-125 derivative MT-125 is at the bottom, with a similar link between the Suzuki GSX-R750 and GSX-S750 in the centre, and the BMW S1000RR and S1000R at the top. Some motorcycles, such as the Honda CB1000R, straddle the border between modern naked bikes and modern motorcycles with retro design, earning the moniker "neo-retro."
20# Scambler Types of Bikes
In the 1950s and 1960s, the first scramblers were off-road competition machines. These bikes were a far away from modern MX bikes, with road bike engines and chassis, additional ground clearance, high-level exhausts, and knobbly tyres. A modern scrambler, on the other hand, is more like a classic roadster that has been rebuilt to seem like something more capable off the pavement.
BMW, Triumph, Ducati, and Yamaha have all created their own versions, and some of them have been successful. However, most of them are just a styling exercise, and you'd be better off looking elsewhere if you wanted to do anything more than a fire road or gravel track. They make a lot of sense as sleek city rides or weekend backroad blasters, though!
Examples of Scrambler Motorcycles
Ducati Scrambler, Triumph Street Scrambler
21# Superbikes Types of Bikes
The superbike class has the largest outputs, with one-liter motors capable of more than 200bhp. The biggest outputs are from BMW's S1000RR and Kawasaki's ZX-10R, both of which produce over 210bhp. Meanwhile, Aprilia and Ducati have gone a step further, increasing the displacement of their RSV4 and Panigale V4 engines to 1100cc, resulting in a 10% increase in power and torque.
The Panigale V4S produces a whopping 212 horsepower. High-tech chassis components and computerized rider aids complement these massively powerful engines. Semi-active electronic suspension, race-style brake calipers, discs, super-stiff frames, and a complicated traction control/ABS system are all standard.
22# Streetfighter Types of Bikes
Perhaps fittingly, the streetfighter bike class arose organically from the streets. When fully-faired sportsbikes first emerged in the 1980s, many riders jumped on them and rode them as intended. The inevitable happened next: several of these plastic-faired bikes were crashed, and their owners discovered how expensive replacement bodywork panels were. It was not uncommon for a bike that was entirely uninjured in terms of engine and chassis to be written off simply because its plastic fairing was smashed, and replacements would cost a few thousand pounds, which was more than the bike was worth.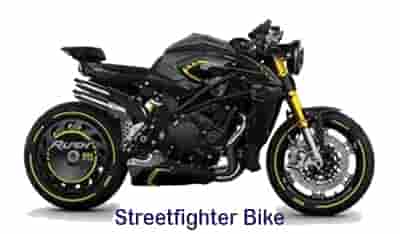 These owners then did everything they could to get the bike back on the road and mobile. Basic headlights and indicators replaced fairing-mounted illumination, and normal wide handlebars replaced clip-on race bars, resulting in a Mad Max-style vehicle that was resurrected. All of the power and handling of a superbike in an unfaired, wide-barred configuration proved to be quite popular, and before long, people were building streetfighters without even crashing their sports bikes first.
The contemporary hyper-naked class has arguably displaced the true streetfighter: bikes like the Yamaha MT-10 and Aprilia Tuono are essentially factory-built R1 and RSV4 superbikes sans plastic fairings. For a few years, Ducati also sold its own streetfighter, based on the 848 and 1098 superbikes.
Examples of Streetfighter Motorcycles
Yamaha MT-10, Aprilia Tuono, Ducati Streetfighter
23# Trikes (three-wheelers) Types of Bikes
Aside from sidecars, three-wheeled bikes have a few possibilities. The classic trike is a DIY project that typically uses an ancient air-cooled VW engine and transmission with two wheels at the back. If you want a ready-to-ride motorcycle, Harley-Davidson offers factory-built trikes with its own V-twin engines and custom rear suspension and chassis. Conversions of Honda Gold Wing trikes are also common, with the huge engine and shaft drive making it an ideal match for a three-wheeler.
The other alternative is to ride backward on your two front wheels, which is known as a reverse trike. This can be non-leading with ancient Morgan three-wheelers or more modern three-wheelers such as Bombardier's Can-Am Spyder. On the market right now are some new 'leaning' reverse trikes. These are available as scooters or bikes; Piaggio's 300 and 350cc MP3 and Peugeot's Metropolis 400 are maxi-scooters with tilting, two-wheel front ends, complicated locking connections, and controls.
24# 125 cc
The most fundamental and inclusive of all the classes offered here is the 125cc. It is solely a statutory creation: it is the maximum capacity to which total rookie motorcyclists in the United Kingdom and throughout Europe are limited when they begin riding at 17.
This restriction dates back to 1983; before that, novices were permitted to ride 250cc motorcycles with no restrictions on power. In February 1983, the 1981 Transport Act reduced the learner capacity restriction to 125cc and imposed a new power limit of 9kW (12bhp).
Any motorbike having a cubic capacity of less than 125cc and a peak power output of less than 15bhp falls into this category. There's a wide range of new bikes available, from scooters and budget roadsters like the Honda PCX125 or Yamaha YS125 to mini-superbikes like the KTM RC125 or Yamaha R125, and premium super-naked like the Yamaha MT-125, Kawasaki Z125, or KTM 125 Duke.
Examples
Honda PCX125, Yamaha MT-125, KTM 125 Duke, Mutt Mongrel 125, Bullitt Hero 125.
25# Dual Sport
Dual Sports are designed to go wherever you want and do whatever you want. They have road amenities such as lights and a horn, but they also have a more aggressive off-road suspension and maybe knobby off-road tires. To handle the backroads and off-beaten routes that can be found on the backroads, the seat height is normally a little higher.
They usually come with limited storage options from the dealer, but they may be customized with a variety of extra bags to carry enough goods for a weekend camping trip. The KTM 1090 Adventure combines off-road prowess with a stylish look and feels that allows it to take on any challenge. It has a higher seat height but isn't overly powerful, so it's not too difficult to handle for a weekend ride. It is also capable of taking you on a long cruise. Equip it with everything you'll need to create some lasting memories.
Frequently asked questions (FAQs)
What does BHP mean in the context of a motorcycle?
What does BHP stand for in the world of motorcycles? The rate at which the torque generated by a motorcycle's engine is delivered to the wheels is measured in BHP. As a result, the motorcycle's speed increases as the deliverability increases, and vice versa.
What does rpm mean on a bike?
RPM stands for "revolution/rotations per minute" in its full form. It refers to the rate at which the engine's crank rotates, allowing power to be sent to the back wheels via a gearbox.
How many different varieties of motorcycles are there?
Cruiser, sport, touring, standard, dual-purpose, and dirt bikes are the six primary categories.
What does CC stand for when it comes to motorcycles?
The engine's power output is measured in cubic capacity or CC. The cubic capacity of a motorcycle engine refers to the volume of the engine's chamber. The greater the capacity, the more air, and fuel mixture can be compressed to generate power.
What are the three most important steps to riding a bike?
There are three steps to riding a bike.
• Using a balance bike to balance and brake. Balance bikes are two-wheel bicycles with no pedals and a seat that is low enough for the youngster to contact the ground flat-footed while seated.
• Using a balance bike to steer.
• Pedalling.
Why are bicycles so costly?
Materials are one of the essential variables in the price of bicycles. Carbon fiber is available in a variety of shapes and grades. The better the carbon quality, the higher the expense of obtaining it from producers.
What's the distinction between a motorcycle and a motorbike?
According to the dictionary, A motorcycle is a more powerful, larger vehicle and has more horsepower. On the other hand, a motorcycle refers to a small, lightweight vehicle. The term motorcycle is used in the United Kingdom, while motorbike is used in the United States of America.
High Rated Automotive Engineering Course
Our Videos
Refer YouTube
Our Apps
Check out our 'MechStudies – The Learning App' in iOS & Android
Check out our most viewed articles,